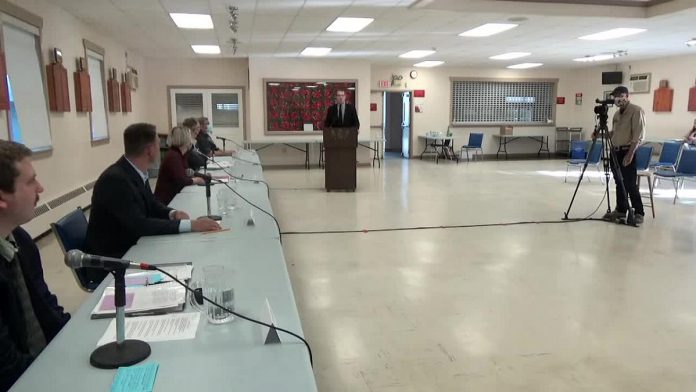 The first debate of candidates vying to become the next MPP for Peterborough-Kawartha took place at the Lakefield Legion on Tuesday night (May 10), hosted by the Peterborough and Kawarthas Chamber of Commerce and livestreamed on YouTube.
During the two-hour debate moderated by the chamber's government relations coordinator Joel Weibe, five of the seven candidates — Dave Smith (Progressive Conservative), Greg Dempsey (Liberal), Jen Deck (NDP), Robert Gibson (Green), and Tom Marazzo (Ontario Party) — served up a low-key night of (mostly) friendly banter and well-rehearsed talking points.
At no point did the topic of the night, billed as "local business and community issues," catch fire despite the tumult of the last several years.
Advertisement - story continues below
Faced with serious questions that ranged from the cost of energy, to the cost of groceries, to how to improve downtown Peterborough, and whether or not tiny houses might help solve the housing crisis, we learned that each party remains firmly in its ideological lane.
Incumbent Dave Smith was rarely on his heels as his opponents chose not to seriously challenge his record, save for one memorable exchange when Dempsey asked Smith why it took Peterborough three years of wrangling to get a Consumption and Treatment Services Site.
Smith blamed the organizers and then took a swipe at Peterborough's medical officer of health, Dr. Thomas Piggott, for "[taking] it upon himself to turn it into a public fiasco."
VIDEO: Dave Smith criticizes Dr. Thomas Piggott
That aside, Smith remained laser-focused on his government's record by touting its investments in long-term care, infrastructure (high-speed internet), job creation, and cutting taxes. As for his government's response to COVID-19, he said, "If I have made a mistake, my mistake has been trying to keep people alive during COVID."
Greg Dempsey suggested the Liberals represent a kinder choice in government who will invest in public services like home care for seniors, "buck a ride" province-wide public transit, smaller class sizes, and a $9,500 subsidy to encourage the purchase of electric vehicles. He also said the Liberals would reinstate rent control, build affordable housing, and offer a two-year tax holiday for small business.
Jen Deck offered that the NDP under Andrea Horwath's leadership is a "better" choice than the other parties. "Andrea will work for us and I will work for you," she said. By "better," Deck referred throughout the night to the NDP's plan to offer dental care and mental health care as part of an expanded Medicare program for all. She also positioned the NDP as a champion of small business as well as workers with a pledge to raise the minimum wage to $20 per hour.
Advertisement - story continues below
Green candidate Robert Gibson promised to both double the Ontario Disability Support Program and create a basic minimum income, as well as to better support students, meet housing density targets, and earmark 10 per cent of the health care budget for mental health services.
Tom Marazzo said the Ontario Party would not "whip" its votes but allow its members to vote with their constituents on all matters. He expressed dismay at government spending and borrowing, suggested 5G wireless should be better scrutinized before it becomes widespread, and stated that "gender identity" was a matter for the family, not schools.
The next debate of Peterborough-Kawartha candidates will take place via YouTube on Thursday (May 12) from 7 to 8:30 p.m. Organized by For Our Grandchildren, GreenUP, Kawartha World Issues Centre, the Federation of Ontario Cottagers Association, and youth activists, the topic of Thursday's debate will be climate change and the environment. The organizers invited candidates from the four parties that won seats in the last provincial election, so Smith, Dempsey, Deck, and Gibson will be participating.
To submit a question and to receive a link to the livestream, visit forms.gle/v3oSJeseXgmRSiyZ6.
This story has been updated to correct Tom Marazzo's name in the 11th paragraph.