Portions of Peterborough are still without power and reliable internet service almost three days after a brutal spring storm ripped through southern Ontario and Quebec Saturday afternoon (May 21). The storm killed 10 people, including four in the greater Kawarthas region.
Saturday afternoon's weather event is being called a "derecho," a widespread straight-line wind storm associated with a fast-moving group of severe thunderstorms that can cause hurricanic or tornadic-force winds, as well as actual tornadoes.
The derecho that struck Ontario and Quebec on Saturday afternoon toppled hydro transmission towers and broke utility poles, damaged homes, and uprooted trees, with broken branches also taking down power lines and damaging property. Environment Canada estimates winds reached 132 kilometres per hour in some areas. It is one of the most destructive and deadly wind events in Canada's history, according to The Weather Network.
Advertisement - story continues below
As of Tuesday morning, Hydro One reported it had restored service to more than 479,500 customers, with more than 150,000 customers still without power. Damage includes more than 1,400 broken poles, 300 broken crossarms, nearly 200 damaged transformers, and countless downed trees and branches. In the Ottawa area, Hydro One crews are re-building four transmission towers that were toppled by the storm.
"Hydro One crews along with approximately 500 employees from other utilities, including out-of-province and international partners, and contractors have mobilized in the hardest hit areas of central and eastern Ontario to assist with restoration efforts." Hydro One states. "Due to the severity of damage, restoration efforts are expected to continue for several days before power is restored to all customers."
In the City of Peterborough, public works crews are removing downed trees from streets and sidewalks. Fallen trees that are caught in live power lines have to be left until the power lines are safely addressed. Ontario Hydro told kawarthaNOW that, in areas of Peterborough still without power due to downed lines, hydro might not be restored until late Wednesday evening.
This is the longest power outage in Peterborough since the Northeast blackout of 2003. As it became clear that power would be out for some time, residents rushed to obtain generators. Vehicles lined up outside Canadian Tire on Lansdowne Street just after the store opened early Monday morning to buy a limited supply of generators.
Many traffic signals at intersections in Peterborough remain without power, with police reminding drivers to treat these intersections as four-way stops.
So far, 10 people have lost their lives due to the storm, most by being hit by falling trees. In the greater Kawarthas region, victims include a 30-year-old man who died after being struck by a tree in Ganaraska Forest, a 64-year-old Cornwall woman who died when she was struck by a falling tree in North Kawartha Township, a 74-year-old Port Hope woman who died after begin struck by a falling tree at her home, and a 61-year-old Lakefield man who was struck by a falling tree near his home and later succumbed to his injuries.
Advertisement - story continues below
In Peterborough, there were several close calls, including at GreenUP's Ecology Park Native Plant & Tree Nursery, which was hosting its annual spring opening event when the storm struck. A tree came down in the sale area, but there were only "scrapes and bruises" according to Ecology Park's Vern Bastable, who displayed a gash on his arm when kawarthaNOW visited the park the following day.
At least 20 trees were uprooted or severely damaged at Roger's Cove park, including trees that came down near the splash pad and playground equipment. Additional trees fell along the cycling path towards Beavermead Park, including one that took down the temporary fence enclosing the construction at the Canadian Canoe Museum. The lone large tree on the site, that is being preserved during construction, survived the storm.
At Beavermead Park campground, crowded with RVs and tents for the long weekend, several branches and trees came down but there was no evidence of major damage or injuries.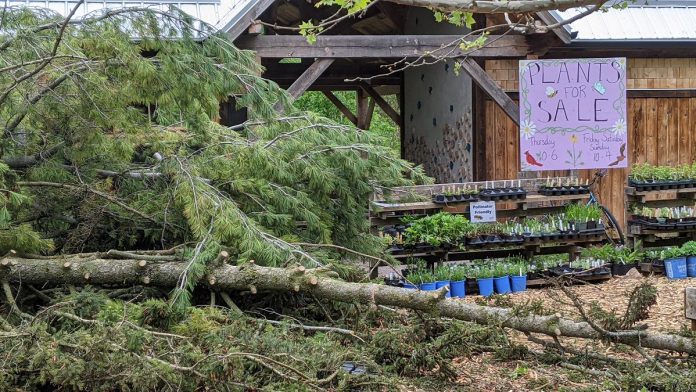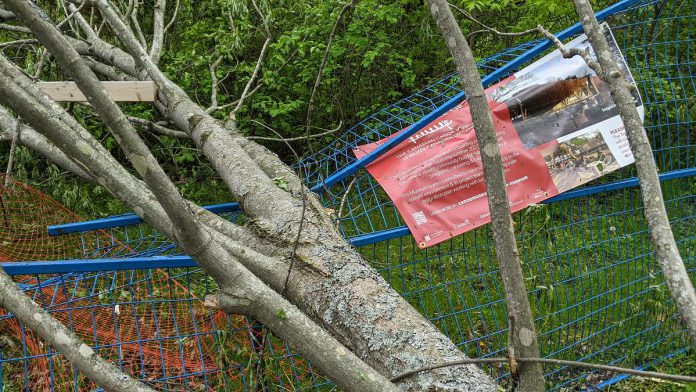 The City of Peterborough has advised that city facilities will be closed to the public for regular services on Tuesday (May 24) to reduce non-essential travel in the community that could impede recovery efforts and slow down emergency service response with unnecessary traffic. With a power outage at its Charllot Street office, Peterborough Social Services has set up a temporary location at the Peterborough Public Library for in-person services for emergency basic needs assistance for clients.
Residents without power who want to charge electronic devices and mobility aids can do so from 10 a.m. to 8 p.m. at the Peterborough Public Library, from 8 a.m. to 8 p.m. at Peterborough Sport and Wellness Centre, from 8 a.m. to 8 p.m. at Healthy Planet Arena, and from 9 a.m. to 4:30 p.m. at Peterborough Museum and Archives. Bring your own charging cables. Regular services will not be available at these locations.
The city has advised garbage and recycling collection will proceed as normal this week. Rgular green waste collection will also take place as resources allow, and unlimited quantities of yard waste can be put out for collection when it is in reusable containers that are labeled, bushel baskets, or paper yard waste bags. However, with the significant volume of green waste from trees on public and private properties, the city has said green waste collection will take time.
Advertisement - story continues below
The Peterborough landfill at 1260 Bensfort Road is open from 8 a.m. to 4:45 p.m. on Tuesday. However, with no internet or phone service, it is only able to accept customers with accounts or cash for transactions at this time.
Kawartha Pine Ridge District School Board announced all schools in the city and county of Peterborough, as well as Enniskillen, Hastings, North Hope, Percy Centennial, Plainville, and Roseneath Centennial Public Schools, would be closed Tuesday due to the storm. Remote learning would not be available.
Peterborough Victoria Northumberland and Clarington Catholic School Board announced that all schools with power as of Monday night would be open for in-person learning Tuesday morning for staff and students that are able to attend (check the school board's website or social media accounts for a current list). However, the school board added that "many families remain without power and have not had access to hot water for several days and may not be able to send their children to school even if there is an opportunity to do so." St. Thomas Aquinas virtual elementary and secondary schools would proceed for those who can connect.
Trillium Lakelands District School Board announced Scott Young Public School, Lady Eaton Elementary School, Grandview Public School, and Rolling Hills Public School would be closed to staff and students on Tuesday and transportation would not be running. Students would move to remote learning for the day, with parents receiving communication from their school with more information. Updates will be posted on the school board's website and communicated to parents.
The YMCA's Balsillie Family Branch is not open on Tuesday due to issues caused by the power outage and storm damage. When power is restored, staff will be cleaning up debris on the property, preparing the facility, and getting the pool ready. Once a reopening day and time is determined, the YMCA will share an update on social media and by email to members. Arrangements have been made for Peterborough child care to open on Tuesday and families are being contacted.
In Peterborough County, Lang Pioneer Village in Keene has delayed its season opening, originally scheduled for Tuesday, due to a lack of power and running water.