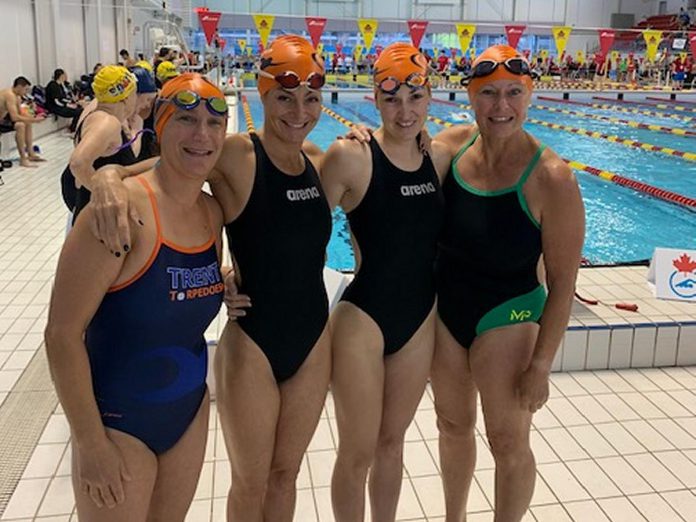 Four Peterborough women competed at the 2022 Speedo Canadian Masters Swimming Championships in Quebec City on the Victoria Day long weekend, collectively taking home eight medals and eight ribbons.
Stephanie Dancey, Renee Oake, Amanda Devlin, and Debbie Murphy Quinlan — representing the Trent Torpedoes Masters of the Trent Swim Club — competed in a total of 19 races at Laval University.
This was the first Canadian Masters Swimming Championships held since the pandemic, which also made training difficult for the four women. Despite on and off pool closures over the past three years, the women continued to train at the Peterborough YMCA.
Advertisement - story continues below
As well as swimming in individual competitions, the women come together for their first time as a relay team, winning a bronze medal in the 50-metre relay.
For Stephanie Dancey, who joined Masters swimming later in life, this was her 13th swim meet in the past seven years and her second time competing nationally.
Amanda Devlin, a former Trent Torpedoes competitive swimmer, competed in her second National Masters race in over 26 years.
Renee Oake, also former Trent Torpedo competitive swimmer, returned to competition after 28 years, winning medals in a number of events.
Debbie Murphy Quinlan, who competed for the first time since the World's 37 years ago, won a silver medal in the 1,500-metre freestyle race.