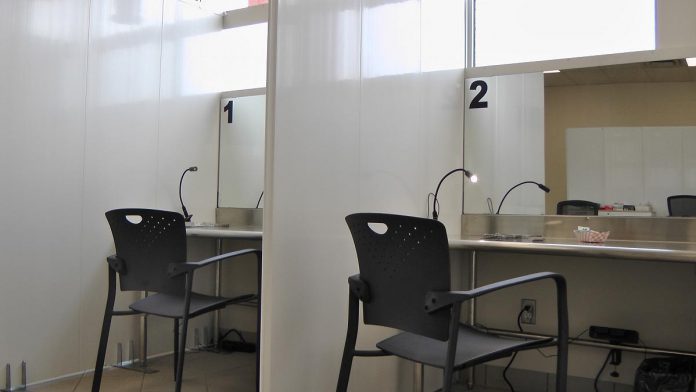 Donna Rogers received some very good news just before a media event on Thursday (May 26) to announce the pending opening of Peterborough's new Consumption and Treatment Services site (CTS), located at the Opioid Response Hub at 220 Simcoe Street in downtown Peterborough.
The executive director of Four Counties Addiction Services Team (Fourcast), the lead agency for the CTS, received a message from Health Canada giving the green light for the CTS to open in mid-June as planned.
"Your request for an exemption from the Controlled Drugs and Substances Act to operate a supervised consumption site at the Peterborough CTS safe consumption site has been granted pursuant to section 51.1 of the CDSA and is valid for a period of up to three years," Rogers said, reading the message from Health Canada to local media, who had been invited to tour the CTS prior to its public opening.
Advertisement - story continues below
VIDEO: Donna Rogers reads Health Canada exemption approval for Peterborough's CTS
Tweet this quote
Fourcast and the other agencies involved in the CTS — Peterborough City-County Paramedics, Peterborough 360 Degree Nurse Practitioner-Led Clinic, Peterborough Public Health, and PARN – Your Community AIDS Resource Network — weren't expecting to hear from Health Canada until next week, following a site inspection on May 16 that was the final stage of the approval process.
While the Opioid Response Hub at 220 Simcoe has already been already offering supports to people who use drugs, Health Canada's approval permits the supervised use of illegal substances in the CTS.
"From the day of the CTS funding announcement to the Health Canada final inspection, we actually had 55 working days to get us to this point," Rogers said. "It took an army of enthusiastic and compassionate people to arrive at this outcome. Fourcast staff, community partners and others combined to procure everything from steel tables (for the CTS's three consumption booths) — that had to have their legs cut in order to fit the size — to soap dispensers. We also had to hire a staff team who will work at the CTS."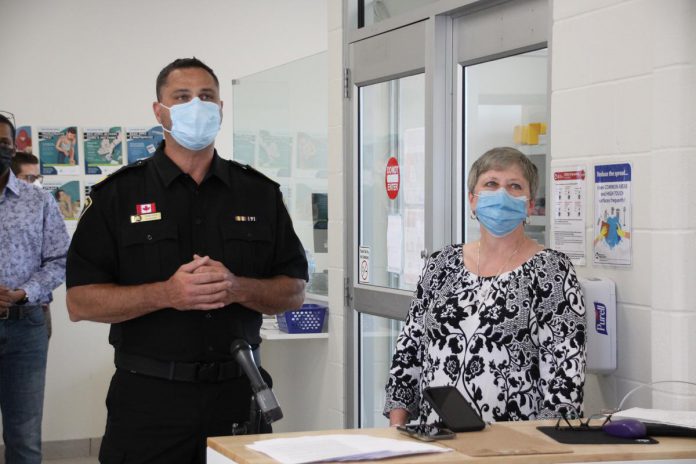 Tweet this quote
Rogers thanked the Community Foundation of Greater Peterborough (CFGP) for their support of last year's 'Light The Way To $160K' campaign that raised funds to renovate the former Greyhound bus terminal at 220 Simcoe Street so it could be used as an Opioid Response Hub, including the CTS.
"If not for the generosity of donors, we would not have been optimally prepared to move forward immediately following the funding decision," Rogers said, referring to the province's decision in February to approve $1.3 million in funding for the CTS — a decision the partner agencies in the CTS had been waiting for since late 2020. "The CFGP leadership and support allowed us to move forward and transform a bus station into a usable CTS site."
Rogers also acknowledged the work of Kevin Mooney Construction — "an incredibly valuable partner" — for their efforts in accommodating "our very ambitious renovation timeline" during a time of supply and labour shortages caused by the pandemic.
Advertisement - story continues below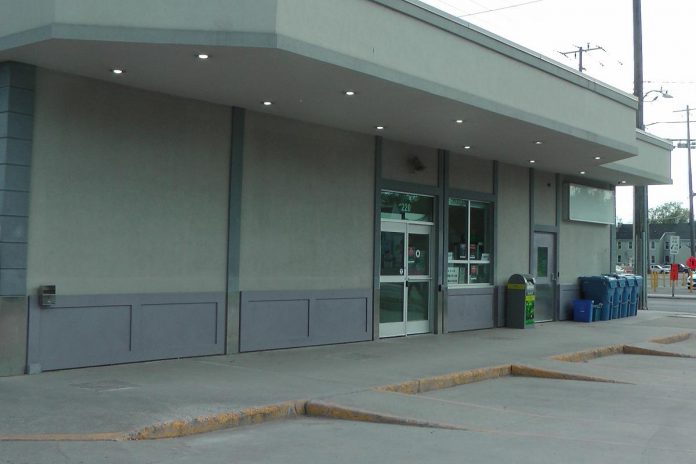 Tweet this quote
Rogers had special praise for Kevin MacDonald, the owner of 220 Simcoe Street.
"Kevin said yes to being a landlord to a CTS — he bought this building and leased it to us for this purpose," Rogers said. "He has stayed quietly in the background, applauding our progress. Today, I applaud Kevin for giving our community the opportunity to reach this milestone."
The CTS will have a "soft opening" on Monday, June 13th. During the first week, it will be open from 11 a.m. to 4 p.m. Hours will then expand to 11 a.m. to 7 p.m., with further expansion as the service is established and the demand for the service and needs of users is evaluated.
"The CTS will be part of a broader system response to the opioid crisis in our community," Rogers said. "The CTS will afford service users another option where they can reduce the harms from using the toxic street drug supply."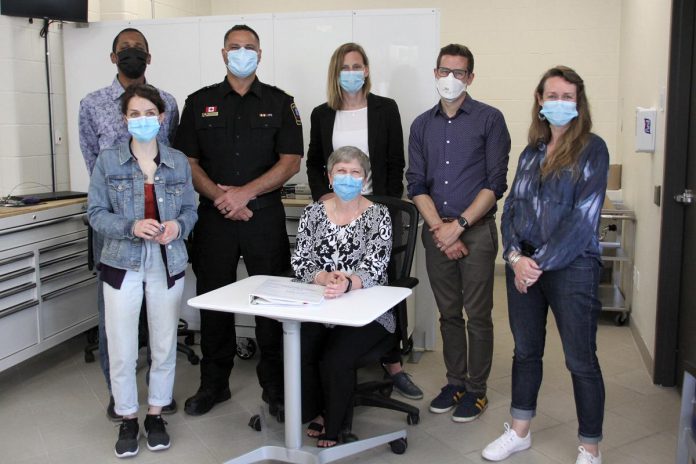 Rogers added the CTS will complement other harm reduction services offered in the community, including the Safer Supply Program offered by the Peterborough 360 Degree Nurse Practitioner-Led Clinic and PARN's Harm Reduction Works program that helps distribute sterile drug-using equipment and provides overdose prevention training and Naloxone distribution.
Kerri Kightley, program manager of the CTS, took media on a tour of the Opioid Response Hub including the CTS. The public is also invited to tour the site and ask questions from 5 to 7 p.m. on Monday, May 30th and Tuesday, May 31st (as the Opioid Response Hub is already offering support to people who use drugs, drop-in visits are not possible to respect their privacy).
"An individual would come through the door and indicate that want to see somebody from the Mobile Support Overdose Resource Team or wanted to engage with Harm Reduction Works services or wanted to use the CTS," Kightley explained. "Based on that, we would funnel them to the right service."
Advertisement - story continues below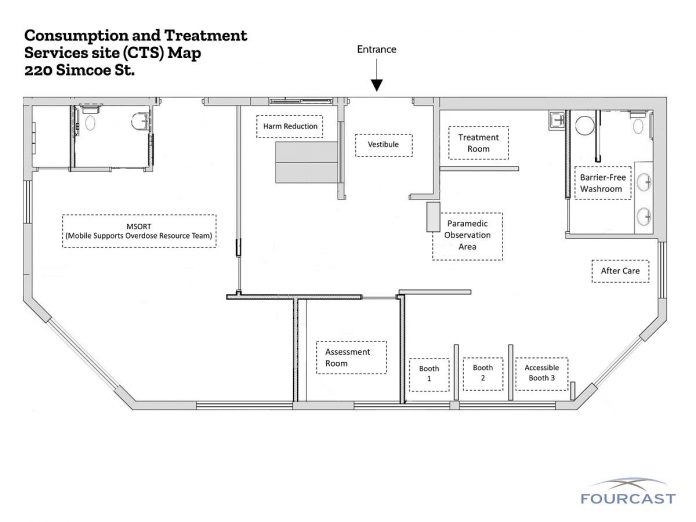 The Opioid Response Hub includes an assessment room where staff from partner agencies can have discussions with clients and connect them with appropriate services.
"The assessment room is the shared space that we will continue to leave open for our community partners," Kightley said.
Located beside the assessment room is the office of the Mobile Support Overdose Resource Team (MSORT), a team of eight people including one paramedic, addictions specialists, and harm reduction specialists who connect with people who have had a recent overdose or are at risk of an overdose.
Tweet this quote
Next to the MSORT office is the workspace for PARN's Harm Reduction Works, a long-standing program that helps to distribute harm reduction equipment to the community.
"People can come here of every walk of life and meet with PARN and be able to access drug-use equipment, personal care supplies, condoms, snacks and water, (and) Naloxone," Kightley said.
The CTS includes an intake space where people can meet with a harm reduction specialist, indicate what substance they are at the CTS to use, and get the equipment they need to prepare and use their drugs.
"You don't need to provide any identification," Kightley explained. "You don't need to provide your first and last name, your date of birth, and a whole bunch of information. It's very anonymous. We're using a unique identifier for each person who comes through the door. There's a lot of anonymity that's built into this space and there's a lot of safety about being able to come here and not be identified."
Advertisement - story continues below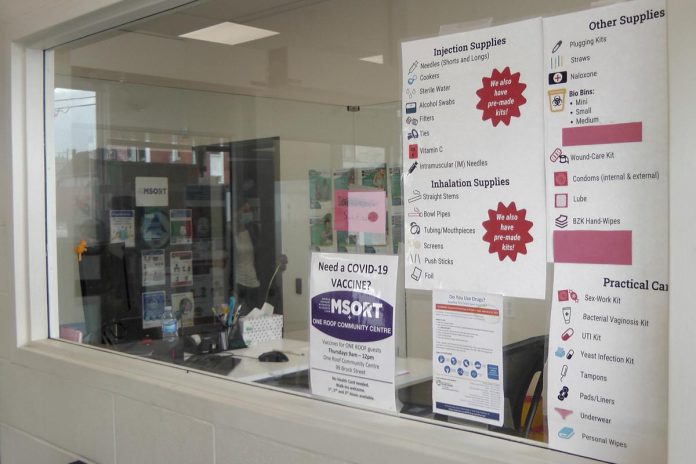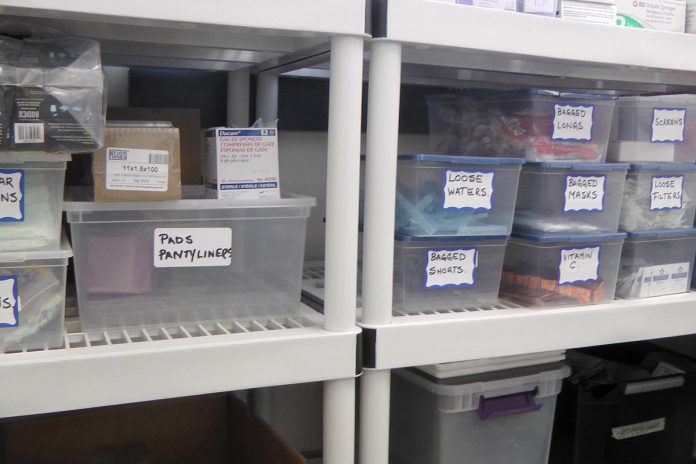 Tweet this quote
At that point, the person would be assigned one of the three consumption booths in the CTS, including an accessible booth for people with mobility issues, to use their substances — supervised by a paramedic.
The Health Canada exemption for the Peterborough CTS allows users to consume drugs through injection, orally, or intranasally. Inhalation of drugs through smoking or vaping is currently not permitted due to provincial health regulations.
"We've very specifically designed these booths so there is a really great line of sight for our paramedic who will be on site," Kightley explained. Each booth has a mirror so the paramedic can observe people as they prepare and consume their substances, as well as biohazard bin where the person can discard used equipment.
A key feature of the CTS is a medical room staffed with a registered nurse from the 360 Degree Nurse Practitioner-Led Clinic.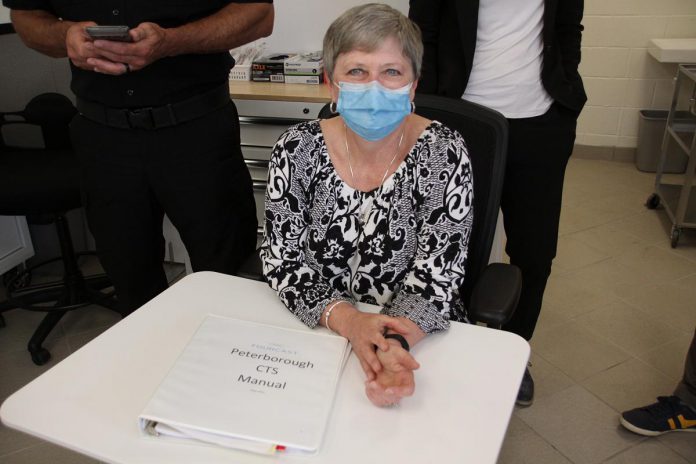 Tweet this quote
"It isn't common for the provincial government to fund a full-time registered nurse for a CTS, so we're super pleased that was included in our funding," Kightley said. "For 35 hours per week, we have a trained medical professional on site who can look at some of the primary care pieces that individuals who are service users are bringing forward."
"In our community we see a lot of wound care issues — a lot of untreated physical health and mental health issues — and we know that RN will be pivotal in being able to navigate some of the health services and being to connect people to the primary care services they need."
The medical room contains a treatment bed, a mobile workstation, medical supplies, and a handwashing sink.
"Really this is a mini clinic where we're able to offer some supports," Kightley said.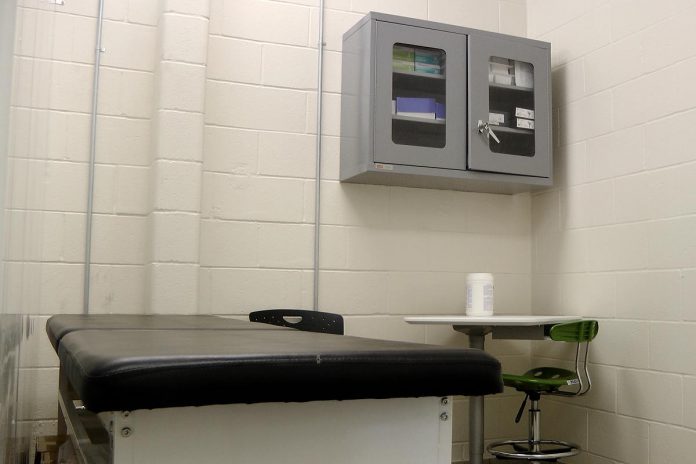 After people at the CTS consume their drugs, they are welcome (but not required) to stay in a small and open waiting area to see what the affect is on their body.
"Folks can sit down, have a coffee, connect with our staff, be monitored by the paramedic or the nurse on site, and our harm reduction specialists," Kightley said.
Kightley noted the CTS is a relatively small space with the Opioid Response Hub.
"We will pretty respectful of the privacy of the individuals that are here, and try and create the CTS as a warm bubble within this larger hub of services," Kightley said.