This month, food writer Eva Fisher talks to Jeff Clarkin from Revelstoke about their soon-to-open bakery in downtown Peterborough. She checks out Peterborough's newest Indian grocer, Fresh Foodz, grabs lunch from The Food Shop's new location in downtown Peterborough, and welcomes back the Incredible Edibles Festival in Campbellford.
Advertisement - content continues below
Revelstoke Bake House to open on Water Street in downtown Peterborough
Downtown Peterborough vegetarian and vegan restaurant Revelstoke is opening a new bakery on Water Street this June, in the location previously occupied by The Food Shop (which has moved next door into the former location of The Planet Bakery).
Revelstoke Bake House (372 Water St., Peterborough, 705-872-5027) will offer baked goods, breads, grab-and-go items, sauces, and frozen foods. Co-owner Jeff Clarkin (who owns the restaurant with his son Conner and Conner's wife Tasha) says that baking from the kitchen of a bustling restaurant was becoming a challenge.
"We're growing pretty quickly. We decided that we need to expand, so we decided to move the bakery out downtown and continue our operations there, but also at the same time expand and offer more baked goods, including bread, as well as additional desserts."
Jeff says that cinnamon buns have become a signature item for the restaurant.
"Since we've been open we've sold over 15,000 cinnamon buns."
The new bakery will allow them to expand on that success. It won't serve sit-down meals, but will offer to-go items like grab-and-go lunches and take-home dinners and sauces. They will make frozen dinners including lasagna and shepherd's pie, as well as frozen baked goods to make at home, like scones and cinnamon buns.
"You can take them home and put them in the oven the next morning and have that fresh cinnamon bun smell," Jeff says.
The bakery will open in early to mid June. You can watch for updates on Instagram at @bakehouseptbo.
Advertisement - content continues below
Fresh Foodz grocer in Peterborough offers easy Indian cuisine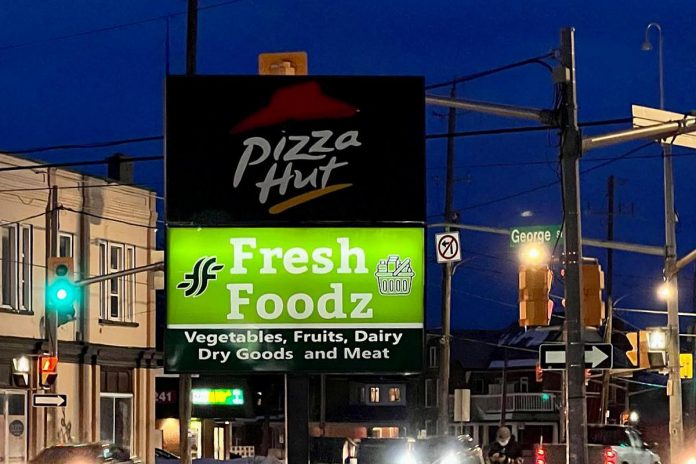 Fresh Foodz (709 George St. N., Peterborough, 705-270-1355) opened this March and offers a variety of Indian foods along with grocery store staples, with plans to expand their offerings to include fresh vegetables and an in-house butcher shop.
This is the first grocery store that co-owners Saikafelnikov Inturi and Manikanta Munnagi have opened. Saikafelnikov came to Canada as a student and obtained a Master's Degree in Mechanical Engineering, but decided on a career as an entrepreneur when he noticed that his Peterborough friends were travelling to Toronto and Scarborough to purchase food.
Saikafelnikov enjoys guiding customers who are newer to Indian cuisine. He previously worked as a chef in Brampton and is happy to use his experience to advise customers as they shop.
"I know exactly what will go with what."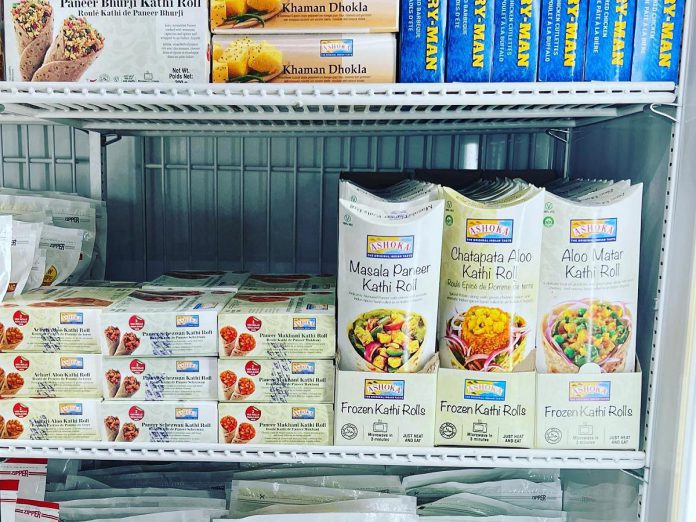 He also stocks easy to make curries and ready made items like samosas to provide an easy entry point to Indian cooking.
Saikafelnikov and Manikanta are currently connecting with local farmers in order to stock fresh vegetables, and are waiting on a butcher shop license in order to provide a selection of meat.
For more information, visit freshfoodz.ca.
Advertisement - content continues below
The Food Shop in downtown Peterborough expands and now offers takeout lunch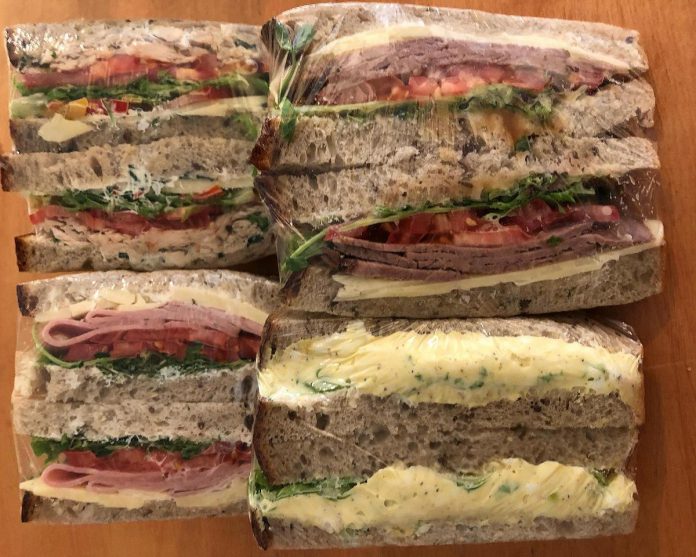 The Food Shop (374 Water St., Peterborough, 705-775-7467) has moved next door from their previous location and is now offering takeout lunch in addition to the local food groceries that have made them a Water Street staple.
The new location, recently occupied by The Planet Bakery, is double the size of their previous space. They opened at 374 Water Street in April.
Despite a few hiccups, co-owner Anthony Lennan says that the move went well.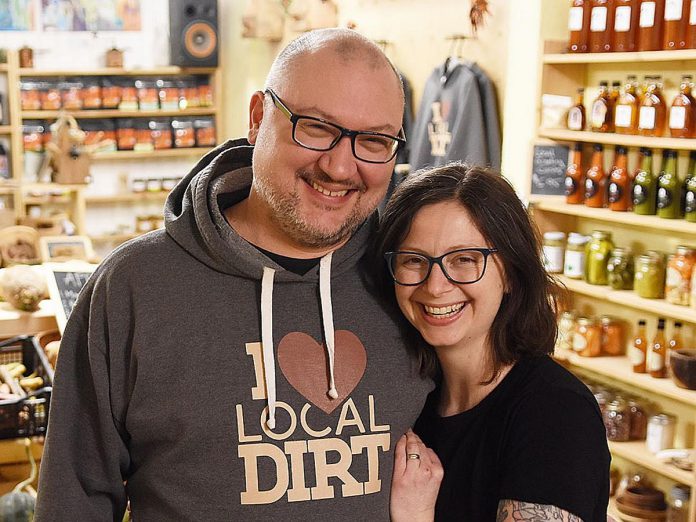 "Customers have been very excited and supportive and look forward to watching us continue to grow," Anthony says.
Current lunch offerings include sandwiches, salads, local ice cream, and natural sodas. The recipes were created by Anthony and co-owner Sam Lennan, who together have over 45 years of experience in restaurants and cafes.
As is the case with their groceries, Anthony notes that the lunch menu has an emphasis on local food.
"We source our ingredients locally whenever possible. As the seasons change, so will the amount of food we get directly from local farmers," Anthony says.
As The Food Shop team settles into their new quarters, they plan to expand their menu to include take-away meals for home or office and, seasonally, cold weather favourites like soups and stews.
For more information, visit ptbofoodshop.com.
Advertisement - content continues below
Campbellford's Incredible Edibles Festival returns this July after two years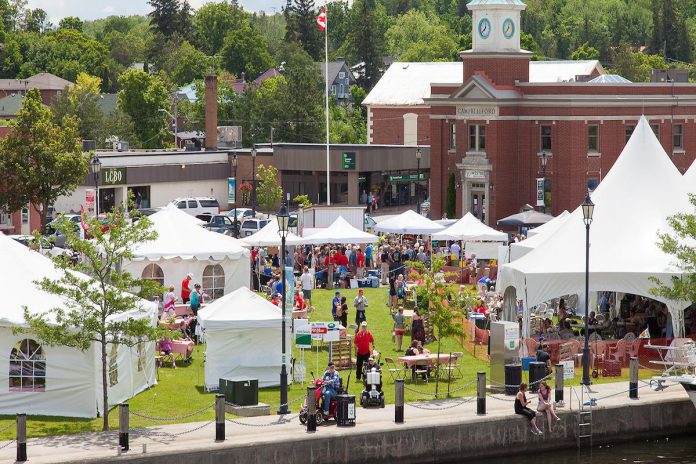 The family-friendly Incredible Edibles Festival in Campbellford is back! After a two-year hiatus, the festival will run into the evening this year from 10 a.m. to 10 p.m. on Saturday, July 9th.
Managing director Amanda Solmes says they are expecting 40 food vendors and 20 artisan vendors at the event this year.
There will also be live food demonstrations running all day by the Ontario Agri-Food Venture Centre.
Prepare to be entertained while you graze: the event will feature live music, belly dancers, aerial hoop art performances, and a fire show. And bring the kids, with activities available for children all day.
More details about this year's festival will be available soon at incredibleediblesfestival.com.