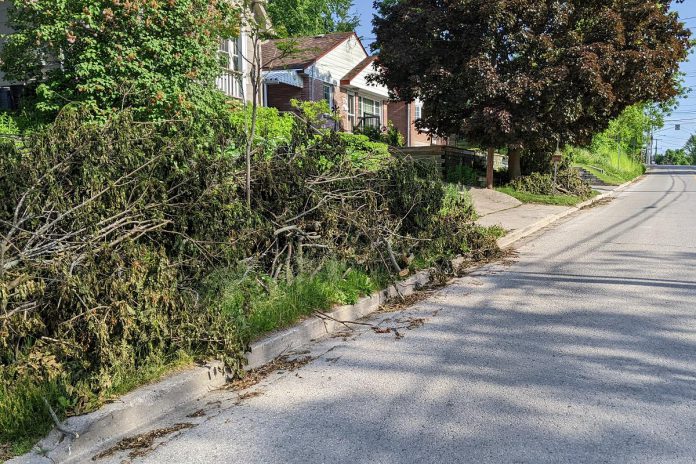 Branches and brush from the May 21st storm that are piled on residential boulevards in the City of Peterborough will be removed by city crews, but it may take at least another month before this happens.
At the Peterborough city council meeting on Monday night (May 30), council directed the city to allocate resources and equipment to manage and remove green waste debris from private property.
However, that work will begin after the city has removed storm debris from city-owned property. including right-of-ways, streets, sidewalks, trails, and parks.
Advertisement - story continues below
The city estimates it may be four to six weeks before green waste debris can be collected from residential boulevards. Council is asking residents to remain patient while the city manages resources for the clean-up effort.
To assist residents cleaning up their properties, city council also decided to waive the fees for disposal of tree branches and brush at the Peterborough landfill on Bensfort Road until June 30. Previously, there was a fee of $7 for 100 kilograms or less of green waste, or $95 per tonne for an entire load.
The city has also opened a fee-free temporary drop-off site at 425 Kennedy Road where residents can dispose of tree branches and brush.