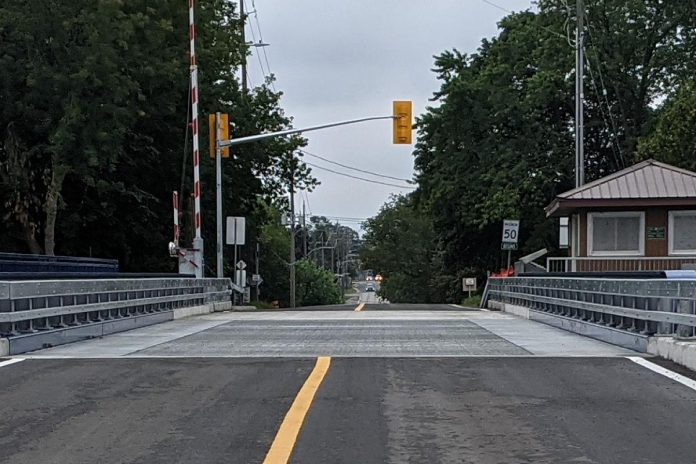 Parks Canada is closing the Warsaw Road Swing Bridge, located on Parkhill Road between Armour Road and Television Road in Peterborough, during the first week of July to address noise issues.
The bridge will be closed to vehicles starting at 9 a.m. on Monday, July 4th until mid-day on Friday, July 8th. Traffic control measures and detour routes will be in place for the duration of the work.
During the closure, selected grating panels of the metal bridge deck will be removed, repaired, and reattached to the bridge to reduce the noise caused by vehicles using the bridge. The repair work will not impact navigation along the waterway.
Advertisement - story continues below
The bridge reopened in August 2021 after being closed for over 10 months for a full replacement of the steel swing bridge structure, repairs to concrete abutments, and replacement of mechanical and electrical operating systems.
In December 2021, Parks Canada removed perforated steel plates for cyclists, located on the outer edge of both traffic lanes on the main bridge deck, because of excessive noise. The plates were to be replaced in the spring with new plates that will allow for installation of fasteners to reduce noise levels.
Apparently that work did not address the issue, as many local residents have been complaining about continued excessive noise from the bridge.
Advertisement - story continues below
"The noise keeps you awake all night and during the day it is worse when sitting outside," writes one resident on the East City Peterborough Facebook group. "The old bridge didn't make noise like this. I have lived on Swanston for over 40 years and never had this problem before."
Parks Canada states that, following an observation period during the summer months, similar work may be completed on the remaining grating panels in the fall.
"Parks Canada understands the frustration this situation has caused and would like to thank residents for their patience and understanding," reads a media release.