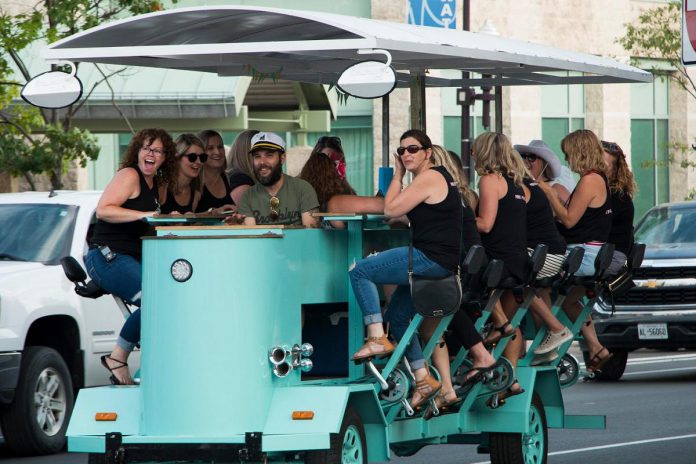 If the pandemic struggle taught us anything, it taught us we're better when we work together — that a pull-the-oars-in-unison approach provides the foundation needed to overcome challenges while raising our spirits.
In 2019, well before COVID cast its dark shadow, PedalBoro brought that same teamwork approach to downtown Peterborough, combining it with an invigorating cycling experience that saw numerous groups joyfully pedal their way to several of the city's favourite pubs and craft breweries.
Now the 15-passenger party bike — owned and operated by Peterborough locals Hillary Flood and Peter Rellinger — is back in business in a very big way with bookings being taken.
Advertisement - story continues below
Tweet this quote
"We want to do our part in helping Peterborough bounce back and bring a little joy to the streets," says PedalBoro 'Captain' Rellinger, adding "With the economy now fully reopen, the timing is right to safely re-launch this summer."
PedalBoro will make its 2022 entrance in grand fashion on Friday, July 1st as part of the annual Peterborough Canada Day Parade.
What will follow is four months of available Thursday-through-Sunday pub crawl tours for private parties, as well as corporate groups in search of a one-of-a-kind office team building experience.
VIDEO: PedalBoro is Back
Integral to the initial success of PedalBoro, and key moving forward, are the partnerships established with party bike tour stops. In the mix for 2022 are McThirsty's, Spanky's, The Black Horse, The Maple Moose, Cameron's Brewery, Electric City Bread Company, and Euphoria Wellness Spa.
According to Flood, PedalBoro ridership in its inaugural season saw 60 per cent hail from out of town, primarily from Durham Region and the GTA.
In addition, 48 per cent of those stayed overnight, providing a significant benefit to the local economy.
Advertisement - story continues below
Tweet this quote
And close to 90 per cent of all PedalBoro cyclists spent time in downtown Peterborough after their tour, supporting core area restaurants, cafés, and pubs.
"Back in 2019, when this whole bike dream started, I vividly remember sitting down with Pete and pitching — very formally with a PowerPoint presentation — that we use almost our entire savings to buy a party bike," recalls Flood.
"Flash forward a few years later and we are finally getting to run our second season of pedal-powered fun. It's an exciting moment for us to finally say out loud, with confidence, 'We're back.' It's like a phoenix rising from the ashes."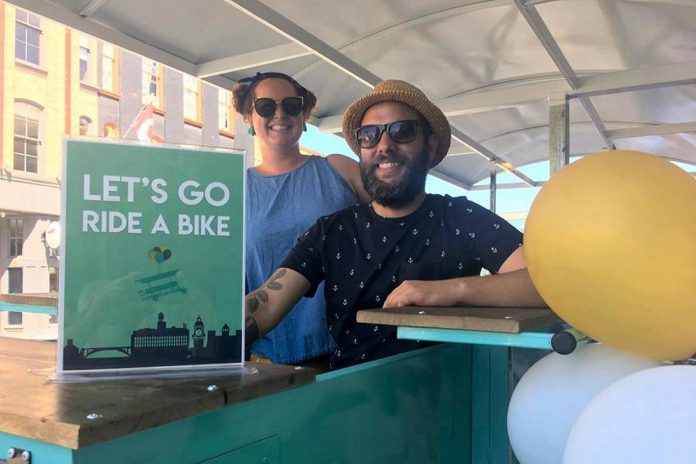 While bookings are being taken for private tours at this point, Flood says individual riders will be able to book a tour for Sundays later in the season.
For more information on PedalBoro and to book your group's tour, visit www.pedalboro.com.