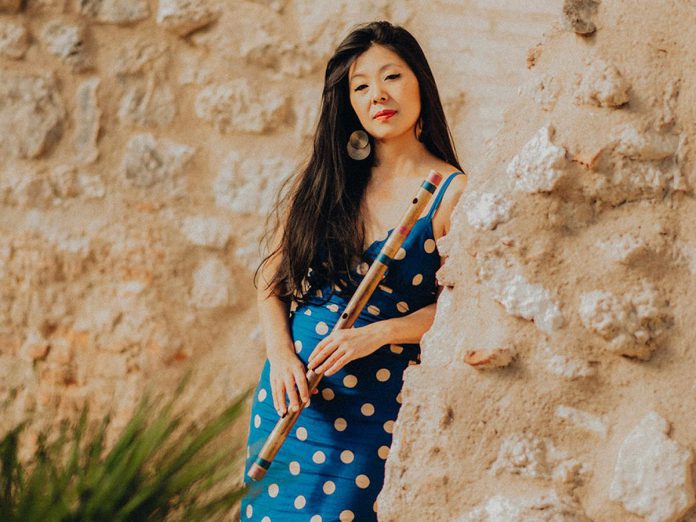 You may not have heard of flamenco flutist Lara Wong before, but the Canadian musician — who is performing with her trio at the Gordon Best in Peterborough on Friday (July 8) — surprised the world of flamenco in 2021 by becoming the first foreigner and the first woman to ever win the prestigious "Filon Minero" award for best flamenco instrumentalist at the Festival Cante de las Minas.
Spain's most important flamenco competition. the Festival Cante de las Minas names their choice every year for the best flamenco singer, dancer, guitarist, and instrumentalist. Since the festival began in 1961, no foreigner has ever won in any category, with prizes traditionally going to Spaniards born in the southern province of Andalusia, where flamenco originated and remains ubiquitous.
The 31-year-old Wong, who was born and raised in Vancouver, began playing piano when she was around five years old and turned to the flute when she was around 11. By that time, she was already obsessed with Spanish music. Although she received a degree in classical and jazz flute from McGill University in Montreal, she never lost her passion for the music of Spain.
Advertisement - story continues below
"I was attracted to the sorrow and the sadness of the music," she tells CBC's Gloria Macarenko in an interview. "As a flute player, I never really liked the flute repertoire. It was always too happy and bird-like and chirpy. So I was really attracted to (flamenco's) dramatic intensity, and also the complexity of the rhythm and the energy."
In 2012, Wong moved to Spain — living first in Seville, then Granada, and now Madrid — so she could immerse herself in the music of flamenco. Since there is no formal education for flamenco flute in Spain, she learned by playing in dance classes, at informal street jams, and at late-night flamenco parties.
She also studied flamenco singing so she could learn the traditional flamenco melodies and adapt them for the flute, and took private lessons with flamenco flute masters like Jorge Pardo, the flutist who accompanied the late great flamenco guitarist Paco de Lucia.
VIDEO: Lara Wong Tria – Canada 2022 Summer Tour Promo

In Madrid, she formed the Lara Wong Trio and released their first album, Rosa de los Vientos (Spanish for "compass rose"), and is now on her first cross-Canada tour.
"As a Canadian artist dedicated to the niche genre of the flamenco flute, it is a joy for me to bring this unique art form to Canadians who have yet to discover the world of flamenco jazz music," she tells kawarthaNOW in an email.
The Lara Wong Trio performs at 8 p.m. on Friday, July 8th at the Gordon Best Theatre at 216 Hunter Street West in downtown Peterborough. Wong will be performing on flute and bansuri (Indian bamboo flute) and will be accompanied by Spanish musicians Ivan Mellén on percussion and Melon Jimenez on flamenco guitar.
Advertisement - story continues below
Jiménez, one of the most notable guitarists in Spain's flamenco and world music scene, is known for his innovative approach to flamenco guitar, translating techniques from the sitar, slide guitar, and African gimbri. He has toured with renowned musicians including Anoushka Shankar, Chuchito Valdes, Jorge Pardo, Richard Bona, Enirque Morente, and Armando Manzanero. This year, he became a finalist in the prestigious "Paco de Lucia" award.
Tickets for the Lara Wong Trio are $22 in advance at eventbrite.es/e/36009779118 or $25 at the door.
For more information about Lara Wong, visit larawong.com.
VIDEO: "Rosa de los Vientos" by Lara Wong