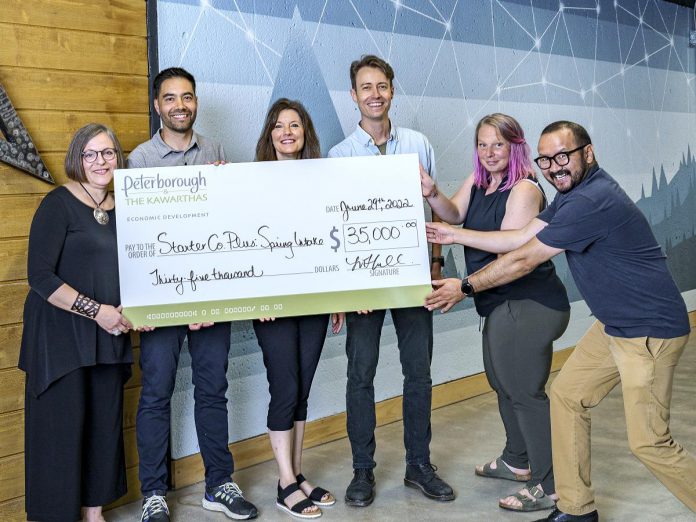 Seven Peterborough-area entrepreneurs have each been awarded a $5,000 microgrant to support their small business in the spring intake of the Starter Company Plus program offered by the Peterborough & the Kawarthas Business Advisory Centre.
Funded by the Government of Ontario and administered by Peterborough & the Kawarthas Economic Development (PKED), the program provides aspiring or experienced entrepreneurs in the City and County of Peterborough with five weeks of business training to help them launch a new business or expand an existing one.
Twelve small businesses participated in the spring intake of the program, with the following seven entrepreneurs and their businesses selected to each receive a $5,000 grant based on the overall strength of their business plan and business pitch:
Advertisement - story continues below
Voula Halliday of The Flavour Fix Co. in Peterborough, offering flavourful additions to transform your meals, including sprinkles, smears, slathers, dollops, and spreads.
Matt Anderson of Chemong City Greens in Peterborough, an organic micro-green grower and harvester selling to restaurants and home consumers.
Jessica Blair of Follow Me Photography in Cavan-Monaghan, a therapeutic photography service to capture and commemorate loved ones during the end phase of their lives.
Dave Bourgeois of Drumlin Cycle in Cavan-Monaghan, a mobile bicycle repair and maintenance service for cyclists and commuter bicycles in Cavan-Monaghan Township.
Julie Drain of Your Furever Friend Professional Pet Services in Douro-Dummer, a registered veterinary technician offering dog training, behaviour programming, and health support for the life of your pet.
Jenish Odigineyev of Odigski Media in Peterborough, offering videography services including media shoots, full productions, and editing services for program content, educational, and recruitment videos for businesses.
Lewis Park of East City Guitar Co. in Peterborough's East City, offering guitar manufacturing and repair as well as workshops.
"This intake of the Starter Company Plus program saw 12 businesses who launched and grew in the midst of the COVID-19 pandemic," says Madeleine Hurrell, the PKED entrepreneurship officer who oversees the program, in a media release. "As a result of a constantly changing economic and public health landscape, these new businesses have grown to be resilient and adaptive."
Since its launch in 2017, the Starter Company Plus program offered by the Peterborough & the Kawarthas Business Advisory Centre has assisted over 203 local entrepreneurs and over 162 small businesses, which have created more than 190 jobs in the local economy.