After a two-year absence due to the pandemic, the Transportation Day Car & Motorcycle Show is returning to Lang Pioneer Village Museum in Keene this summer.
The 25th annual family-friendly event runs from 10 a.m. to 4 p.m. on Sunday, July 10th.
Visitors can view antique and classic cars and vintage motorcycles brought by car and motorcycle enthusiasts from across Ontario on display throughout the historic village.
Advertisement - story continues below
In a nod to non-motorized modes of transportation, the Antique Bicycle Collectors of Ontario will be showcasing its extensive display of antique and rare bicycles in and around the Peterborough County Agricultural Heritage Building, where DJ Del and Jenny Jams will be spinning music from the '50s to the '80s.
Visitors can learn how transportation has changed over the years and the roles that various trades played in the creation of transportation methods, including the challenges of the journey from Britain to Canada at the Fife Cabin and the experience of waiting for the stagecoach in the Hotel.
In the Transportation Barn, visitor will see a variety of 19th-century modes of transportation such as sleighs, wagons, and milk carts.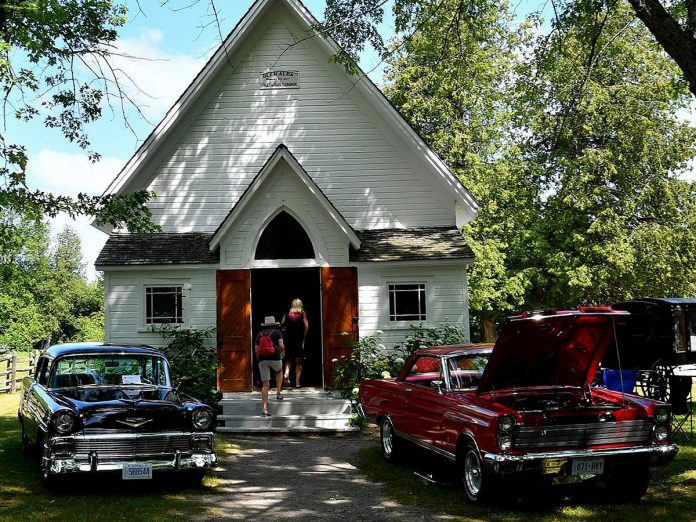 Kids can participate in schoolyard games at the South Lake Schoolhouse, make a craft at the Ayotte Cabin, write a postcard to a pioneer, and learn how the transportation of mail was an essential service at the General Store.
There will also be horse and wagon rides, demonstrations in the Lang Grist Mill and in the Shingle Mill, weaving demonstrations, and the opportunity to view the Kawartha Truth and Reconciliation quilt.
Food options (for an additional fee) include refreshments and sweet treats at the Keene Hotel and snacks from the Keene Lions Club food truck.
Advertisement - story continues below
Admission in advance or at the village is $15 for adults, $10 for students and seniors 60 and older, and $7 for children and youth ages five to 14, with free admission for children under five. Family admission is also available for $40 and includes two adults and up to four children and youth.
For more information or to purchase advance tickets, visit langpioneervillage.ca/plan-your-visit/events/car-show/.
Other special events at Lang Pioneer Village Museum this summer include "Tying the Knot" – Early Wedding Traditions on Sunday, August 14th.
Outside of special events, the museum's summer hours of operation are from 10 a.m. to 4 p.m. Wednesdays to Sundays until September 4.