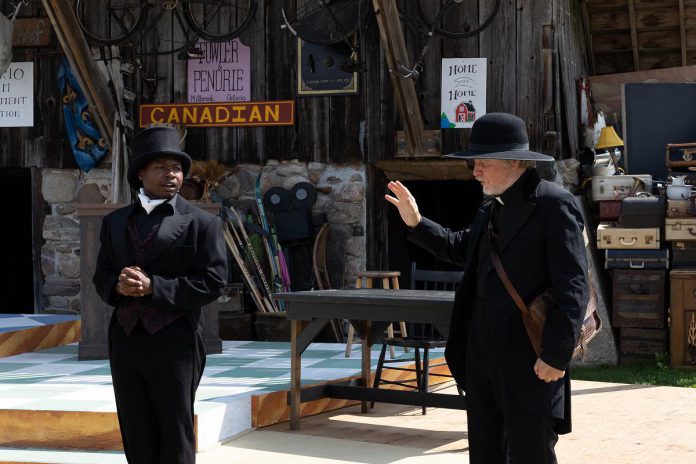 When trying to lure audiences back after two years of pandemic-related hibernation, it's not a bad idea to keep doing what you've done so well.
The soundness of that approach hasn't been lost on 4th Line Theatre and, as a result, the company has picked up right where it left off in 2019, presenting original, local history-infused productions on its rustic and enchanting Winslow Farm stage just outside of Millbrook off Zion Line.
For the second production of its milestone 30th summer season, 4th Line Theatre will stage the world premiere of Wishful Seeing, playwright Maja Ardal's adaptation of Janet Kellough's novel of the same name.
Advertisement - content continues below
Directed by 4th Line managing artistic director Kim Blackwell, the 1850s-era murder mystery opens August 2 and continues Tuesdays through Saturdays at 6 p.m. until closing on August 27.
Set in 1853, the play's storyline revolves around saddlebag preacher Thaddeus Lewis who stumbles upon a murder mystery on Rice Lake. Featuring a most colourful cast of characters, it's set against the backdrop of pre-Confederation Canada. Think Murdoch Mysteries, CBC's very popular television series, and you get the general idea.
During a media preview held Wednesday (July 20), Blackwell noted Wishful Seeing "checks a lot of boxes … for this theatre, for its mission, and its mandate" — that being the development and presentation of original theatre pieces that bring Ontario small-town stories (and history) back to life.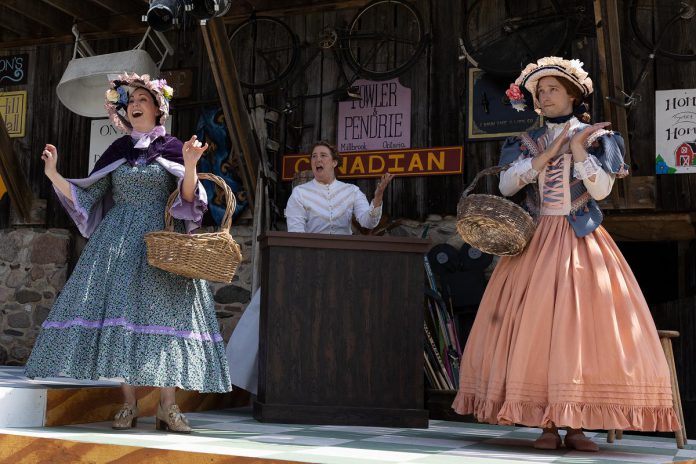 "My mom gave me the book in July 2016," recalls Blackwell of her introduction to Kellough's novel.
"In late August, I was at the cottage and I read it. I thought 'This is a perfect play for 4th Line. It's a murder mystery. There's the historical story of the Cobourg-to-Peterborough railroad and there's this murder on Spook Island on Rice Lake.' I sent a message to her (Janet). She got back to me in 15 or 20 minutes on a Sunday morning and said she's interested."
Once publisher Dundurn Press gave its blessing, Ardal did her thing and did it very well, not surprisingly according to Blackwell.
Advertisement - content continues below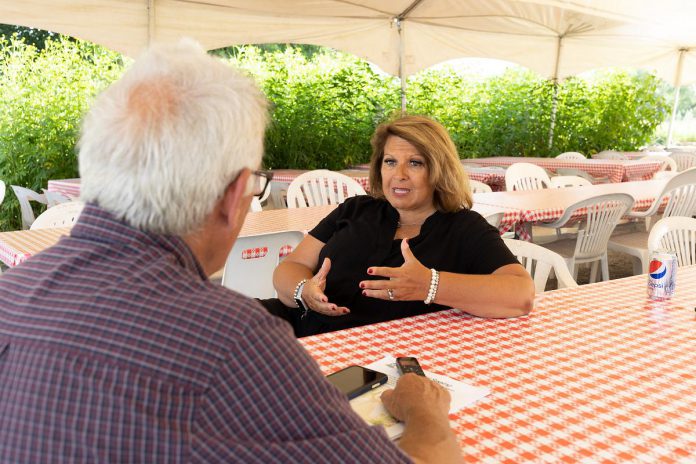 Tweet this quote
"What she does beautifully is adapt source material, but adds spins of her own while staying very true to the source material," Blackwell says, recalling "the beautiful job" Ardal did on The Hero of Hunter Street, her 2016 4th Line-staged play that chronicled events at the time of the 1916 Quaker Oats explosion and fire in Peterborough.
As for Wishful Seeing, "it's an incredibly technical piece," says Blackwell, noting elements such as fight scenes, original music, choreography, and "extraordinary" sets and props.
"I always think my shows are going to be simple. On the face of it, when an audience comes to see them, they probably look simple. But to create a world, to draw an audience into Cobourg in 1853, there are so many moving parts. It's like a humongous machine and I'm sort of oiling parts to make sure things are moving."
Blackwell has been "oiling parts" with 4th Line Theatre for a long time, this summer marking her 28th season with the company for which she has directed more than 25 productions, 14 of them world premieres. Along with founder and creative director Robert Winslow, Blackwell remains the face and voice of the outdoor theatre company that debuted in 1992 with Winslow's The Cavan Blazers.
Wishful Seeing marks Winslow's return to a principal role after a few years' absence. Blackwell says he "was born to play" the part of preacher Lewis.
"I'm enjoying the process but it has been quite awhile," says Winslow, dressed in full black preacher garb on an insanely hot day.
Advertisement - content continues below
Tweet this quote
"I find these types of characters kind of interesting," Winslow says. "This particular man (Lewis) preached into his seventies. One of the challenges of playing a religious character is you have to find that faith within yourself."
"In these times, you assume no one believes in God — that everybody's into science and that sort of thing — but that's not necessarily true. There are a lot of people who still have faith."
As for the cast, it's heavy on the side of local actors, among them Megan Murphy who, with singer-songwriter Kate Suhr, brought The Verandah Society In Residence to the farm last summer for a limited run. Wishful Seeing marks her 4th Line summer play debut — a big check mark on her bucket list, she says.
Tweet this quote
"I play Constance Small … I'm kind of the town biddy," Murphy says. "Gossip is currency and I like to have the most currency. I want to be on my way up in the world, but there's that interesting combination where gossip travels fast and it can be simple or it can ruin people. There's a little bit of power there. I'm the 1850s' Facebook."
"My first love was Anne of Green Gables — I thought I was Anne. Now, for the first time, I'm in that period and I get to wear these things (hoop skirts and corsets). This is so much fun. I get to play for a living. I'm a giant overgrown child. It's amazing."
Equally thrilled to be in the mix is Kate Bemrose, who is making her 4th Line debut. The recent Lakefield College School graduate has appeared in numerous locally staged musicals — she was also a competitive dancer with Premiere Studio of Dance — and was involved with 4th Line's 2021 Young Company. In Wishful Seeing, she plays Martha Renwell, the granddaughter of preacher Lewis.
"She (Renwell) is young and full of energy — kind of a feminist and very modern for the times," Bemrose says of her character, adding "I love that she's forward thinking and progressive."
"I fell in love with musical theatre because it's a combination of all the different things, but I never dived deeper into the acting portion. I'm so excited to do that this summer. Kim (Blackwell) and Marjie (Chud), the assistant director, have taught me so much, even in just the last two weeks. I'm excited to learn more. I try to be like a sponge and soak everything up."
Meanwhile, JD (Jack) Nicholsen, who portrays George Howell, is no stranger to 4th Line audiences. An award-winning actor whose career spans 30-plus years, he has appeared in five previous 4th Line productions, adding to an impressive resumé that also includes a 1991 Juno Award as a member of The Leslie Spit Treeo.
Tweet this quote
"I play the father of Caroline and the husband of Ellen Howell (portrayed by Peterborough-based actor Kait Dueck)," he notes. "Ellen is the woman that Thaddeus Lewis takes a shine to and helps. I play the husband who has nefarious undetermined activities that he's involved with. He's not a bad guy, but he is a bit of shady character."
"I've never done a murder mystery. It's a fun script, and Kim (Blackwell) is very detailed. She's always talking about your intention and your reaction."
"What I really admire is what she achieves in the short period of time she is given. It's a big cast — 18 people — and there are more than 40 different scenes. That's a lot to navigate. She's got a great visual sense; a great rhythmic sense. Her direction is always very clear and concise. She never confuses you."
Advertisement - content continues below
Sponsored by Trinity College School and IG Wealth Management, Wishful Seeing also stars visiting actors Tavaree Daniel-Simms and Conor Ling. Other actors in the cast include Naomi Duvall, Hilary Wear, Ryan Tobin, and Mark and Justin Hiscox. Musical direction is by Justin Hiscox, with choreography by Madison Sheward, fight direction by Edward Belanger, and costume design by Korin Cormier.
Performance dates for Wishful Seeing are Tuesdays to Saturdays from August 2 to 6, 9 to 13, 16 to 20, and 23 to 27 with curtain at 6 p.m. Previews take place on August 2 and 3, with opening night on Thursday, August 4. Tickets are $42.50 for adults and $36.50 youth.
For more information and to order tickets for Wishful Seeing, visit www.4thlinetheatre.on.ca. You can also order tickets by calling 705-932-4445 (toll free at 1-800-814-0055) or in person at the 4th Line Theatre box office at 4 Tupper Street in Millbrook starting July 2.