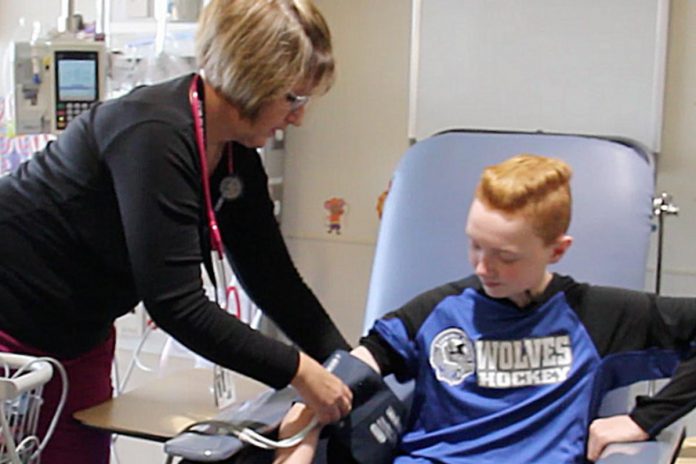 With the help of businesses, supporters, and volunteers, the Chemung Lake District Lions Club is donating activity care packages to kids receiving cancer treatment at Peterborough Regional Health Centre (PRHC).
The activity care packages consist of donations including reading books, colouring books, sticker books, crayons, pencil crayons, gel markers, WonderArt colouring sheets and markers, and sketch books, as well as a Lions Club colouring book.
The activity care packages will be distributed to children receiving treatment at PRHC's Pediatric Oncology (POGO) Satellite Clinic, which was launched in 2018 in collaboration with The Hospital for Sick Children (SickKids) in Toronto.
Advertisement - story continues below
For young patients and their families, the satellite clinic provides care closer to home, reducing travel time, avoiding costs to receive care elsewhere, and resulting in less loss of income and separation from home and community — all while maintaining confidence that young patients are receiving the best quality care under the direction of SickKids.
The idea to provide care packages to pediatric patients at the clinic — who can use them while waiting for treatment at PRHC or while travelling to and from SickKids — began in October 2021, when the Chemung Lake District Lions Club, District A3 for Childhood Cancer reached out to businesses and organizations compiling age-appropriate items to create individual care packages.
Supporters include Crayola Canada, Scholastic Canada, Gerri's Arts & Crafts and Fabricland Chemong Road in Peterborough, Shaun Milne Signs in Ennismore, Dollarama Corporate, and the Lakefield Legion. Volunteers from the Buckhorn Beauties Red Hat group and the Lakefield Village Lions cut material and lining for 200 bags and the Quilters Guild donated their time and sewing skills to put the bags together.