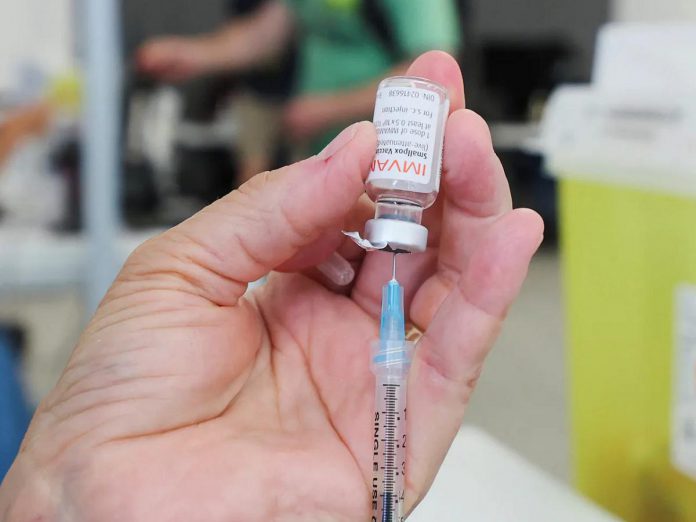 Peterborough Public Health will be hosting its first monkeypox vaccine clinic on Friday (August 5). The clinic will provide eligible residents with a single dose of the Imvamune (also known as Imvanex) smallpox vaccine.
As there is a limited supply of Imvamune in Ontario, locations with confirmed cases can provide eligible residents with Imvamune as a pre-exposure prophylaxis — a medicine intended to prevent infection if a person is exposed to a disease. Of the 326 confirmed cases of monkeypox in Ontario as of July 25, two are located in the region served by Peterborough Public Health.
Eligible residents include trans or cisgender people 18 years and older who self-identify as belonging to the gay, bisexual, and other men who have sex with men (gbMSM) community, have not received a COVID-19 vaccine within the past four weeks, and meet at least one of the following criteria:
have received a diagnosis of bacterial STI (e.g., chlamydia, gonorrhea, syphilis) in the past two months
have had two or more sexual partners within the past 21 days or may be planning to, have attended venues for sexual contact within the past 21 days (e.g., bath houses, sex clubs) or may be planning to or who work or volunteer in these settings
have had anonymous sex in the past 21 days (e.g., using hookup apps) or may be planning to
engage in sex work or may be planning to, and their sexual contacts.
Advertisement - content continues below
The monkeypox clinic will take place from 9 a.m. to 4 p.m. on August 5 at Peterborough Public Health's Sexual Health Clinic at 185 King Street in downtown Peterborough. Eligible residents can book an appointment by calling the Sexual Health Clinic at 705-748-2021 from 8:30 a.m. to 4:30 p.m. Monday to Friday. Walk-ins will not be accepted.
The clinic is not intended for close contacts of a confirmed or probable case of monkeypox. Residents who think they might be a close contact are advised to immediately call their health care provider or Peterborough Public Health to report their status and receive guidance.
Residents who are immunocompromised, pregnant, or breastfeeding may be at higher risk for severe illness from a monkeypox infection. These residents should contact a public health nurse at 705-743-1000 ext. 131 for consideration of pre-exposure prophylaxis if they are at risk for contracting monkeypox.
The World Health Organization has declared the ongoing monkeypox outbreak as a public health emergency of international concern. As of July 23, more than 16,000 cases of monkeypox have been reported to the World Health Organization from 75 countries. A month before, there were 3,040 cases in 47 countries.