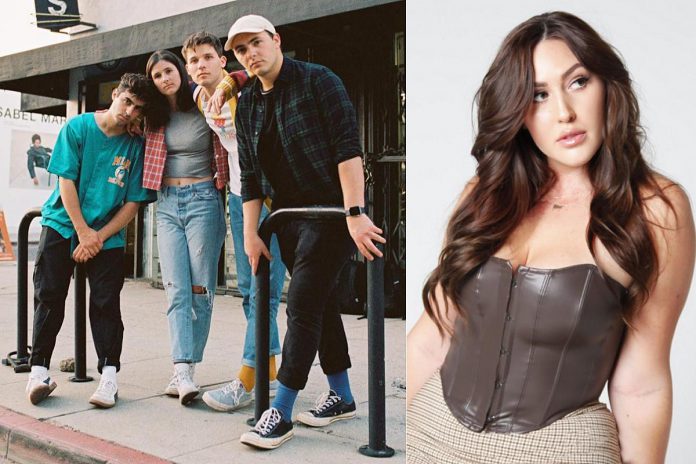 By accident or design, or maybe a bit of both, this week has evolved into quite the Canadian pop music showcase at Del Crary Park.
Fresh off of this past Wednesday night's double headlining bill of Suzie McNeil and JJ Wilde, Peterborough Musicfest will shine its spotlight this Saturday (August 6) on Valley and Alyssa Reid as the festival's 35th season continues. Admission to the 8 p.m. concert, as always, is free.
Twice nominated for a Juno award — in 2020 as Breakthrough Group of the Year and just this past May in the Group of the Year category — indie pop quartet Valley came together quite by chance in 2014. Members of two separate bands at that time, Rob Laska, Michael (Mickey) Brandolino, Alex Dimauro, and Karah James found themselves in the same recording studio after the time slot was double booked.
Advertisement - story continues below
Their musical union clicked, leading to the release of Valley's self-produced debut EP Car Test the following year.
"Karah and I went to high school together while Rob and Alex also went to high school together but we were two separate projects," related Mickey Brandolino during a September 2021 interview with Brittany Min of The Luna Collective.
"When graduation came around, both our duos felt like we were going through a transitional phase. By coincidence, we were double booked for a studio session one day and during the session we walked in on each other and started chatting and playing our music for each other. I think we both liked each other's vibes. We started hanging out and basically haven't stopped hanging out to this day. Our band is like one long hang-out."
VIDEO: "Like 1999" – Valley

Karah James added her recollection of knowing they had hit upon something special.
"We were in my basement and we had Rob over and he was tuning his guitar to open tuning," she said. "Because Mike and I are noobs, we didn't know what he was doing. Then he started playing along to what Mike and I were already working on. The guitar sounded so beautiful. At that moment, Mike and I looked at each other, and without another word, we were like "Be in our band!"
Following the release of the EP This Room Is White in 2016, Valley pulled together enough material for a debut full-length album.
Advertisement - story continues below
Released in 2019, Maybe preceded the singles "nevermind" and "hiccup" and, in February 2021, "Like 1999" from the seven-track EP Last Birthday. Another song on that EP has the distinctive title of "Oh shit … are we in love?"
"We had gotten a cabin during the pandemic to write with friends over Zoom," recalled Rob Laska about that song. "And one night, the guy we were working with started this drum groove and I got this walking-down-the-street type of vibe. It kind of reminded me of the beginning of a sitcom."
"Then it dawned on us that, for this song in particular, we wanted something more upbeat because the last thing people needed is a sad song. We wanted a kind of love anthem. We had never really done a love song before. It all came very naturally, and we liked how it opened up with a story kind of similar to how we like opening up sucks to see you doing better (from the 2018 EP of the same name)."
VIDEO: "Oh shit … are we in love?" – Valley

"Lyrically, we wanted to talk about the 'Oh shit' moment you have in life. This can come with any type of life relationship, like with a friend or even a dog, but it's when you have the sudden realization of love being a mutual feeling. It is such a powerful song live. I think people love to sing along to something chill and hopeful."
Valley arrives in Peterborough riding high on the January 2022 release of the EP After Party, its earlier-released singles "SOCIETY" and "Tempo" contributing to the band's attainment of more than 210 million global video streams.
Asked for her take on the band dynamic, James said "Sometimes all of us play the role of either a kite or the kite holder. Each of us takes our turn of going off into our own creative world and not thinking about logistics and, as a result, I feel like there's someone in the band that will keep them grounded and reel them back in."
Advertisement - story continues below
Brampton-raised Alyssa Reid rocketed to fame in 2011 with her debut album The Game and the single "Alone Again" (based on the lyrics and music of the 1987 Heart song "Alone") that was certified double platinum in Canada on the strength of more than one million copies sold globally. Her subsequent momentum brought her to the 2012 Juno Awards where Reid, a New Artist of the Year nominee, performed.
Subsequent singles "Satisfaction Guaranteed" and "Running Guns," coupled with the 2014 release of her second studio album Time Bomb, saw Reid's upward trajectory continue into 2015 and the release of a third album, Phoenix.
In 2021, under the alias ASHS, Reid released a full-length album of the same name, the singles "Without You," "Paranoid," "Don't Call Me," and "My Ex" among its tracks.
VIDEO: "Alone Again" – Alyssa Reid

"I wanted the ability to create on a blank slate, under a faceless alias so I could experiment freely with no preconceived notions of what people expected to hear from me," revealed Reid during a February 2022 interview with Pamela Roz of Canadian Beats Media.
"It was the most fun I've ever had creatively, and I loved that songs and interviews I did when I was a cringy teenager weren't popping up when people searched for the new project online. I hate the term 'passion project' but I feel like it's a good name for it, considering it helped me fall in love with creating again."
Create, and create well, Reid has certainly done. Her latest single "Roses" has cracked the Top 20 of the Canadian Pop Radio listing. But more than that, it's a song Reid has leveraged to raise funds for the LifeLine Canada Foundation and its focus on mental health resilience and suicide prevention.
Advertisement - story continues below
"What really captured me (about the foundation) was that it not only provided tons of resources for crisis management but also had a lot of tools for coping in your day-to-day life," said Reid.
"With the new single Roses touching so heavily on mental health, I wanted to use the opportunity to fundraise for a great foundation. The Lifeline Canada Foundation felt like the perfect fit."
In the meantime, Reid is excited to back doing what she loves for those who, in increasing numbers, love what she's doing.
"The Canadian music industry was hit hard with lockdowns," she said. "I'm very ready to get back out and play some music. Zoom writing sessions have zero vibe, so it's nice to finally be back in studio creating again."
VIDEO: "The Game" – Alyssa Reid

Peterborough Musicfest is presenting 16 free-admission concerts during its milestone 35th anniversary season, each staged Wednesday and Saturday nights at Del Crary Park in downtown Peterborough.
Overseen by general manager Tracey Randall and staff, a board of directors, and numerous volunteers, Peterborough Musicfest's stated mission remains "to provide diverse, affordable live music to enrich cultural and economic prosperity in our community."
For more information on this concert or the entire 2022 season, visit www.ptbomusicfest.ca or phone the Peterborough Musicfest office at 705-755-1111.