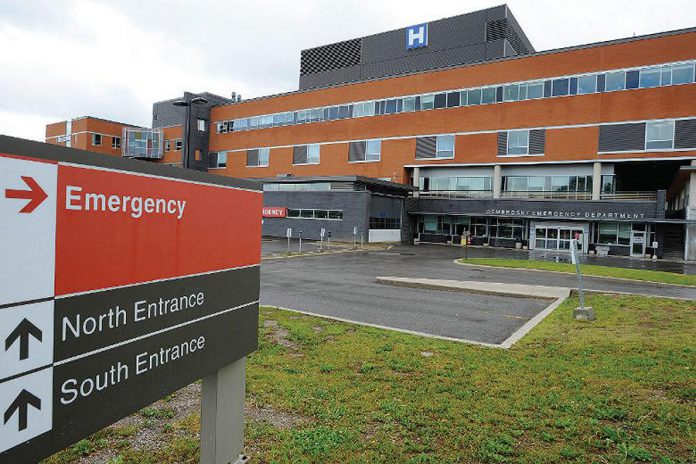 While there are no plans at this point to reduce emergency department hours or services at Peterborough Regional Health Centre (PRHC), a leading hospital executive says "significant pressures" that "have been made worse by the results of the pandemic" are being experienced.
"In recent weeks, the situation has become more serious," said Dr. Lynn Mikula, PRHC executive VP, chief medical executive, and chief of staff, during a media briefing held Thursday (August 4).
"We are seeing higher patient acuity, meaning that more people who come to the emergency department are sick enough to need admission to the hospital. For example, during the week of July 17, 191 patients — or 13 per cent of people coming to the emergency department — required admission. This is a high number for us."
Advertisement - story continues below
Tweet this quote
Dr. Mikula noted that, not unlike hospitals across the province, staffing shortages have increased the pressure on PRHC's ability to provide care across all its departments.
She explained it's not just nurses that PRHC is short of, but also personnel in a range of disciplines including technologists, respiratory therapists, physiotherapists, and occupational therapists to name but a few. As of June, the hospital had a total of 275 vacancies in job positions across the hospital — a vacancy rate of 9.25 per cent.
"It's an across-the-board (staffing) shortage," she said. "This has required us to focus our limited emergency department resources where they are most needed. As a result, wait times are longer than usual for all but the most acutely ill patients. In July, the average emergency department wait time was eight hours."
"In addition, the hospital is very full, operating at or above 100 per cent of its in-patient bed capacity. And COVID-19 does continue to be a factor. We've reported a new outbreak on in-patient unit C3 involving two patients. As of yesterday, the hospital had a total of 18 in-patients who are positive for COVID-19."
Despite the pressures being experienced, Dr. Mikula said "there's no absolute threshold" for determining if PRHC will have to reduce emergency department hours — similar to what other Ontario hospitals have done.
"Our staff are absolutely incredible at adapting to the pressures of the moment," she said. "Pressures on the emergency department fluctuate a great deal, so shift by shift — and sometimes hour by hour — the team is figuring out what they need to do to keep delivering patient care."
"It's very difficult for me to say 'We've been one bed away' or 'We've been one nurse away' (from reducing hours). I can tell you there have been days when it's been extraordinarily difficult to keep the emergency department going."
Advertisement - story continues below
Tweet this quote
"The trajectory over the last few weeks has been very difficult," Dr. Mikula said. "If you're asking me how are we going to keep coping with rising patient volumes and ongoing staffing shortages, the answer is we can't. At some point, we will have to scale back something. We'll have to do some very hard thinking."
Saying the pressures on the hospital are going to be experienced "for the foreseeable future," Dr. Mikula added "It's an extremely acute and fragile situation."
To that end, she's urging that those considering an emergency department visit "assess the urgency of their condition" and consider "alternative options before coming to the hospital, including walk-in clinics and virtual clinics that can be found on our website." That list can be found here.
"People who are registered with a family physician or practitioner should seek non-urgent care through that office before coming to the hospital," she said.
Dr. Mikula acknowledged it's difficult to suggest people not to come to the emergency department when they are need in care.
"If you are sick and you think you need the hospital, come in," she stressed. "We would much rather see you than have you be at home when you need us … I don't want anyone to get the impression that, if you're really sick, we won't be here for you. What we're asking is that people who can have their condition managed through an alternative channel seek out that channel first."
Advertisement - story continues below
Tweet this quote
The ongoing doctor shortage in the region is exacerbating the situation, Dr. Mikula noted.
"We have quite a large number of people in the city and county who don't have a primary care physician. We direct people to a virtual care clinic or an urgent care clinic (and) to a number of other options, like TeleHealth Ontario. We ask that people do what they can to seek alternative options for non-urgent care."
"People do generally know if they're very ill. If you're having crushing chest pain, if you're having symptoms of a stroke, severe abdominal pain, or if you've broken a bone, there are all fairly obvious things."
As for a solution to the pressures being experienced, Dr. Mikula said "There's no easy answer."
"It's going to require all aspects of the health care system work in a coordinated fashion, probably much more than we ever have before. The solutions don't necessarily live in the hospital. They live with the entire system working together. Those conversations are ongoing but there's really no easy thing we can do at this moment."
Advertisement - story continues below
Tweet this quote
As for what people who must come to the hospital can do to alleviate stress on staff, Dr. Mikula had some suggestions.
"Be kind to the people looking after you, wear a mask when you're asked to wear a mask, and understand they're doing their best under very difficult circumstances. That's something each of us can do when we seek health care."
As for PRHC's ability to handle an influx of patients resulting from an expected fall wave of new COVID-19 infections, Dr. Mikula assured the hospital will be ready for whatever comes its way.
"If there's one thing the last two years has taught us, it's that we need to be prepared to manage another wave at any time," she said, adding "We're waiting and we're ready."