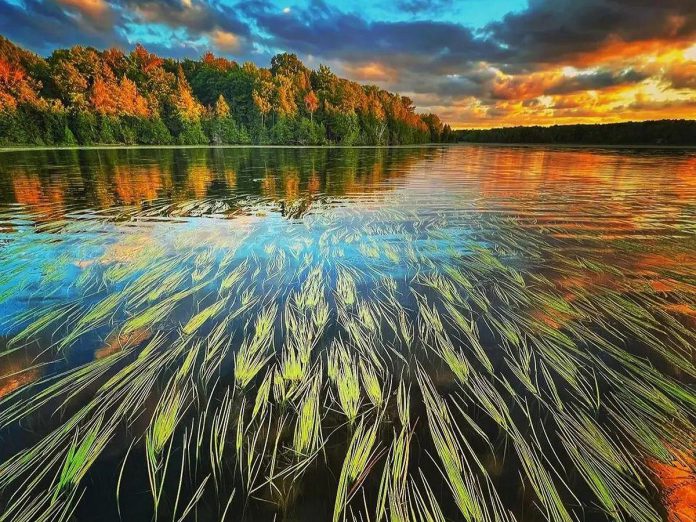 For the month that contains Canada's national holiday, I don't think we could have planned our top photos to represent July in The Kawarthas any better than this month's collection.
These are the consummate images of summer. Wild rice in Chemong Lake, the Canadian flag on a farm road, a cedar canoe. A majestic heron, ducks in the sunset, and a loon parent and loonlet. And if that's not enough, let's add the perfect "land of reflections" island in the Canadian Shield and a perfect lily pad.
I think our local photographers have done us proud this month. As always, we thank them for tagging us and allowing us to share.
Do you want to get on our top photographers list? All you need is an Insta account and to tag us using our hashtag #kawarthanow when posting your photo.
We share photos from across our readership area, which is the five-county area surrounding Peterborough which includes Peterborough, Northumberland, City of Kawartha Lakes, Haliburton, and Hastings (we sneak in the occasional Algonquin Park picture as well, particularly if it's by a Kawarthas photographer).
To see our daily shares of photos, follow us on Instagram @kawarthanow and check out our feed's highlight reels for recaps of every month in 2022.
Advertisement - content continues below
#1. Manoomin (wild rice) in Chemong Lake by Emma Taylor @justemmataylor
Posted July 9, 2022
#2. Happy Canada Day by Fred Thornhill @kawarthavisions
Posted July 3, 2022
Advertisement - content continues below
#3. Canoe life on Little Burleigh Lake by Barry Killen @theburleighridge_beareh
Posted July 19, 2022
#4. Buckhorn rainbow by Stephanie Lake @byethelake
Posted July 14, 2022
Advertisement - content continues below
#5. Great blue heron on Jackson Creek in Peterborough by Lori Mckee @l_mckee
Posted July 7, 2022
#6. Sunset over Little Lake in Peterborough by Tim Haan @tim.haan.photography
Posted July 18, 2022
Advertisement - content continues below
#7. Loon and loonlet in Kawartha Lakes by Matt Parish @dude_with_a_fuji
Posted July 24, 2022
#8. "Passing Through" on the Trent-Severn Waterway by Memtyme @memtyme
Posted July 5, 2022
#9. Water lily on Lovesick Lake by Cindy Bartoli @cbart03
Posted July 21, 2022