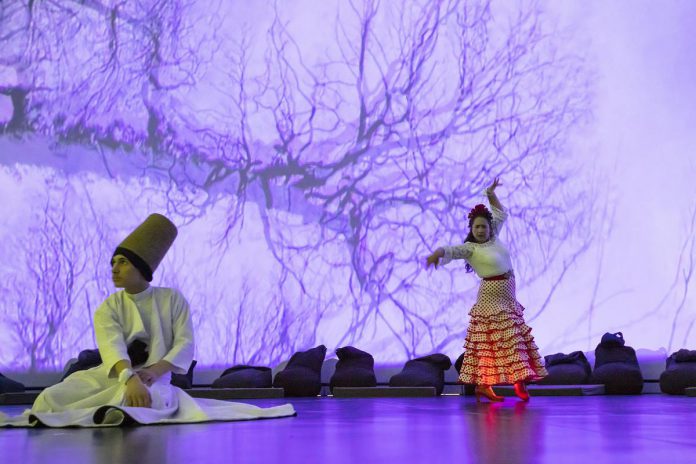 A unique multimedia dance performance inspired by the 13th-century Sufi tradition of "whirling dervishes" and the flamenco tradition of southern Spain — combined with a modern technological twist — is coming to the Market Hall Performing Arts Centre in Peterborough on September 9 and 10.
Presented by Public Energy Performing Arts as the first production of its 29th season and supported by the New Canadians Centre, Digital Dervish and Flamenco Sonic combines original digital projections, live performance, and wearable technology in a work by Canadian Hedy Hurban, head of performing arts of the U.K. artistic company Firoza, which takes an avant-garde approach to contemporary Islamic art.
A local connection comes with visual artist Kaz Rahman, who is Firoza's artistic director and the filmmaker and production designer for Digital Dervish and Flamenco Sonic. Rahman grew up in Peterborough before moving to the U.S. and eventually settling in the U.K. with his partner Hurban. Together with visual effects by Barış Çelik, Rahman created the performance's dynamic projections that envelop the audience in a mesmerizing environment.
Advertisement - content continues below
Digital Dervish and Flamenco Sonic begins with a dervish, a member of the Sufi religious order of Islam known for the "sema" tradition — a "whirling" dance and meditative ritual dating back to 13th century that is still practiced today by the Mevlevi Sufis in Turkey. The dervish, performed by Mayez Rahman, wakes up from a dream to the sounds of birds and nature and begins to meditate and perform his sema. He becomes enveloped in a storm of chaos as he whirls wildly and then collapses, where he becomes dormant again.
A flamenco dancer, performed by Carolina Loyola-Garcia, notices the dervish and begins to move in similar patterns, evoking her "duende" — a heightened state of emotion, expression, and authenticity that has been called "a special state of flamenco grace" — in an attempt to awaken the dervish. The two dancers exchange their sounds and movements until they become intertwined in a climactic whirling that encompasses music, imagery, and physical movement.
A modern technological twist of the production is its use of the "soundrop", a small wearable device designed by Hurban — an electronic music composer, choreographer, and costume designer — to track specific movements of a performer and map these movements to sounds and LED lights. Attached to the wrist or ankle, the soundrop becomes an extension of the performer's body.
VIDEO: "Digital Dervish and Flamenco Sonic" trailer

Performances of Digital Dervish and Flamenco Sonic take place at 7:30 p.m. on Friday, September 9th and at 1 p.m. on Saturday, September 10th. Each 30-minute performance will be followed by an on-stage question-and-answer session with the artists.
For those unable to attend, the September 10th performance will be livestreamed and a recording will be available for one week following the performance.
"But you won't get the full effect of projections that immerse the dancers and their movements that influence the sound and lights via wearable tech," reads a media release from Public Energy.
Tickets for both the in-person and livestreamed performances of Digital Dervish and Flamenco Sonic are "pick a price," starting as low as $5, and are available in advance at tickets.markethall.org.
For more information about Public Energy and Digital Dervish and Flamenco Sonic, visit publicenergy.ca.
kawarthaNOW is proud to be a long-time media sponsor of Public Energy Performing Arts.