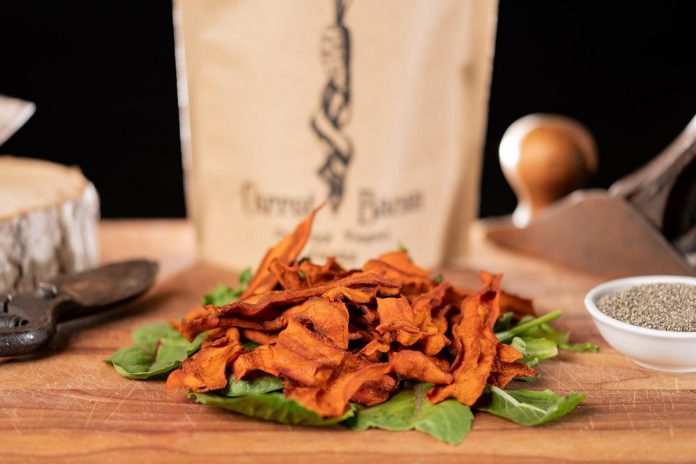 A Peterborough-based startup producing a bacon-like vegan jerky made from carrots recently expanded its product to nationwide retailers and was an innovation award winner at the largest candy and snack show in North America.
Founded by Tyler Steeves, Carrot Bacon transforms carrots into a vegan, nutrient-rich jerky that is crispy and smoky-sweet with an umami taste and a slight kick. Shelf-stable, Carrot Bacon comes in a variety of flavours including Applewood and Carolina Smoke.
Already available in Peterborough at Jo Anne's Place Health Foods and The Food Shop and nationally at Sobey's, Carrot Bacon recently launched its products nationwide in Walmart, London Drugs, and Whole Foods West, with plans to launch in Longo's this fall. Discussions are also underway with Loblaw and Metro Quebec.
Advertisement - content continues below
Tweet this quote
In May, Carrot Bacon participated in Chicago's Sweets and Snacks Expo, the largest candy and snack show in North America. Competing in the "Most Innovative New Product" category, Carrot Bacon took best in show with the "Small Business Innovator Award."
Canadian financial services giant Desjardins also recently awarded its $20,000 GoodSpark Grant for Innovation to Carrot Bacon, which competed against more than 6,000 other business across Canada.
"It's an honour to be recognized internationally at the Chicago Expo, and I couldn't be happier to be awarded a GoodSpark grant from Desjardins," Steeves says in a media release. "It's been extremely satisfying to see our distribution strategy coming together and to be working with some of the giants in the industry."
Steeves' company has also been invited to participate in an exclusive program offered by KeHE, one of the largest natural food product distributors in the United States. Its program, KeHE Elevate™, nurtures leading-edge brands to maximize their growth and success allowing them to flourish and reach more shelves nationwide.
Carrot Bacon is a client of the Innovation Cluster Peterborough and the Kawarthas.
"Carrot Bacon's innovation, determination, and hard work is definitely paying off," says Innovation Cluster CEO Michael Skinner. "Tyler is an inspiration for our other clients, proving that a startup within Peterborough and the Kawarthas' entrepreneurial ecosystem can receive the support they need to grow and scale their businesses locally, nationally, and beyond our borders."
For more information about Carrot Bacon, visit www.carrotbacon.org.