Aaron McFadden, a teacher at Holy Cross Secondary School in Peterborough, is going to spend this Saturday night (September 3) in Peterborough's first "tiny home" for people experiencing homelessness.
The sleep-out is a fundraiser for Peterborough Action for Tiny Homes (PATH), a grassroots initiative that constructed the small sleeping cabin with the help of volunteers and local businesses. It's the first step in their ultimate vision to build a village of 50 tiny homes to help house some of the 317 people without a home in Peterborough, including 15 people this winter.
The prototype cabin, which is "roving" around different locations in Peterborough in September, was built by Chris Cleary of Cleary Homes with a volunteer construction crew. Drew Merrett of Merrett Home Hardware supplied materials for the cabin at cost along with Ken Wood at Charlotte Paint and Wallpaper. In partnership with PATH, Grace United Church raised $10,000 in a fundraising initiative spearheaded by church member Bev Templar.
Advertisement - content continues below
Tweet this quote
On Saturday, the sleeping cabin will be located near the Old Stone Schoolhouse on Rubidge Street, opposite Cathedral of St. Peter-in-Chains. After attending 5 p.m. mass, McFadden will begin his sleep-out at 6 p.m. He will be available to speak with visitors and will accept donations through TipTapPay.
"Early in my teaching career, I took the opportunity to travel and teach internationally for about six years," McFadden, says. "That experience has helped open my eyes to see the inequities in this world. When I returned home I use that same attitude to explore and learn about our country and our community."
This is not the first time McFadden is camping out to raise awareness and funds for the homelessness. For the past two winters, he's camped out in his backyard to raise funds for the YES Shelter for Youth and Families, bringing in over $3,000.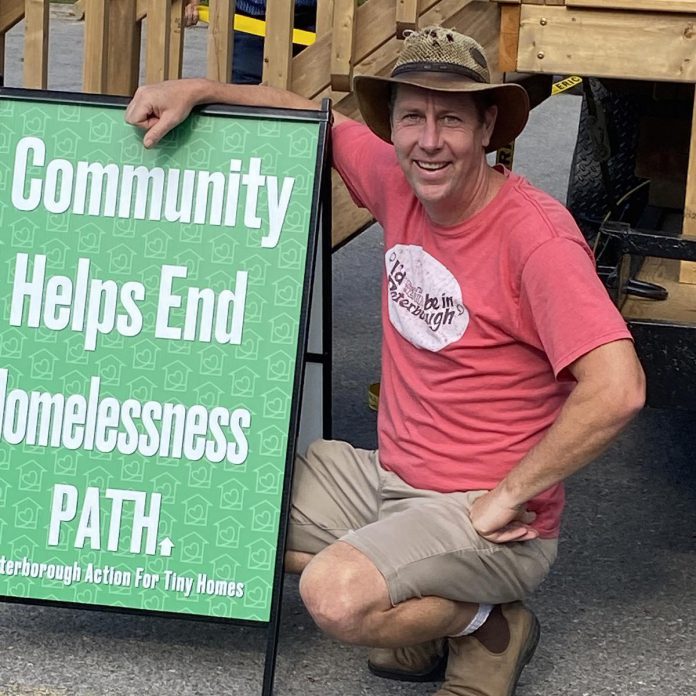 "I am very happy to sleep out in the tiny home cabin for one night," he says. "My belief is that learning experiences are the most powerful we can have, and I look forward to the night and the people that I will meet. When we invest in ourselves and our community, it's a better world."
After McFadden' sleep-out, the sleeping cabin will be at Cathedral of St. Peter-in-Chains until September 10, when it will move to Emmanuel United Church for a week.
It will also be at the Purple Onion Festival in Millennium Park on September 25.