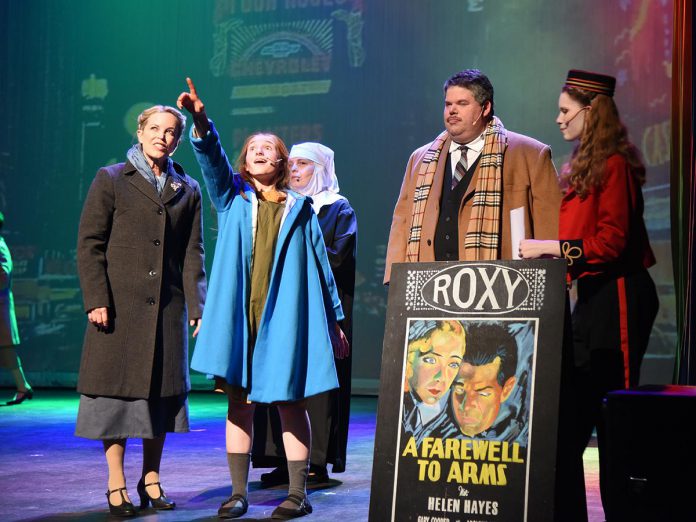 The Peterborough Theatre Guild has announced its return to the stage in 2022-23 with a full season of eight shows, from a staged reading kicking off the season in September to one-act plays and full-length shows and musicals running through to next July.
Tickets for all shows are available now for season subscription holders, with individual tickets available around six weeks before each show's opening night. Ticket prices are $10 for staged readings and family productions, $15 for one-act plays, $25 for full-length productions ($22 for seniors and $15 for students), and $32 for musicals ($28 for seniors and $20 for students).
Individual tickets are available now for the staged reading of British playwright Nick Payne's romantic two-handed drama Constellations, featuring real-life couple Lisa Devan and Dan Duran (in his first dramatic role for the Peterborough Theatre Guild), with three performances from September 16 to 18. Tickets are $10 for assigned seating.
Advertisement - content continues below
Individual tickets are also available now for $15 for the one-act comedic drama Our Place by Terry Gabbard, running from October 14 to 23.
You can purchase individual tickets for upcoming shows, or become a subscriber, at peterboroughtheatreguild.com.
Here's the full line-up of shows for the 2022-23 season: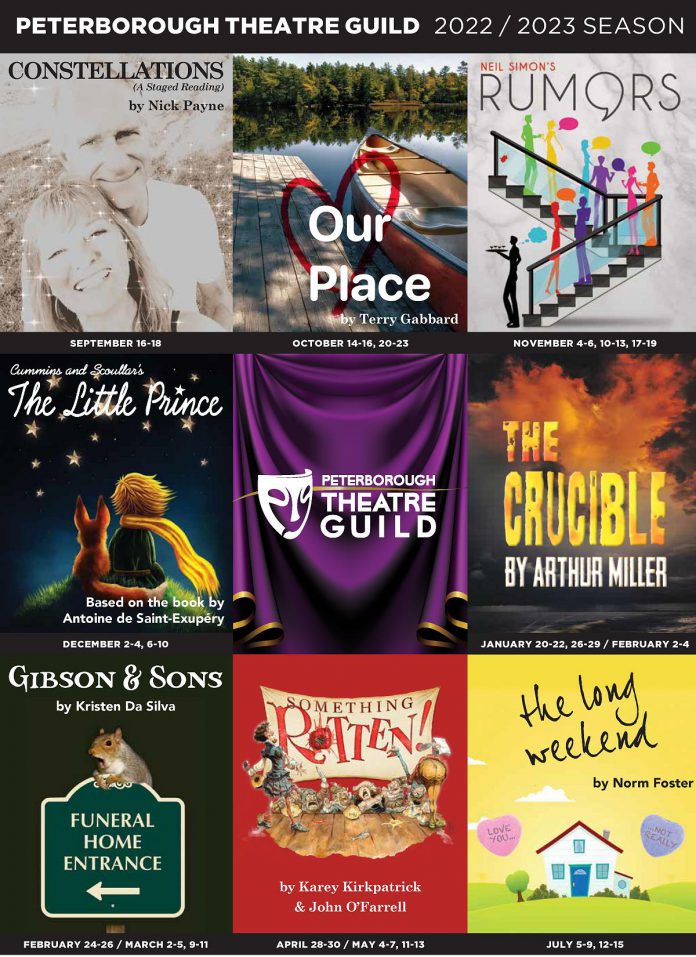 Constellations (September 16 to 18, 2022)
A staged reading of Nick Payne's spellbinding romantic journey that begins with a simple encounter between a man and a woman. What happens next defies the boundaries of the world we think we know, delving into the infinite possibilities of their relationship and raising questions about the difference between choice and destiny. This staged reading (with no costumes or sets) is directed by Bea Quarrie and features real-life couple Dan Duran and Lisa Devan.
Performances at 7:30 p.m. on September 16 and 17 with a 2 p.m. matinee performance on September 18.
Our Place (October 14 to 23, 2022)
In this one-act play by Terry Gabbard, the unassuming location of a dock extending out onto a small lake serves as the backdrop for five different stories. The entire ensemble gathers on the dock together for the final scene. In a poetic epilogue, they all discover the true meaning — both comedic and tragic — of "our place."
Performances at 7:30 p.m. on October 14 and 15 and October 20 to 22, with 2 p.m. matinee performances on October 16 and 23.
Advertisement - content continues below
Rumors (November 4 to 19, 2022)
In this full-length production of Neil Simon's murderous farce, four couples arrive at the 10th anniversary celebration party for New York's deputy mayor and his wife, only to find the mayor wounded in bed and the wife missing.
Performances at 7:30 p.m. on November 4 and 5, 10 to 12, and 17 to 19, with 2 p.m. matinee performances on November 6 and 13.
The Little Prince (December 2 to 10, 2022)
This family production is adapted from Antoine de Saint-Exupéry's classic book by Rick Cummins and John Scoullar. This play/musical tells the story of a world-weary and disenchanted aviator whose sputtering plane strands him in the Sahara Desert, where a mysterious and regal "little man" appears and asks him to "Please, sir, draw me a sheep." During their two weeks together in the desert, the Little Prince tells the aviator about his adventures through the galaxy, how he met the lamplighter and the businessman and the geographer, and about his strained relationship with a very special flower on his own tiny planet.
Performances at 7 p.m. on December 2 and 6 to 9, with 1 p.m. matinee performances on December 3 and 4, and 10.
The Crucible (January 20 to February 4, 2023)
This full-length production of American playwright Arthur Miller's 1953 play is a dramatized and partially fictionalized story of the Salem witch trials that took place in the Massachusetts Bay colony during 1692 and 1693. Miller wrote the play as an allegory for McCarthyism, when Republican U.S. Senator Joseph McCarthy led a "witch-hunt" for alleged communists living in the U.S. during the late 1940s and 1950s.
Performances at 7:30 p.m. on January 20 and 21, January 26 to 28, and February 2 to 4, with 2 p.m. matinee performances on January 22 and 29.
Advertisement - content continues below
Gibson and Sons (February 24 to March 11, 2023)
In this full-length production of Canadian playwright Kristen Da Silva's family-friendly comedy, Harry Gibson is searching for love while he helps his father run their struggling small-town funeral home. Missing his recently departed mother and hungry for companionship and the chance at having a family of his own, Harry secretly turns to an unconventional method of meeting a woman: an online Russian bride service. When his bride Katya, along with her acerbic older sister Eva, arrive on Canadian soil, the sisters are plunged into culture shock while the Gibson family is thrown into a tailspin.
Performances at 7:30 p.m. on February 24 and 25, March 2 to 4, and March 9 to 11, with 2 p.m. matinee performances on February 26 and March 5.
Something Rotten! (April 28 to May 13, 2023)
This musical by Karey Kirkpatrick and John O'Farrell follows brothers Nick and Nigel Bottom in 1595, who are struggling to find success in the theatrical world as they compete with the wild popularity of their contemporary William Shakespeare.
Performances at 7:30 p.m. on April 28 and 29, May 4 to 6, and May 11 to 13, with 2 p.m. matinee performances on April 30 and May 7.
The Long Weekend (July 5 to 15, 2023)
A full-length production of Canadian playwright Norm Foster's comedy of manners, where the truth and lies of a friendship come to the surface during a weekend visit between two couples. Gary Smith of the Hamilton Spectator described the play as having "just enough sex, just enough smart talk, just enough preposterous plot twists to keep you titillated."
Performances at 7:30 p.m. on July 5 to 8 and 12 to 15 with 2 p.m. matinee performances on July 9 and 15.
kawarthaNOW is proud to be a sponsor of the Peterborough Theatre Guild's 2022-23 season.