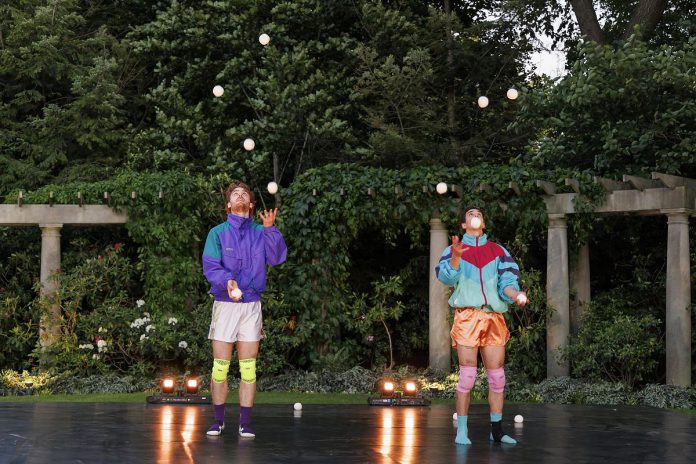 Next Sunday afternoon (September 25), the courtyard at Peterborough Square will see a magical performance of dance, juggling, and live music with the world premiere of "In Blue Rooms."
In partnership with Public Energy Performing Arts, Toronto's premier international dance festival Fall For Dance North is returning to Peterborough to present the second season of the festival's acclaimed Heirloom outdoor performance series.
In its inaugural season of Heirloom last September, Fall For Dance North brought Toronto's Lua Shayenne Dance Company and American solo artists Caleb Teicher and Nic Gareiss to Millennium Park in Peterborough and Isabel Morris Park in Lakefield.
Advertisement - content continues below
Tweet this quote
This year, "In Blue Rooms" will feature four dancers and jugglers fusing dance, juggling, contemporary circus, and object manipulation to live music performed by a trio of musicians from Toronto's Royal Conservatory of Music.
"What was born out of creative necessity in 2021, due to indoor gathering restrictions dictated by the global pandemic, grew into an inspirational and acclaimed outdoor performance series that we are all incredibly proud to be a part of," says Fall for Dance North artistic director Ilter Ibrahimof.
"We are overjoyed to return with a new highly imaginative, full-length performance that promises to delight the senses in a beautiful new outdoor space in downtown Peterborough."
VIDEO: Heirloom 2022 Teaser – Fall for Dance North Festival

Advertisement - content continues below
Tweet this quote
Whimsically choreographed by Montreal's next-generation artists Zack Martel and Santiago Rivera Laugerud, dancer/acrobat Daniel Stefek, dancer Clémence Dinard, and jugglers Basile Pucek and Philippe Dupuis will tell a story of separation and the journey of coming together, while cellist Daniel Hamin Go, accordionist Michael Bridge, and clarinetist Brad Cherwin accompany the movements with a performance of original new arrangements of familiar compositions.
"Public Energy Performing Arts is delighted to welcome Fall for Dance North back to the Peterborough/Nogojiwanong area with its stunning, all-ages Heirloom performance series," says Public Energy's executive director Bill Kimball.
"We are honoured to partner with Fall for Dance North to bring world-class dance and live music — with a lighthearted and playful twist for 2022 — to Peterborough audiences once again."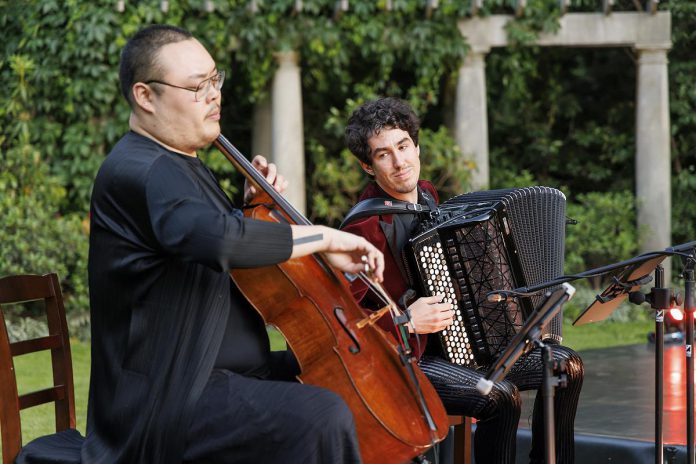 The hour-long outdoor performance takes place at 4 p.m. on Sunday, September 25th in the courtyard at Peterborough Square at the corner of Charlotte and Water streets. There will be a question-and-answer session with the artists immediately following the performance.
In the case of inclement weather, the performance will move indoors to the Market Hall Performing Arts Centre.
General admission tickets are sold on a sliding pay-what-you-can scale, with a suggested amount of $15 per person. You can purchase tickets online at Ticketmaster. You can also reserve tickets by email or phone (no credit card required) by contacting Public Energy at admin@publicenergy.ca or 705-745-1788.
kawarthaNOW is proud to be a long-time media sponsor of Public Energy Performing Arts.