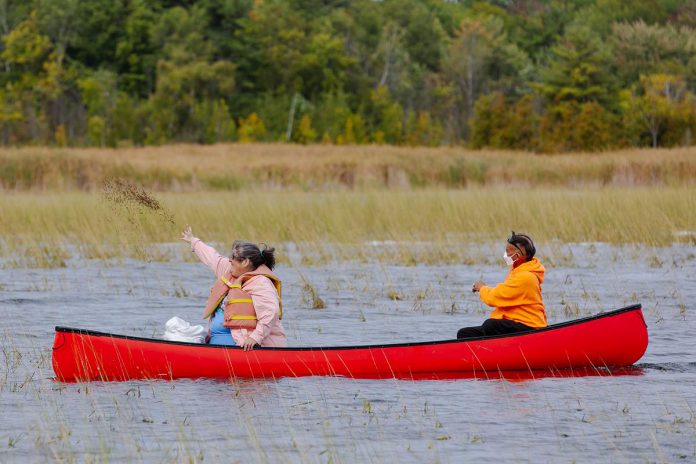 An annual celebration of wild rice and Indigenous food sovereignty returns to Curve Lake First Nation this Saturday (September 24).
The third annual "Mnoominkewin" gathering takes place from 7 a.m. to 11 p.m. at Lance Woods Park on the shores of Wshkiigimong (Mud Lake, also known as Chemong Lake), featuring speakers, workshops, artist demonstrations, a concert, and more.
Mnoomin (pronounced mah-noh-min), meaning the good seed or the spirit seed, is the Anishinaabemowin word for wild rice. It is the only grain native to what is now known as North America and has sustained Anishinaabeg peoples for millennia. The practice of planting, tending, gathering, and processing mnoomin into food is called mnoominke, with mnoominkewin describing the way of life, art, and culture that develops as the community practises mnoominke.
Advertisement - content continues below
Tweet this quote
The Mnoominkewin gathering is produced by the O'Kaadenigan Wiingashk Collective, a multidisciplinary arts collective dedicated to nurturing Indigenous artists and communities formed in 2004 by Sarah DeCarlo, Sara Roque, and Patti Shaughnessy. The first Mnoominkewin gathering began in September 2020, co-created by Curve Lake First Nation members Patti Shaughnessy and James Whetung.
"With collective spirit and celebration, we wish to inspire generative discourse and illuminate all that is good about our local food source," reads a media release from organizers. "Its presence inspires ecological attention to our waters, our lands, our mud, the crawlers, the swimmers, the four leggeds and the flyers."
"As we plant, gather, process, eat, celebrate, and renew familial and community ties we actively un-do the damage done by the colonial government through the William's Treaty. Together we restore cultural transmission, exercise sovereignty, and practice Mnoominkewin — the art of wild ricing."
VIDEO: About Mnoominkewin (2020)

The Mnoominkewin gathering begins at 7 a.m. with a sunrise ceremony conducted by Elders Shirley Williams, Wesley Whetung, Leona Stevens, and Liz Ozawamick with Firekeeper Billy Whetung, followed by a mnoomin-themed breakfast catered by Thomas Olszewski of Grandfather's Kitchen.
At 9 a.m., Curve Lake First Nation Chief Keith Knott will welcome participants to the gathering, with emcee Gerrard Day orienting participants to the gathering and Dorothy Taylor performing an opening mnoomin song.
At 9:30 a.m., there will be a series of concurrent sessions, including Mario Wasageeshig speaking about Anishinaabeg mnoomin, artist demonstrations of beading, quilting, and muskrat fur and leather work, a workshop on planting and gathering mnoomin, and a workshop on processing mnoomin into food. The artist demonstrations and the workshops will continue until 3 p.m., with a break for lunch.
Advertisement - content continues below
At 10:30 a.m., Janet McCue will lead participants in a open women's hand drum song circle. All participants are invited to join in to learn and practice songs.
At 11 a.m., Dr. Fred Metallic will share how the Listuguj Mi'gmaq First Nation community in Quebec came together to assert their inherent right to fish salmon on the Listuguj Sipu (river) and reclaim their powers of law-making and enforcement. Also at 11 a.m., Jonathan Taylor will provide an Anishinaabemowin mnoomin-themed language lesson
The gathering will break at noon for a mnoomin-inspired lunch featuring a pickerel fry by Elmer Whetung, Atlantic salmon caught by Dr. Fred Metallic, moose harvested by Ryerson Whetung, and wild rice pudding made by Gary Williams.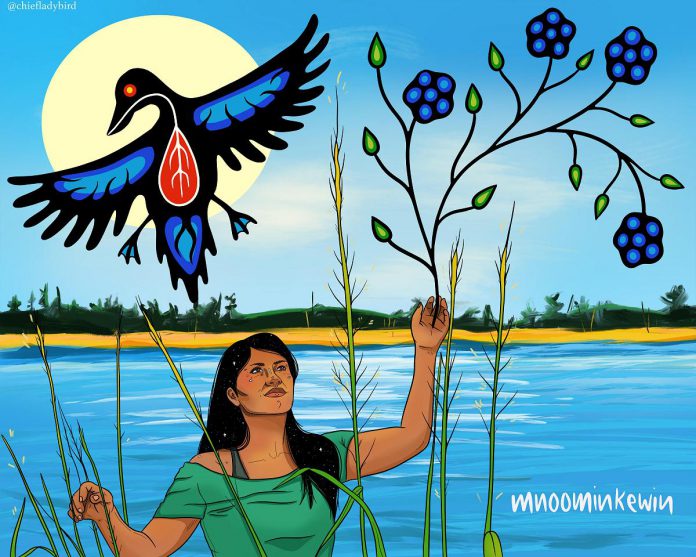 At 1 p.m., Chandra Maracle and Rick Hill present "Two Dishes, One Spoon: Sharing O:nenhste (Corn), Mnoomin (Wild Rice), and Stories as Haudenonishinaabe Reconciliation." At 2 p.m., Tuscarora musician, composer, and vocalist Pura Fé will lead a drumming and singing workshop and share her canoe and paddle songs taught to her from her family.
At 2:30 p.m., a mnoomin practitioner panel will discuss their communities' efforts to rehabilitate their mnoomin beds. Moderated by Autumn Watson of the Indigenous Diabetes Health Circle, the panel will include Kelsey Trivett of Georgina Island First Nation, Julia Pegahmagabow of Atikmeksheng Anishnawbek, and Amanda Paul and Marc Sams of Bear Island First Nation.
The panel will be followed at 3 p.m. with a question-and-answer session featuring all of the day's speakers.
Advertisement - content continues below
At 3:30 p.m., the day's activities will come to a close with remarks and a round dance led by Liz Ozawamick with song by Nimkii Ozawamick.
Mnoominkewin concludes at 7:30 p.m. with a concert in the Curve Lake Community Centre featuring Anishinaabe-American singer-songwriter Keith Secola, perhaps best known for his song "NDN Kars" from the film 1994 Canadian drama film Dance Me Outside directed by Bruce McDonald.
Secola will be joined by special guests Pura Fé and Curve Lake First Nation's own Sarah Lewis and Missy Knott.
VIDEO: "NDN Kars" by Keith Secola

Everyone is welcome to participate in Mnoominkewin. Admission is free or by donation. You can register in advance on Google Docs.
The gathering is sponsored by the Canada Council for the Arts and the Ontario Arts Council and supported by Public Energy Performing Arts, Black Duck Wild Rice, and St. Andrew's United Church in Beaverton.
For more information about Mnoominkewin and any schedule updates, visit www.mnoominkewin.com. To donate to Mnoominkewin via Public Energy, visit canadahelps.org.