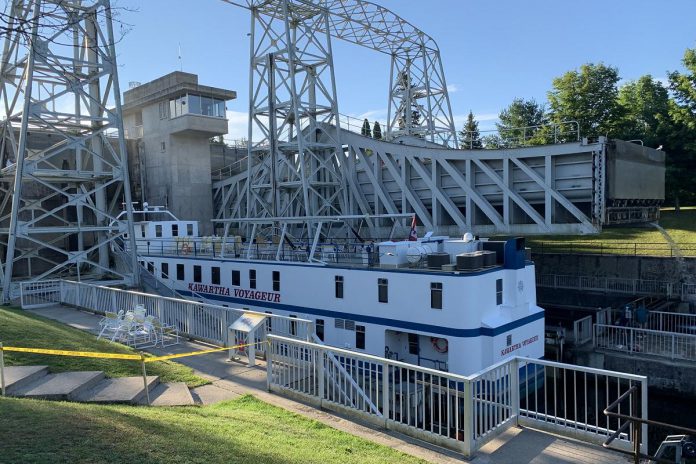 Boaters with vessels that cannot be trailered and who have been unable to return to their home port because of the closure of the Kirkfield Lift Lock on the Trent-Severn Waterway will be able to proceed through the lock beginning on Monday (September 26).
Located a few kilometres north of the Village of Kirkfield, the Kirkfield Lift Lock suffered a severe mechanical failure on September 2 that resulted in the closure of the lock. Since then, Parks Canada has been working on the site to allow for the passage of vessels to their home ports.
"After multiple inspections by qualified consultants on the superstructure and mechanical components, the Lift Lock has been approved to offer limited, single-chamber lockages to vessels returning to their home ports that cannot be trailered," reads a media release from Parks Canada.
Advertisement - story continues below
To proceed through the lock, boaters must email trentsevern@pc.gc.ca and provide their full name, phone number, length and beam of their vessel, their current location, their home port, and any additional special needs such as accessibility issues. Parks Canada will contact boaters via telephone to confirm and provide a lockage date and time.
Delays experienced by boaters will vary depending on the position of the Lift Lock chambers when the boater arrives. Upbound vessels will experience a lockage time of around six hours, while downbound vessels will experience a lockage time of around 30 minutes. Boaters (and pets) will be asked to disembark their vessels while the transfer is underway. Access to washroom facilities and shelter, in the case of inclement weather, will be available.
Boaters are asked to arrive at the lock only on the agreed-upon date and time for lockage and with sufficient provisions for the duration of the vessel's lockage, as there are no amenities such as restaurants or accomodations within walking distance of the lock. While the parkland around the lock remains closed to the public, boaters can use that space while their vessels are going through the lock.
The Kirkfield Lift Lock is the second highest hydraulic lift lock in the world with a lift of 15 metres. The lock is situated at the highest point along the Trent-Severn Waterway at 256.20 metres (840.5 feet) above sea level.