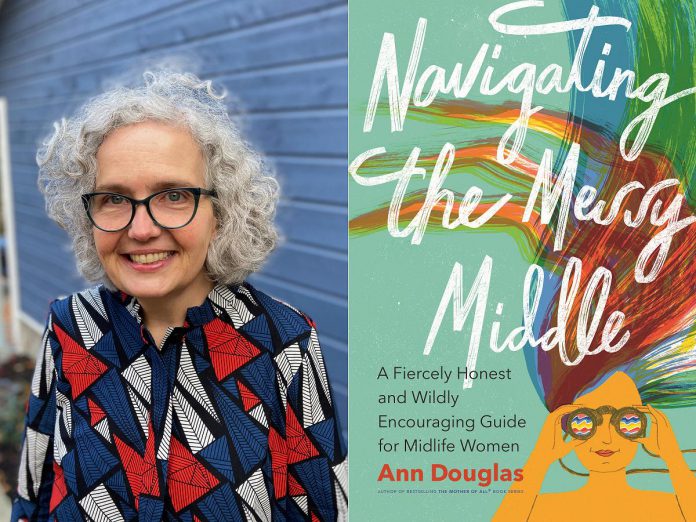 Now that her kids have grown up and left home, renowned parenting expert and author Ann Douglas has turned her attention to something that 68 million women in North America are also facing: navigating the challenges of midlife.
In her new book Navigating the Messy Middle: A Fiercely Honest and Wildly Encouraging Guide for Midlife Women, which comes out on Saturday (October 1), Douglas has written what is described as "a fierce and unapologetic book" for and about midlife women in their 40s to mid-60s, pushing back against the toxic narrative that tells them their "best-before date" has long passed.
The former long-time Peterborough resident — Douglas and her husband currently live in Hastings Highlands — was inducted to Peterborough's Pathway of Fame in 2020. She has written 25 non-fiction books, including the "Mother of All Books" parenting series which has sold over half a million copies in North America to date, as well as more than 1,000 pregnancy and parenting articles for respected publications including Canadian Family, whose former editor-in-chief praised her as "Canada's most trusted parenting writer."
Advertisement - story continues below
Tweet this quote
Many early readers of Douglas's parenting books and articles, who are now either approaching or in midlife, will appreciate her practical, evidence-based strategies for thriving at midlife — or, as she calls it, "the messy middle."
"It's a time in our lives when our roles and responsibilities are changing and we're trying to connect the dots between past, present, and future — to figure out who we've been, who we are, and who we hope to become," Douglas says. "At the same time, we're being faced with all kinds of confusing messages about what it means to be at midlife. 'Midlife is magical!' 'Midlife is miserable!' What we eventually figure out is that it's actually a little of both. The truth is somewhere in the middle — the messy middle."
For her book, Douglas interviewed well over 100 women of different backgrounds and identities and shares their diverse conversations about the complex and intertwined issues that women must grapple with at midlife, including family responsibilities, career pivots, health concerns, and building community.
Tweet this quote
"We talked about our hopes and dreams and our worries and regrets, plus our ongoing struggles, big and small, to make sense of this middle chapter of our lives — a time when our bodies, lives, and relationships tend to be in flux," Douglas says. "We acknowledged our feelings of exhaustion and of being overwhelmed — the fact that midlife is a time of life when we tend to be carrying an exceptionally heavy load and when we're relied upon by an awful lot of people."
As a stage of life, Douglas notes, midlife has been poorly researched compared to other stages of life. Most research that has been done has focused on the concept of the "midlife crisis" as it applies to men.
"Often midlife executive men in particular," Douglas explains. "And when scholars remembered to focus their research on women, the women that they studied were almost always white, middle-class heterosexual women. Social and political identities like race, class, gender, sexual identity and age intersect with one another in a way that amplifies both inequality and privilege. In other
words, midlife isn't experienced the same way by all women."
Advertisement - story continues below
Tweet this quote
For her book, Douglas made a point of deliberately seeking out the stories of women whose lives and experiences have been very different from her own. As she writes in the introduction to her book:
I knew that if I wanted to do justice to a book like this, I needed to get inside the heads of a whole bunch of different women (and by that I mean any queer, non-binary, two-spirit, transgender or cisgender person who identifies as, or feels some affinity with, the role of 'woman' as defined in Western culture right now). Sure, I'm a woman at midlife, but I'm only one woman at midlife — and a relatively privileged one at that.
Organized in three parts, Navigating the Messy Middle covers a wide range of topics, from health and relationships to career and finances, with chapter titles including "Midlife Expectations," "The Truth about Menopause," "Midlife Mental Health," "Your Body at Midlife," "Midlife Epiphanies and Curveballs," "Family Matters," and more.
For all the messiness of midlife, Douglas says it has been "my very favourite life stage."
"By the time you arrive at midlife, you have a lot of living under your belt. You know yourself so much better than you did when you were younger, and you've learned to be kinder to yourself. That makes life so much better and easier. Or at least, that's been my experience."
Advertisement - story continues below
Tweet this quote
As the title implies, Navigating the Messy Middle looks beyond easy self-help answers and simple negative stereotypes to offer women the tools they need to chart their own special course through midlife.
"We need stories that honour our own unique journeys, that celebrate all the learning and growth that happens at midlife, and that highlight the importance of journeying through midlife with others," Douglas says. "I'm really hoping that this book will help to spark a lot of really important conversations between midlife women."
Navigating the Messy Middle: A Fiercely Honest and Wildly Encouraging Guide for Midlife Women is published by Douglas & McIntyre. It will be available October 1, 2022 as a paperback at independent booksellers across the Kawarthas as well as online and as an ebook.
For more information about Ann Douglas, visit www.anndouglas.ca.