This Friday (September 30) is the second annual National Day for Truth and Reconciliation, intended to remember and honour the lost Indigenous children and survivors of Canada's residential school system as well as their families and communities. The day will be recognized with events in both Indigenous and settler communities throughout the greater Kawarthas region
The Canadian government established National Day for Truth and Reconciliation in June 2021, in response to the Call to Action #80 from the 2015 final report of the Truth and Reconciliation Commission. As well as remembering and honouring those lost to residential schools and the thousands of survivors, National Day for Truth and Reconciliation is a day for Canadians to educate themselves about the heritage, culture, stories, and experiences of First Nations, Inuit, and Métis peoples.
September 30th is also Orange Shirt Day, when Canadians are encouraged to wear orange to raise awareness of the tragic legacy of Canada's residential school system. The date of September 30 was chosen for Orange Shirt Day because it is the time of year when Indigenous children were taken from their homes to residential schools.
Advertisement - story continues below
In the greater Kawarthas region, National Day for Truth and Reconciliation and Orange Shirt Day on Friday will be marked with various events in both Indigenous and settler communities. Highlights of some of the events are listed below.
Curve Lake First Nation is hosting an event at Lime Kiln Park with a sunrise ceremony at 6 a.m. and an "Every Child Matters Walk" at 10:30 a.m. beginning and ending at the Curve Lake Community Centre, followed by lunch at 11:30 a.m. Social drumming and dance will take place from 1 to 4 p.m., followed by a pizza dinner at the community centre at 4:30 p.m. Professor Jackson Pind will speak at 5 p.m., with a ceremony to honour survivors following at 6 p.m. and an open mic night at 7 p.m. Participants are encouraged to wear their Orange Shirts.
Hiawatha First Nation is hosting a plaque unveiling and a community dinner to honour their citizens who attended a residential school. The event, which takes place from 4:30 to 7:30 p.m. at The Gathering Space at 431 Hiawatha Line, includes an opening prayer and smudge, an honour song by Michi Saagiig Manomin, remarks from Chief Laurie Carr and other invited guests, a commemorative plaque unveiling, and a catered dinner with traditional foods. Those attending are encouraged to wear their Orange Shirts.
Alderville First Nation is hosting a walk beginning at noon on Friday, from Alderville's health services building to the community centre.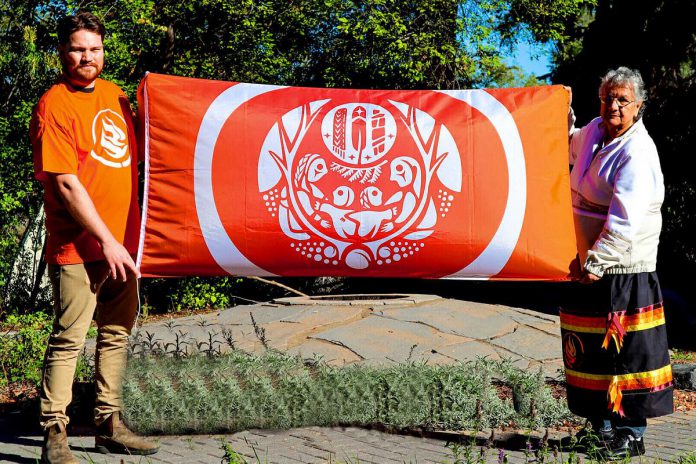 Trent University is hosting a number of in-person events including a Sunrise Ceremony at 6 a.m. at Mnidoowag A'Kiing Traditional Area, a Heart Garden Reflection from 9 a.m. to 4 p.m. at Kerr House at Traill College, Settlers Taking Action and Responsibility from 10 a.m. to 2 p.m. at the Bata Library Podium, Three Sisters Community Lunch at 12 p.m. at Gzowski College, a Community Sacred Fire from 12 to 4 p.m. at the Champlain College Fire Pit with a moment of silence at 2:15 p.m., "Truth Before Reconciliation: Indian Residential and Day School Histories" by Professor Jackson Pind at 3 p.m. at First Peoples Gathering Space, a Round Dance at 4:30 p.m. at the Bata Library Podium, and "One of that Witchcraft Dancing" reading and talk by residential school survivor and Elder Shirley Ida Williams and a "Returning Home" film screening at 7 p.m. at Nozhem First Peoples Performance Space.
Fleming College is holding events at all three of its campuses in Peterborough, Lindsay, and Haliburton. Events include a reading of "Phyllis's Orange Shirt," a reading and talk with Indigenous poet and City of Peterborough poet laureate Sarah Lewis (at the Sutherland and Frost campuses), remarks by Indigenous artist Rick Beaver (at the Frost campus), and a screening of "The Secret Path: The Chanie Wenjack Story." The Sutherland Campus will also include a "Living Library" featuring Indigenous Fleming alumni and local Indigenous community members. Students, staff, and faculty will be encouraged to decorate rocks which will line walking paths at each campus, with decorated rocks to be placed during an Orange Shirt Walk at each campus in the afternoon. Nish Tees will be set up at each campus selling Orange Shirts.
In Peterborough, local singer-songwriters will be performing at an event to raise awareness and conversation as well as funds for an Indigenous-led culture-based private school in Nogojiwanong-Peterborough. The event takes place Friday from 7 to 10 p.m. at Crook & Coffer at 231 Hunter Street West in downtown Peterborough. Admission is a $10 donation or pay what you can. Local musicians include Craig MacEachern from Acoustically Hip, Jacques Graveline from Black Knight Satellite, and Samara Johnson.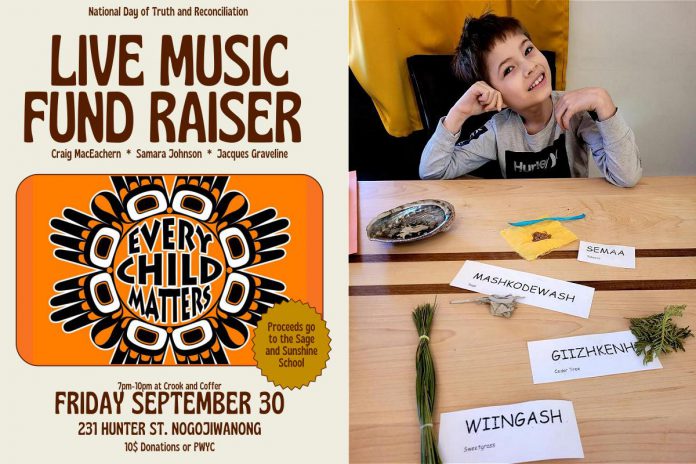 Proceeds from the event will support Sage and Sunshine, the area's only school providing full-day Indigenous culture-based education for Indigenous students. Owned and operated by Ashley Wynne, an Anishinaabe mother of four and an early childhood educator, the school serve families with children aged four to 10. For those who are unable to attend the event, or who wish to provide additional support, the organizers encourage a donation to the Downie & Wenjack Fund at downiewenjack.ca.
Also in Peterborough, Hutchison House is hosting a special reception on Friday from 7 to 9 p.m. to unveil its new Land Acknowledgement plaque with original artwork by local artist Fred Taylor of Curve Lake First Nation. Light refreshments will be served as Taylor shares his story as a residential school survivor and how he uses his art to heal from the anger and hurt he felt from the Mohawk Institute. While admission to the reception is free, reservations are required by calling the museum office at 705-743-9710 as seating is limited.
In Port Hope, the Dibaajimowin Cultural Centre is presenting an event at 3 p.m. at Port Hope Memorial Park that includes the sharing of Indigenous culture through stories, dance, and ceremony and a sacred fire. Please note that Port Hope Fire and Emergency Services has granted special permission to allow for a fire to take place in Memorial Park. Out of respect for the residential school survivors and the children who never made it home, participants are encouraged to wear an Orange Shirt.
Advertisement - story continues below
In Cobourg, Dr. David MacDonald, author of The Sleeping Giant Awakens, will present on the topic "The TRC Seven Years Later: Settlers and Conciliation with Indigenous Peoples" at 7:30 p.m. on Thursday (September 29) at the Concert Hall at Victoria Hall. On Friday, a Sharing Circle will be located at Rotary Habourfront Park from 9 a.m. to 4:30 p.m. on Friday, featuring prompts located around the fountain to promote critical thinking about past and current issues and foster healthy conversations to have with friends, family, and other people you meet at the circle. The event takes place near the Indigenous 'Seven Feathers' Crosswalk on Albert Street at Second Street, which features seven feathers representing the seven grandfather teachings of the Anishinaabe people: love, respect, courage, honesty, humility, truth, and wisdom.
Also on Friday in Cobourg, Northumberland Christian School, Church on the Hill, Northumberland Youth Unlimited, and Grace Christian Reformed Church will host an all-ages gathering at 1 p.m. at the Victoria Park Bandshell featuring Jonathan Maracle, Mohawk/Scot musician and founder of Broken Walls.
In Bobcaygeon, the settler group Truth and Reconciliation Community Bobcaygeon is celebrating First Peoples on Friday from 5 to 6 p.m. at the grounds of the Boyd Museum Gallery and the Bobcaygeon Library featuring artist David Beaucage Johnson and Peterborough's poet laureate Sarah Lewis from Curve Lake First Nation.