The Peterborough County Federation of Agriculture and Peterborough and the Kawarthas Chamber of Commerce have announced the Cornish family of Indian River Acres is the 2022 Farm Family of the Year.
The annual award recognizes a farm family that has demonstrated good farming practices, an interest in the farming community, and interest and participation by the family in the farm's operation.
Owned and operated by Indian River natives Kevin Cornish and Janet Dawson, Indian River Acres is a 93-acre farm located at 2275 Indian River Line where the family grows and sells fresh vegetables and fall décor items.
Advertisement - story continues below
The farm was previously a dairy and beef and show cattle farm known as Almar Acres, owned and operated by Dawson's parents, Marg and Allan. Dawson grew up on the farm and was very involved in the beef operation. When her parents decided to retire, Janet and Kevin purchased the farm in 2010 with a vision for a vegetable farm.
Each year, the Cornish family grows 12 acres of sweet corn, five acres of pumpkins, squash, and gourds, around 15,000 garlic bulbs, and 1.5 acres of other tender vegetables including pickling cucumbers, field cucumbers, beans, asparagus, beets, lettuce, herbs, tomatoes, potatoes, and zucchini. With only the sweet corn and pumpkins planted by machine, everything else is hand planted and hand weeded. All produce, including the sweet corn and pumpkins, is hand harvested.
The farm operation also includes 99 free range egg-layers, and offers eggs to customers who sign up for weekly egg pickup.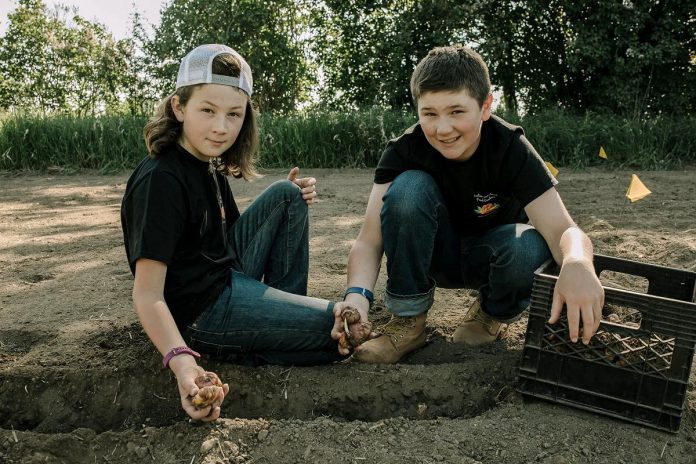 Kevin and Janet's young sons, Liam and Lucas, are actively involved in all farm activities and, during the pandemic, began growing and selling fresh-cut flowers.
Indian River Acres operates on a 12-month sustainable farming cycle that includes crop rotations, cover crops, and selecting varieties that minimize pest and disease.
With the farm open to the public daily from the beginning of July to the end of October, customers can purchase produce from the farm gate stand, through their online farm shop, or from local grocers who purchase their produce wholesale.
Advertisement - story continues below
In 2019, the Cornish family won the Peterborough County Agricultural Leadership Award. Kevin and Janet are active community volunteers, and donate a sizable portion of their harvest to local food banks and Kawartha Food Share.
The Farm Family of the Year award will be presented to the family at the Peterborough Business Excellence Awards event at Showplace Performance Centre on Wednesday, October 19th.
For more information about Indian River Acres, visit indianriveracres.ca.