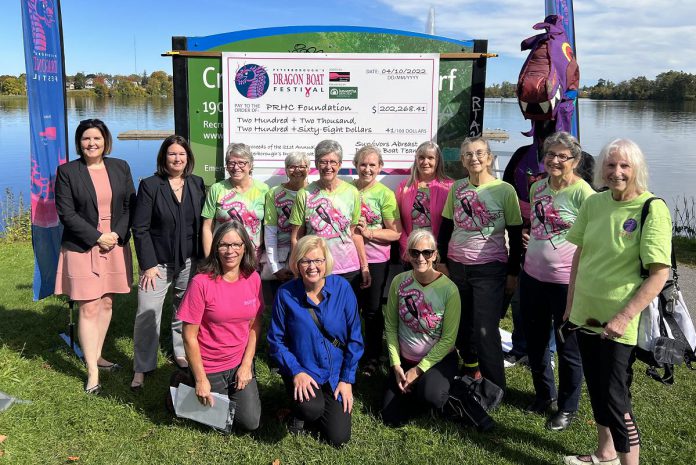 Peterborough's Dragon Boat Festival blew past this year's fundraising goal of $180,000 for cancer screening, diagnosis, and treatment at Peterborough Regional Health Centre (PRHC).
Volunteers from the Survivors Abreast Dragon Boat Team and the Peterborough's Dragon Boat Festival organizing committee presented the PRHC Foundation with a cheque for $202,268.41 at an event on Tuesday (October 4) at the T-wharf on Little Lake, the site of the annual festival.
The 2022 fundraising goal of $180,000 reflected the determination of festival organizers "to do a 180" after the pandemic forced the festival to cancel its in-person event for each of the past two years. In comparison, last year's festival — a virtual race that consisted of activities participants could do safely at home — raised $91,853.20. In the first year of the pandemic, the first virtual race raised $55,449.41.
Advertisement - content continues below
Tweet this quote
"I'm so proud of our organizing committee and my team, especially this year as we faced so many challenges," said Michelle Thornton, festival chair and Survivors Abreast member. "We set an aggressive goal and asked participants, sponsors, donors and volunteers to 'get back in the boat' with us … we rekindled a sense of community spirit that had been dormant for a long time and, as you can see, our passion and dedication delivered an amazing result."
The $202,268.41 raised by the festival will go towards equipment and technology such as new CT scanners, a second MRI machine, and RIVA technology for the robotic preparation of chemotherapy — the government doesn't provide hospitals with funding to acquire new equipment and technology.
According to PRHC Foundation president and CEO Lesley Heighway, the number of patients from Peterborough and the surrounding region who rely on PRHC for cancer treatment continues to climb every year.
Advertisement - content continues below
Tweet this quote
"The support of Peterborough's Dragon Boat Festival and our community is vital," Heighway said. "Proceeds of the 2022 festival will allow PRHC to invest in new state-of-the-art equipment and technology to serve more cancer patients, support earlier cancer diagnosis, and provide safer, more effective treatments. This will help save lives."
Since the festival was first launched in June 2001 as Liberty Mutual's "Day on the Water", becoming Peterborough's Dragon Boat Festival the following year, it has raised more than $3.9 million for breast cancer screening, diagnosis, and treatment in the Peterborough region. Kawartha Credit Union has been the festival's presenting sponsor every year since 2001.
"At Kawartha Credit Union, care for others is one of our core values and we are passionate about contributing to the well-being of the communities we serve," said Kawartha Credit Union president and CEO Norah McCarthy. "Being the platinum sponsor of Peterborough's Dragon Boat Festival allows us to provide financial support while also participating in a fun event that unites Peterborough and our surrounding areas in a common goal to improve local health care resources."
Advertisement - content continues below
Tweet this quote
Rhonda Barnet, who was this year's top fundraiser at $7,306.06, was on hand at Tuesday's event to reveal the fundraising total. While Barnet has been participating in the festival for years,in 2019 she was diagnosed with a rare form of breast cancer that is frequently undetected until it is fatal.
"Luckily I was on a high-risk screening program and the equipment, funded in part through Peterborough's Dragon Boat Festival, caught this cancer before it was too late," Barnet said. "I am a survivor in great part because people in my community paid it forward to ensure that early diagnosis could save lives like mine."
Planning for next year's festival on Saturday, June 10th at Del Crary Park, will take place over the next several months. Anyone interested in volunteering for the festival can email Michelle Thornton at mimthornton@nexicom.net.