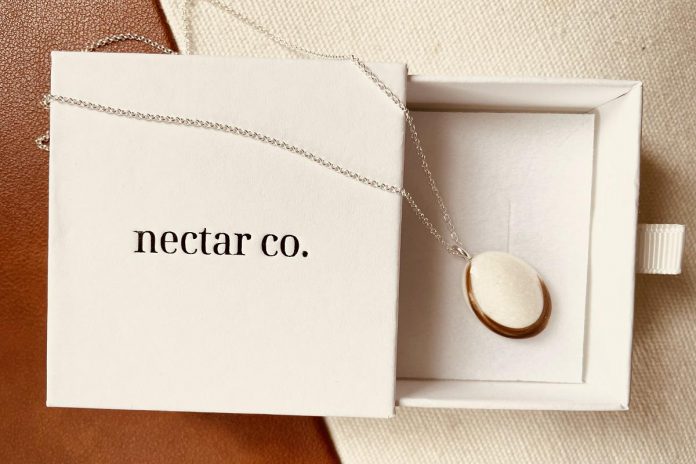 After nearly a decade of supporting entrepreneurs, Peterborough's Rose Terry has become one herself — officially launching her unique keepsake jewellery business Nectar Co.
Nectar Co. creates hand-crafted custom pieces from any items that people want to preserve and hold close to them, including breast milk, cremation ashes, and more.
Terry is the co-founder of 100 Women Peterborough and a jewellery hobbyist with a background in the arts. Nectar Co. grew out of her own motherhood and breastfeeding journey, combined with the recent loss of a close friend, while she was on maternity leave from her role as marketing manager and senior innovation specialist at the Innovation Cluster Peterborough and Kawarthas.
Advertisement - content continues below
Tweet this quote
Terry has already been selling Nectar Co. preservation jewellery to clients across Canada, with dozens of pre-orders since soft launching her business in July. Most of her pre-orders are for breast milk jewellery.
"Many people ask me if mothers actually send their breast milk and I answer absolutely and happily," Terry explains. "It may come as a shock to some, but mothers will keep their 'liquid gold' in the freezer for years not wanting to throw it out but not knowing what to do with it, and when they hear what I do, they are excited to be able to preserve it to honour their journey."
While breast milk jewellery remains a niche product, including in Canada, Terry points to a company in India that offers breast milk preservation jewellery and is projecting $2.5 million in sales in 2023.
"For one of the most natural things we can do as mothers, unfortunately breastfeeding / chestfeeding is not as culturally accepted in Canada as it should be," Terry says. "So much pride is taken in this experience and it is important to celebrate our bodies more for the beautiful, nurturing and hard work that they do. Breastfeeding is about so much more than just feeding your child."
Along with breast milk, Nectar Co. will also offer the professional preservation of other very personal items, such as loved ones' ashes, hair, placenta, umbilical cord, dried flowers (from a wedding or funeral, for example), and even soil from a special place.
Clients are able to choose from Terry's carefully crafted collections and add design notes to make each piece unique to them based on their personal story and individual taste. Once an order is placed, clients will label and mail in their inclusions, such as breast milk or cremation ashes, to be preserved and included in the custom piece.
Advertisement - content continues below
Tweet this quote
Terry says the entire professional preservation and jewellery making process from beginning to end typically takes between 12 to 16 weeks.
"We know that our jewellery will become one of the most important pieces that our clients own and can even be passed down in the family," Terry says. "The process of keepsake jewellery is very unique and intentional from beginning to end. It is cathartic to gather a loved one's cremation ashes, for example, and package them to be made into jewellery."
Terry plans to host pop-up shops in the future where clients will be able to have a complimentary design consultation, drop off their inclusions, and have their rings sized in person.
For more information about Nectar Co., visit nectarco.ca.