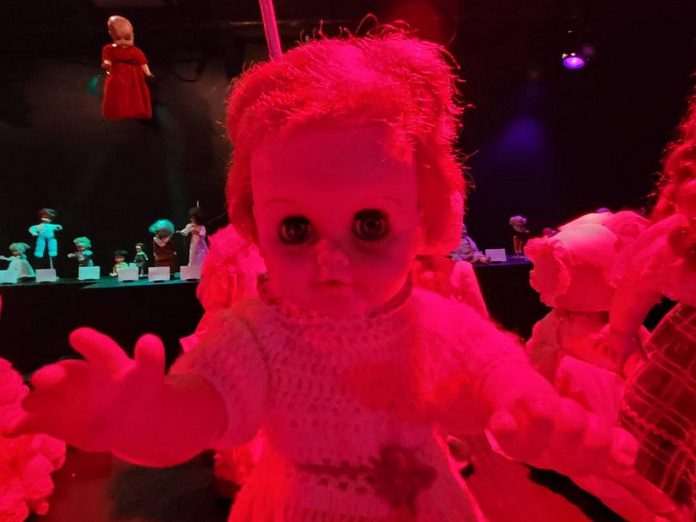 Creepy dolls have been a staple of horror films for decades, from Hugo in 1964's Devil Doll to Robbie's clown doll in 1982's Poltergeist to Chucky in 1988's Child's Play (and its endless sequels), so it's no surprise that the Creepy Doll Museum is returning for the Halloween weekend at The Theatre on King in downtown Peterborough.
This is the fourth straight year that Kathryn Bahun and Ben Hatcher will display their increasing (and increasingly creepy) collection of weird discarded and donated dolls at The Theatre on King for Halloween.
The idea for the Creepy Doll Museum began in 2019 after Bahun, who had already been collecting dolls for several months, gave Hatcher a doll she has purchased at Peterborough's Great Gilmour Street Garage Sale as a birthday gift.
Advertisement - story continues below
Originally designed for children, the dolls were not intended to be creepy — but for some reason they are.
"It's because they represent innocence and childhood and playthings, so when it goes wrong it is even worse because you don't expect it," Bahun told kawarthaNOW in 2019. "But mostly it's their eyes. It's the eyes more than their expression."
Since launching the Creepy Doll Museum, Bahun and Hatcher have collected well over 100 creepy dolls, and 20 new dolls will make their debut at The Theatre On King — "if can convince the others to make room," according to the Creepy Doll Museum's Instagram account.
The Creepy Doll Museum will be on display at The Theatre on King (171 King Street, Peterborough) from 6 to 8:30 p.m. on Friday and Saturday (October 28 and 29). Each doll is accompanied by its own biography.
Tickets are $10 at the door or pay what you can. There is no need to book your visit in advance this year, although you may need to wait if The Theatre on King venue reaches its occupancy limits. Face masks must be worn inside the venue.
For more information, visit the Creepy Doll Museum on Facebook or Instagram.