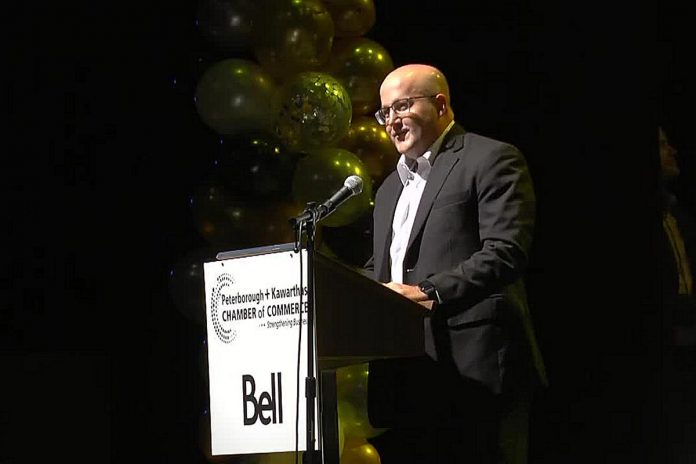 The Peterborough and the Kawarthas Chamber of Commerce handed out its 2022 Business Excellence Awards at Showplace Performance Centre in downtown Peterborough on Wednesday night (October 19), recognizing businesses, organizations, and individuals in over 20 categories with more than 50 finalists.
Among the recipients, Matt Strano of Charlotte Products Ltd. received the coveted Business Citizen of the Year and Friendly Fires received the Employer of the Year award.
The 19th annual event was the first held since the Peterborough Chamber of Commerce merged with the Kawartha Chamber of Commerce & Tourism, and the first in-person Business Excellence Awards since the pandemic began. The event was introduced by the chamber's new president and CEO Sarah Budd, replacing the retired Stuart Harrison, and emceed by Megan Murphy, with Kate Suhr performing on-stage jingles to recognize each award winner.
Advertisement - story continues below
Strano, the CEO of Peterborough-based cleaning products company Charlotte Products Ltd., was recognized both for his business leadership and his positive impact on the broader community, including by establishing Charlotte Cares, a program that supports local charitable organizations including Habitat for Humanity, One Roof Community Centre, Hospice Peterborough, Five Counties Children's Centre, Peterborough Humane Society, and more.
A father of three teenage daughters, Strano also serves as a mentor, volunteer, and coach with many organizations including the Peterborough City Soccer Club, which named him volunteer of the year in 2020, and is a participant in Junior Achievement, One Roof Community Centre, and Big Brothers Big Sisters of Peterborough. He serves on the board of Peterborough and the Kawartha Economic Development and is very active in the Kawarthas Manufacturers Association.
During the early days of the pandemic, Charlotte Products Ltd. collaborated with local companies to localize supply chains and to respond to demand for disinfectant and sanitizer products, doubling their production capacity in just two weeks.
Other award recipients included Living Local Marketplace for Local Focus, Lang Pioneer Village Museum for Tourism, the Peterborough Humane Society for Marketing & Promotion, Millbrook Mercantile for Retail, and The Mane Intent, which received both the Health & Wellness and Micro Business awards.
A complete list of all award recipients is provided below.
Advertisement - story continues below
Recipients announced on October 19
Local Focus – Living Local Marketplace
Entrepreneurial Spirit – Organized by Design
Health & Wellness – The Mane Intent
Customer First – Kawartha Country Wines
Tourism – Lang Pioneer Village Museum
Marketing & Promotion – Peterborough Humane Society (Our Pet Project)
The President's Award – Ashley Lamothe (Creative Kwe)
Micro Business – The Mane Intent
Skilled Trades – New Beginnings Contracting Services
Green Initiatives – The Nutty Bean Café
Professional Services – Gauvreau Accounting Tax Law Advisory
Hospitality – The Boardwalk Board Game Lounge
Commercial Development or Renovation – Lakeshore Designs (Boathouse Boutique and Bikini Beans Cafe)
Retail – Millbrook Mercantile
Not-for-Profit – Community Care Peterborough
Employer of the Year – Friendly Fires
Business Citizen of the Year – Matt Strano (Charlotte Products Ltd.)
Advertisement - story continues below
Previously announced recipients
Businesswoman of the Year (Entrepreneur) – Brenda Ibey (The Avant-Garden Shop)
Businesswoman of the Year (Organization) – Alicia Dafoe (Village Dental Centre)
4-Under-40 Profiles in memory of Kathy Windrem – Dr. Nicole Edgar (Peterborough Centre of Naturopathic Medicine), Michael Gallant (Lett Architects Inc.), Chad Hogan (Market Hall Performing Arts Centre), Caitlin Smith (ReCreate Space)
New Canadian Entrepreneur of the Year – Faheem Mohammadzada (Brothers Pizza)
Peterborough County Farm Family of the Year – The Cornish Family (Indian River Acres)
Business Student Leadership Prizes – ehan Mahboob (Trent University), Aiden Rice (Fleming College)