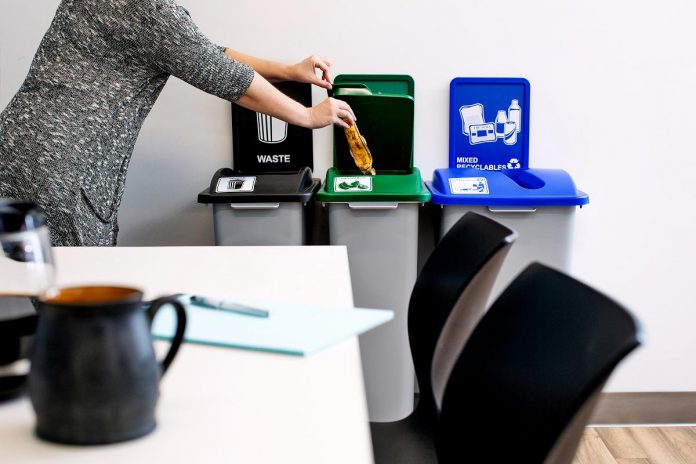 Not only is this week Waste Reduction Week in Canada, but it's also the Business Development Bank of Canada's Small Business Week. In recognition of the significance of this week, Green Economy Peterborough — the Peterborough region's sustainability hub — is challenging local businesses to look for opportunities to lower organizational waste.
The City of Peterborough is one of Ontario's leaders in landfill waste diversion, at a rate of 53 per cent of waste diverted overall. However, a 2021 report from the Ontario's auditor general estimates only 15 per cent of waste is being diverted within the industrial, commercial, and institutional sector in the province.
Improving waste management in this sector is key to meeting the province's target of 80 per cent diversion by 2050, as well as averting a potential landfill shortage.
Advertisement - story continues below
An event called "Wasted Opportunities: The Business Benefits of Waste Reduction," hosted earlier this year by Green Economy Peterborough, brought together guest speakers and members of the business community to discuss the changing landscape of waste reduction for businesses in the Peterborough area.
A movement to mandate businesses to take responsibility for their waste is clearly underway. New legislation in Ontario makes producers responsible for managing the waste generated from their products and packaging, reducing the burden on the consumer and placing the onus on the corporate sector. The provincial government has directed municipalities to begin transitioning recycling to an extended producer responsibility system by 2024, providing a business case for producers to examine waste reduction sooner, rather than later.
"Everybody produces waste — there're always opportunities," said Laurie Westaway, owner of local waste management business Wasteaway, at the Wasted Opportunities event. "We're shifting from trash to value. We're changing the linear model of take, make, and dispose to a circular economy, where products and packages are designed and produced and considered for their end of life."
A circular economy is a framework designed to minimize waste, regenerate nature, and recirculate products. Rather than disposing of products and materials at their end of life, they are reused, repurposed, remanufactured, or recycled to circulate back into use.
Wherever products and materials are being recirculated, there are business opportunities to be found.
Scott Anderson, co-owner of Chop Value's Toronto East Micro-factory in Peterborough, finds value in turning waste into resources under a circular economic model by giving disposable chopsticks a second life as fine wood products.
Advertisement - story continues below
"It's our mission to operate within a circular economy and show that a profitable business can emerge from the waste cycle system," Scott says.
Waste management also offers businesses the benefit of a trusted sustainability marketing brand. The Global Sustainability Study of 2021 found that in the past five years, 85 per cent of consumers have shifted their purchasing behaviours to companies that are more sustainable.
To add to the list of benefits, waste mitigation allows local businesses to stay ahead of legislation. Ontario will soon ban organic materials from landfills, which will lower the production of methane resulting from the breakdown of food waste, a greenhouse gas 28 times more potent than carbon dioxide.
VIDEO: "Wasted Opportunities: The Business Benefits of Waste Reduction"

With the organic material ban and the City of Peterborough launching its city-wide organic waste collection and processing program in 2023, local organizations should prepare for the shift ahead of time. Services like 1.5 Degrees Composting Solutions can help businesses make the switch to composting now.
Across all waste categories, a successful system has three elements: knowledge, motivation, and routine.
"Recycling is really a behavioural-driven process," says Alex Cooley, senior advisor at waste system manufacturer and retailer Busch Systems. "Unlike trash where you set out a bin, recycling is much more complex."
Advertisement - story continues below
Research indicates that placing bins side by side reduces contamination, and shows that other aspects of design are also crucial. A University of Michigan study found that using different coloured recycling bins increased recycling from 52 to 88 per cent. Colour-coding bins also reduce cross-contamination of waste streams.
"Colour distinction is a visual prompt," Cooley says. "Getting people stop having to think about it or having to read anything to get this basic understanding that (recycling and garbage) are not the same."
Cooley mentions implementing restrictive openings to recycling containers. In a 2008 Rutgers and Indiana University study, restrictive lids increased recycling by 34 per cent and decreased trash by 95 per cent.
"Changes (like that) can help people to slow down long enough to actually focus their attention on what they are doing," Cooley adds.
Routine then comes with time, and with successful implementation of the model.
Waste management can be integrated into every aspect of your business, making it a wasted opportunity not to build sustainable business models. Green Economy Peterborough can help your business find an accurate picture of how waste factors into your organization's impact.
Green Economy Peterborough is currently recruiting members for 2023 and is offering an early bird rate to those who join before November 1st. To find out more, visit greeneconomypeterborough.ca or contact Hub Coordinator Natalie Stephenson at natalie.stephenson@greenup.on.ca or 705-745-3238 ext. 223.