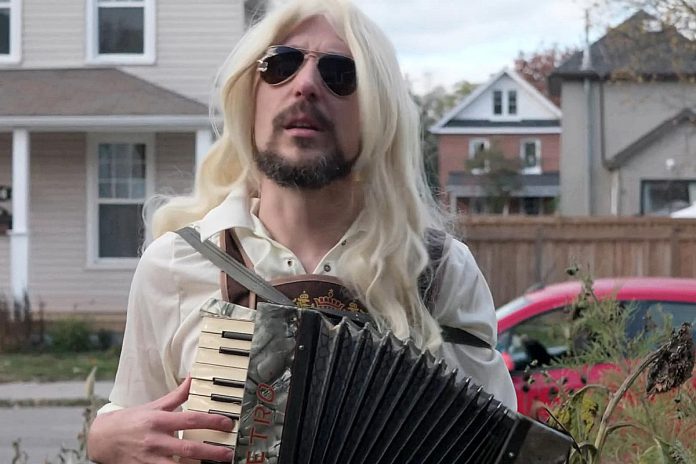 A short parody film made by Peterborough's Matt Snell won the Best Canadian Film award at the Canadian International Comedy Film Festival in Winnipeg on October 8.
Written and directed by Snell, "Schnitzelback" also stars Snell as a man who has created a tribute polka band to celebrate his love of rock group Nickelback.
The 39-year-old Snell, who has a MFA in Creative Writing from the University of British Columbia and is a writer and content marketing specialist for Peterborough's Birchbark Media, made the film in Peterborough in 2020 with help from a group of friends who call themselves Cathedral Hill Productions.
Advertisement - story continues below
"In 2016, four of us were moved by the Halloween spirit to make a horror movie," Snell says. "We did it on a lark — no one had much experience, and it was already October. We jokingly called ourselves Cathedral Hill Productions, after the (Peterborough) neighbourhood we lived in and because the pompous sound of it contrasted with the schlock we were making."
That first short film, about a couple and their unusual relationship with a pumpkin, was called "Pumpkineater." Other short films created by Cathedral Hill Productions include "Santa Sees Something" (2017), "Havesters" (2017), "Vote for Ferd" (2018), "LHP: Understanding Lower Half Possession" (2019), and "RaRa My Lifestyle" (2021).
All the films can be viewed at the Cathedral Hill Productions website at cathedralhillproductions.com.
As for "Schnitzelback", Snell and his friends had to make adjustments to accommodate the restrictions of the pandemic.
"When COVID hit, I thought we'd have to suspend our series," Snell says. "But that didn't feel right, so we found a way to make a movie safely with the limitations. I think it turned out to be the funniest one we've done yet."
Snell and his wife Rebecca Reeves flew to Winnipeg for the festival.
Advertisement - story continues below
"It's been a very quiet, anxious couple of years," he says. "To be in a room full of people laughing along with us was exactly what we needed. I can't wait to put out the next one out this Halloween."
The Canadian International Comedy Film Festival award is not the first for Cathedral Hill Productions. "RaRa My Lifestyle", a self-referential short about an amateur filmmaker who aspires to make the great Canadian horror film, was an Awards of Excellence winner at the 2021 Canada Shorts Film Festival.
Snell has also received a grant from the Electric City Culture Council in Peterborough, which he says will go towards a film to be released in 2023.
VIDEO: "Schnitzelback" – Cathedral Hill Productions