What do a songbird, a fairy tale, and Canada's first spacewalk have in common? They are all inspirations for three composers whose work will be featured in the Peterborough Symphony Orchestra's "Welcome Back" concert on Saturday, November 5th at Showplace Performance Centre in Peterborough.
The orchestra's first concert of its 2022-23 season will include performances of Beethoven's Fifth Symphony, the overture to Rossini's La Cenerentola, and Kevin Lau's Between the Earth and Forever featuring guest soloist Snow Bai on the erhu.
German composer and pianist Ludwig van Beethoven's Symphony No. 5 in C minor Op. 67 begins with the most famous four notes in musical history. Premiering in 1808 when Beethoven was 38 years old, the composition's iconic "Da-da-da-DUM" has frequently appeared in popular culture from television to film, including Walter Murphy's "A Fifth of Beethoven" disco arrangement on the soundtrack to the 1977 dance film Saturday Night Fever.
Advertisement - story continues below
While that famous four-note motif has sometimes been credited with symbolic significance as a representation of "fate knocking at the door," there is also the (possibly apocryphal) story that Beethoven was inspired by the song of a Viennese yellowhammer songbird.
Italian composer Gioachino Rossini's composition La Cenerentola, ossia La bontà in trionfo (Cinderella, or Goodness Triumphant) is a two-act dramatic opera composed by Rossini in 1817, a year after the 25-year-old composer premiered his famous comic opera Il barbiere di Siviglia (The Barber of Seville). Poet and librettist Jacopo Ferretti had suggested an opera based on the fairy tale, and he finished the libretto in 22 days, with Rossini completing the score in an equally impressive 24 days.
While Ferretti had misgivings about the opera, Rossini was confident in its success. Despite a cold initial reception by critics, La Cenerentola quickly gained popularity both in Italy and internationally, and the opera soon overshadowed even The Barber of Seville throughout the 19th century.
VIDEO: Beethoven's Symphony No. 5 (Proms 2012)

Canadian composer Kevin Lau was first inspired to write Between the Earth and Forever after he visited NASA's Johnson Space Center. While Lau began playing piano when he was five years old and was composing by the time he was in high school, he applied at the University of Toronto for music composition and also for astrophysics as a fallback (he was accepted for music composition).
"I absolutely love space and space exploration — the thought of what that's like venturing beyond the bonds of our planet — so that came to mind first as an inspiration," Lau says in a 2020 interview with Houston-based ROCO (formerly the River Oaks Chamber Orchestra).
The title of Lau's piece came after he read former Canadian astronaut Chris Hadfield's 2015 book An Astronaut's Guide to Life on Earth, which includes a photo of Hadfield taking his first — and Canada's first — spacewalk during an April 2001 space shuttle mission to the International Space Station. Hadfield's caption for the photo, which was taken by NASA astronaut Scott Parazynsk, includes the line "Out in the untrespassed sanctity of space, between the Earth and forever."
Advertisement - story continues below
Tweet this quote
"As soon as I adopted this caption as the title, it almost wrote the piece for me — giving me an idea of the shape of the piece, and what I would do," Lau recalls. "I also wanted to write something for erhu, which I had never written for before, but had an interest in, as my paternal grandfather had played the instrument. I was totally fascinated by its unique sound."
A traditional Chinese two-stringed bowed instrument with more than 4,000 years of performance history, the erhu has made appearances everywhere from Chinese folk and orchestral music to the World of Warcraft video game soundtrack.
"I wanted the piece to sound not like what one typically hears when you hear erhu with orchestra — these works tend to be very based in Chinese folk songs, which are so beautiful — but I wanted to do something different here, to treat the erhu's voice more as a sonic character, exploring the possibilities of using the erhu in a very non-eastern context, through this framework of space exploration," Lau says.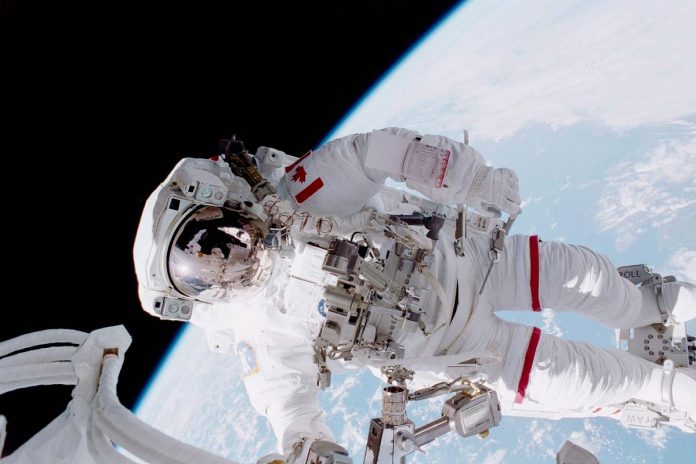 "First, you'll hear a fanfaric opening recalling Richard Strauss' Also Sprach Zarathustra (used as the theme of the 1968 film 2001: A Space Odyssey) with that very primordial opening, on a very large canvas, getting us into the sound and scope," Lau explains.
"This initial theme is played twice in its entirety, toward the beginning, and near the end. Then the erhu comes in immediately for a slightly disorienting effect, going back and forth between ideas that are western sounding, almost Coplandesque, and also drawing upon idioms rooted in Chinese music, sounds that make it typically erhu."
"The erhu plays an extended cadenza toward the beginning of the piece, and I wanted it to take on the voice of the lonely astronaut completely surrounded by space. In the first half, the erhu and the orchestra represent traditional roles, engaging in interplay but keeping in character, and as the piece proceeds they blend more and more, as the eastern and western traditions start to break down and mesh between the erhu and the orchestra. So, by the end, it feels almost like the erhu has gone into orbit, as it gets farther and farther away from where it started."
Advertisement - story continues below
For the Peterborough Symphony Orchestra's performance of "Between the Earth and Forever," guest soloist Snow Bai will perform on the erhu. Bai has appeared in concerts across North America, France and Japan, as well as acting in several Chinese movies and television shows.
"Welcome Back" begins at 7:30 p.m. on Saturday, November 5th at Showplace Performance Centre at 290 George Street North in downtown Peterborough. A pre-concert "Meet the Maestro" talk takes place at 6:45 p.m., where the Peterborough Symphony Orchestra's music director Michael Newnham will take the Showplace stage for an intimate chat about the evening's program.
Single tickets are $33, $48, or $55 depending on where you sit, with student tickets $12. Tickets are available in person at the Showplace Box Office from 10 a.m. to 4 p.m. Monday to Thursday and 10 a.m. to 2 p.m. Friday, or online anytime at tickets.showplace.org (student tickets are only available online).
New this season is a "rush ticket" option, where seats are available on the day of the concert for only $20 (online only, depending on availability).
kawarthaNOW is proud to be a media sponsor of the Peterborough Symphony Orchestra's 2022-23 season.