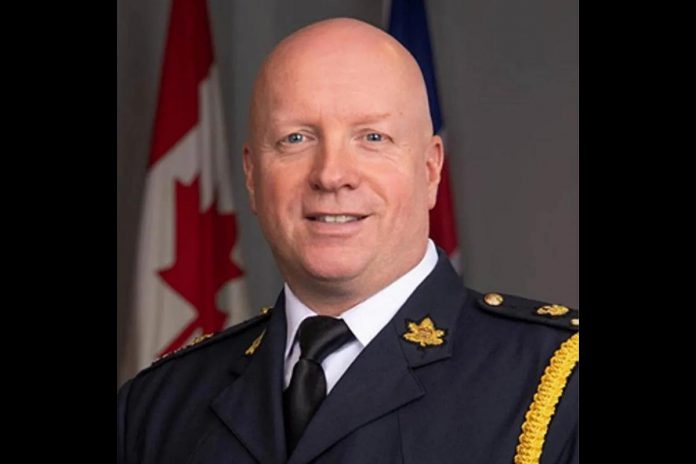 Stuart Betts, currently a deputy chief with the London Police Service, will be the next chief of the Peterborough Police Service.
The Peterborough Police Services Board made the announcement on Tuesday (November 1).
Betts had more than two decades of policing service with the York Regional Police Service, ranging from uniform patrol and criminal investigations to executive services, before joining the London Police Service in 2019. Prior to his current role as deputy chief of operations with the London Police Service, he was deputy chief of administration.
Advertisement - story continues below
Betts has a Bachelor of Arts degree from York University as well as a Masters of Business Administration degree with a specialty in innovation leadership from the University of Fredericton, and is pursuing a second masters degree in law in alternative dispute resolution at Osgoode Hall Law School.
He is also a graduate of the University of Toronto's Rotman School of Management Police Leadership Program and the Police Executive Research Forum Senior Management Institute for Police. He has served as the co-chair of the Canadian Association of Chiefs of Police's Police Information and Statistics Committee.
"I am thrilled and honoured to have been selected to be Peterborough's next chief of police," Betts states in a media release. "I believe the chief of police should be a leader in the community, and also serve to support the members of the organization by ensuring they have the tools and resources needed to serve the community at the highest possible level."
Advertisement - story continues below
Tweet this quote
Betts and his wife Michelle have an 21-year-old son named Neal.
"As your chief, I will be dedicated to ensuring we excel in our commitment to professionalism and excellence in support of safety for the community and to one another," Betts adds. "Peterborough is to be my home, and I am invested in ensuring it is a safe place for my family and yours."
In February, the Peterborough Police Services Board announced the sudden retirement of Scott Gilbert after four years as Peterborough's police chief. In March, the board retained the services of an executive search firm to recruit a replacement and conduct community consultations.
"Following a rigorous selection process, the board deemed Chief Designate Betts as the person it felt most appropriate to lead the Peterborough Police Service in the coming years," states a media release.
Betts will take over from acting chief Tim Farquharson on January 9.
"The board would also like to take this opportunity to express its sincere gratitude to Acting Chief Tim Farquharson for assuming leadership of the organization during this time of transition and for his continued positive presence and commitment to both the (Peterborough Police) Service and the communities we serve," the board states.