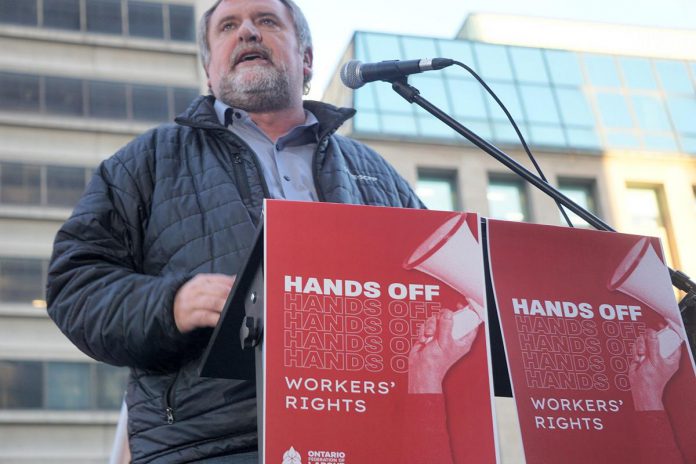 CUPE education workers and supporters in the greater Kawarthas region will be picketing at the constituency offices of local Ontario government MPPs from 7:30 a.m. to 3 p.m. on Friday (November 4).
The picket lines will take place at the offices of Peterborough-Kawartha MPP Dave Smith (1123 Water St., Peterborough), Haliburton-Kawartha Lakes-Brock MPP Laurie Scott (14 Lindsay St. N., Lindsay), Northumberland-Peterborough South MPP David Piccini (117 Peter St., Port Hope), and Hastings-Lennox and Addington MPP Ric Bresee (6A St. Lawrence St. W., Madoc).
CUPE, which represents around 55,000 Ontario education workers — including librarians, custodians, and early childhood educators — is in a legal strike position as of Thursday and, on Monday, promised its members would walk off the job on Friday despite the Ontario government's tabling of legislation imposing a four-year contract and banning strikes.
Advertisement - story continues below
Tweet this quote
On Thursday, the Ontario government is expected to pass its controversial legislation which invokes the notwithstanding clause of the Canadian Charter of Rights and Freedoms and nullifies the Ontario Human Rights Code.
"To pass it, they've invoked the notwithstanding clause, overriding the Charter's protections of the fundamental right to the collective bargaining process," CUPE Ontario states. "This is the first time in the history of Canada that a government has done so to pre-emptively end a labour action."
"Education workers are the backbone of Ontario's public education system and we're fighting for a good deal to ensure high-quality education and services for kids. Whether you're an education worker or an ally, come out to a picket line to send the Ford Conservatives a message and to secure a real deal."
The Peterborough and District Labour Council is supporting CUPE education workers and is encouraging all workers to join the picket line at MPP Dave Smith's constituency office at 2 p.m. on Friday.
"In addition, CUPE health care workers will be joining the line at 2 p.m. for an emergency rally," the council writes on Facebook. "We are calling on all workers to join at this time if they are able."