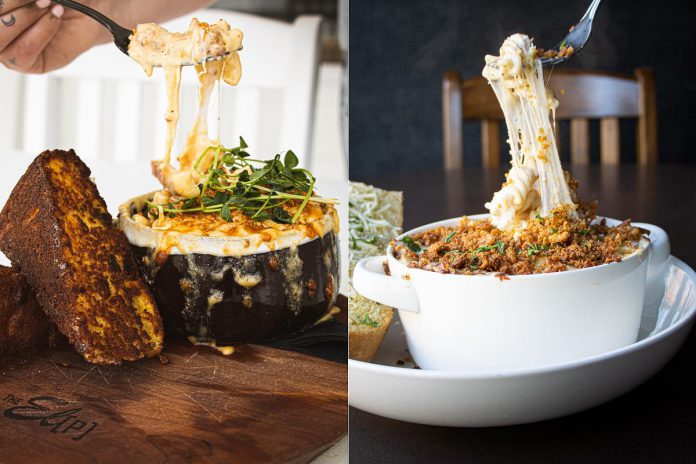 Two classic mac and cheese dishes have tied as the champions of the second annual Peterborough Mac + Cheese Festival, which took place during the month of October at participating downtown restaurants.
During the festival, restaurant goers voted online for their favourites of the 20 mac and cheese dishes on offer, with over 1,000 votes cast. In the end, both The El (P)'s "Creamy 3-Cheese Chorizo BeerMac" and Capra Toro's "Baked Birra Fromagio" were crowned the winners of the friendly culinary competition.
Along with bragging rights, The El (P) and Capra Toro each receive a cheesy hand-crafted trophy and a sizable donation to Kawartha Food Share made in their restaurants' names.
Advertisement - story continues below
Tweet this quote
"For the second year, we had some incredibly unique entries," says the festival's marketing and social media coordinator Amanda McBain. "It's really fun to see the chefs exercise their creativity while showcasing two simple ingredients. The community is still really into comfort foods and this October we definitely delivered."
The El (P)'s mac and cheese dish features a creamy beer sauce made with lager from Ganaraska Brewing, provolone, and gruyere cheese with chorizo sausage crumble, baked with monterey jack, topped with a crispy season panko crumb, and served with jalapeño cornbread.
"It's beer and cheese, man — what's better than those two ingredients?" says The El (P) sous shef Eric Beyer. "Mix in some chorizo and a fantastic cornbread (made in house) by resident baker Kelsey and the dish just sings! Feels great to win! Team effort all around."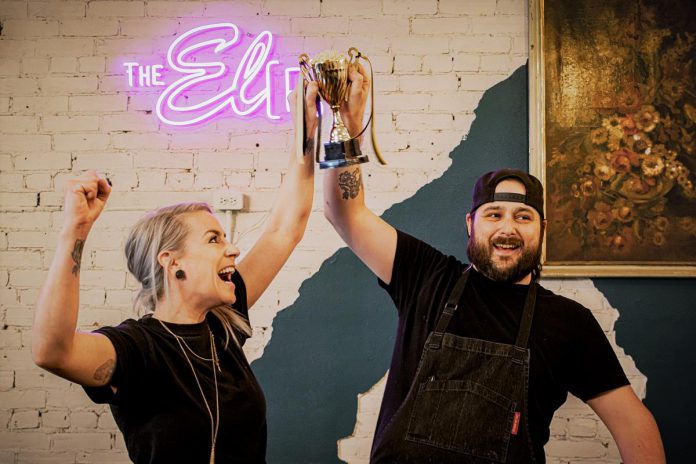 Capra Toro's mac and cheese dish features fusilli and prosciutto, with three-year-old aged cheddar, smoked mozzarella, and beer amoretti, and is topped with more mozzarella and house-made focaccia bread crumbs.
"We are just so incredibly blown away at being crowned top mac this year," says Capra Toro's lead pasta chef Nathan Manwell. "Last season we almost won, coming in second place. We are over-the-moon excited to bring home a win this time around."
"Our team put a lot of heart and soul into our competition mac and thankfully people liked it enough to vote for us. We really appreciate all the community support."
Advertisement - story continues below
Coming in second place was the Spinach and Artichoke Mac + Cheese Dip made by Chef Jessie from Champs Sports Bar, with third place going to the Black Horse's Sweet Potato Mac.
If you missed this year's Peterborough Mac + Cheese Festival, you can try your hand at making the winning dishes yourself.
Their recipes will be available at www.ptbomacandcheesefest.com, along with a make-at-home recipe curated with local ingredients.