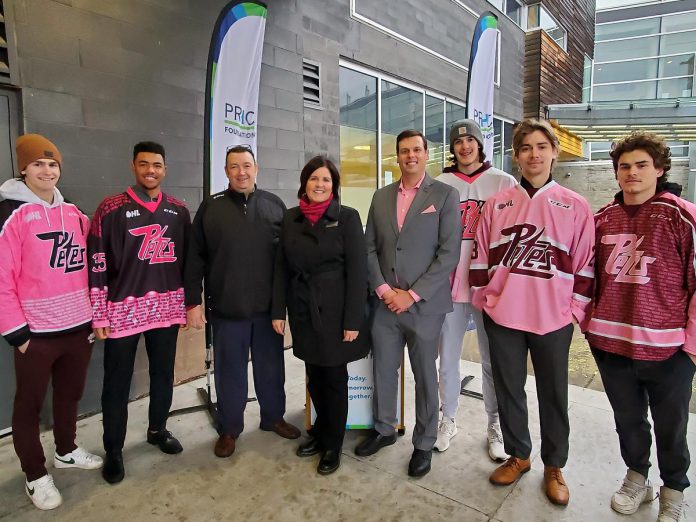 The Peterborough Petes' annual Pink In The Rink fundraising campaign will celebrate and honour local hockey moms who have been affected by cancer, with proceeds supporting cancer care at Peterborough Regional Health Centre (PRHC).
The 14th annual Pink in the Rink games takes place at the Peterborough Memorial Centre at 7:05 p.m. on February 4, 2023, when the Petes will face off against the Oshawa Generals.
Details of the campaign were announced on Wednesday morning (November 30) in a media conference at the hospital with the Petes organization and the PRHC Foundation.
Advertisement - story continues below
Tweet this quote
"The number of patients from Peterborough and the surrounding area who rely on PRHC to support their cancer journey continues to climb," said PRHC Foundation president and CEO Lesley Heighway. "It's events like Pink in the Rink and organizations like the Peterborough Petes — along with the people and businesses who support them — that fund the tools our experts need to save and improve lives."
The Petes are now accepting nominations at gopetesgo.com/pink-in-the-rink-2023 of local hockey moms who will be honoured leading up to and during the February Pink in the Rink game.
You can also honour someone who has been affected by cancer by having their name appear in the design of the official Pink in the Rink game jerseys, which will be worn at the game. The cost fo each name is $20 and can be purchased by contacting Ian MacGregor at the Petes Office at 705-743-3681 ext. 201 or at imacgregor@gopetesgo.com or online at gopetesgo.com/petes-pink-in-the-rink-official-jersey-name-order-form.
Advertisement - story continues below
Tweet this quote
Over the past 13 years, the annual Pink in the Rink campaign has raised a total of $900,000 for the Canadian Cancer Society. This year's fundraising goal is $50,000, with proceeds going to the PRHC Foundation.
"With your help, we'll continue investing in vital technology upgrades like our interventional radiology suites, where cancer is just one of the conditions treated, and experts perform minimally invasive biopsies, install intravenous chemotherapy ports, and even offer precise, targeted cancer treatments — safely and quickly so patients can go home sooner," Heighway said.
Tickets for the 14th annual Pink in the Rink game on Saturday, February 4th against the Oshawa Generals are available now in person at the Grant Thornton Box Office (151 Lansdowne St. W., Peterborough), by phone at 705-743-3561 during regular business hours, or online anytime at tickets.memorialcentre.ca. Group ticket are available by contacting Hailey Bentley at the Petes Office at 705-743-3681 or at hbentley@gopetesgo.com.
"On behalf of PRHC's patients and everyone who loves them, thank you," Heighway said. "Together we're ensuring our hospital remains a trusted place of healing and hope for you, your family and our entire community, now and always."