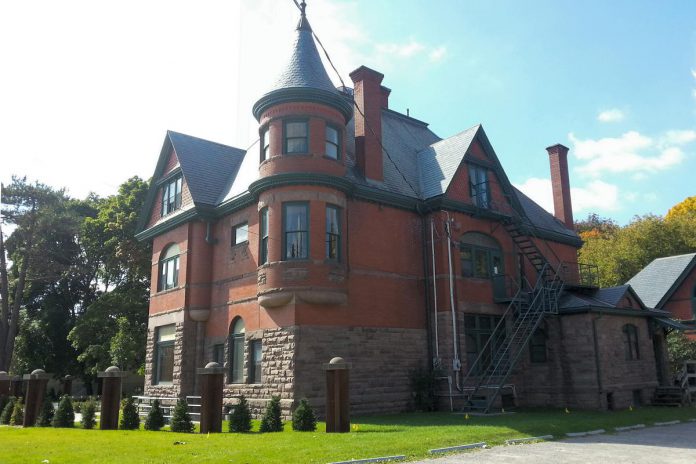 Sadleir House, the independent student-run community centre in downtown Peterborough, is raising funds to pay off the remaining $175,000 in its mortgage.
Located at 751 George Street North north of Parkhill Road, Sadleir House is owned and operated by P.R. Community & Student Association, a not-for-profit charitable organization.
As well as providing office space for local organizations including the Kawartha World Issues Centre, the Community Race Relations Committee of Peterborough, and Arthur Newspaper, Sadleir House regularly hosts concerts, films, poetry readings, and other events both for Trent University students and the general community.
Advertisement - story continues below
Tweet this quote
"At Sadleir House we're really trying to do something different," says Sadleir House general manager Matt Jarvis in a video. "We're trying to prove that, as a community, we can lift up a space. This is a giant Victorian mansion. We have three large event spaces, including a black box theatre and a 100-person concert venue with industry-standard sound."
"Paying off the mortgage will free up $30,000 in annual funds for us to spend on renovations and heritage upgrades and programming — stuff that we can use to make our space more beautiful for everyone."
Sadleir House was built in 1892 for local businessman and politician James Kendry, who sold it in 1902 to James R. Stratton, publisher of the Peterborough Examiner and a local politician, who built a coach house for his horses three years later.
VIDEO: Matt Jarvis talks about the Sadleir House mortgage

In 1963, the newly founded Trent University purchased the original house along with the coach house to serve as the main building for its Peter Robinson College, with architect Ron Thom designing a connection between the two buildings two years later.
Initially named Peter Robinson House, it was later renamed after the late Richard Sadleir, a friend of Trent University's founding president Thomas H.B. Symons who helped found the university and was the first master of Peter Robinson College from 1963 until 1969.
In 1999, Trent University announced plans to close both Peter Robinson and Catharine Parr Traill Colleges, resulting in widespread student protest. Three years later, the colleges' buildings — including Sadleir House — were sold to a property developer.
Advertisement - story continues below
In 2003, the demand for increased space for students combined with outrage at the loss of Peter Robinson College prompted a group of students to form the Downtown Student Facility Trust, which put forward a referendum question to full-time undergraduate students at Trent University for establishing a $22 per student levy to purchase an existing building in downtown Peterborough for non-profit educational and cultural student facility to be shared with the community as a whole.
After a majority of students voted in favour of the referendum, the P.R. Community & Student Association was incorporated in 2004 and purchased Sadleir House for $650,000. In 2005, the City of Peterborough designated Sadleir House as a heritage building.
The not-for-profit organization primarily relies on the student levy along with donations to cover its operational expenses. It also rents out space in Sadleir House, with discounted rates for not-for-profit groups and for community use and no charge for Trent University student groups.
"Giant Victorian mansions are extremely expensive," Jarvis says. "However, over the last 20 years we've been slowly and surely paying off the mortgage to the point that we only owe $175,000 — which is a lot of money."
Jarvis is appealing for donations of any size from members of the community, alumni of Peter Robinson College, people involved in the alternative arts community in Peterborough, and more. You can donate to Sadleir House at www.sadleirhouse.ca/donate. All donations over $20 will receive a charitable tax receipt.
For more information about Sadleir House's plans or to tour the premises, you can contact Jarvis at 705-742-3686 or at matt@sadleirhouse.ca.