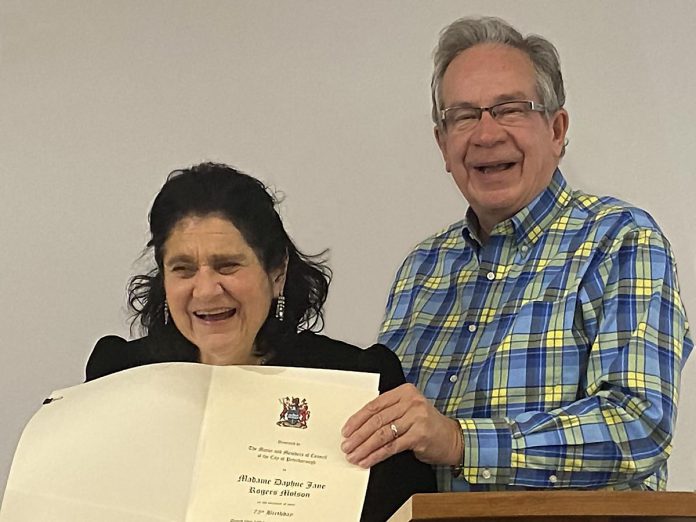 They came. They saw. They praised.
Several leading members of Peterborough's arts community gathered at the Peterborough Public Library on Wednesday night (December 14) to celebrate the 75th birthday of poet, composer, and musician Madame Daphne Jane Rogers Molson, hailing her tireless support of fellow artists as well as the community in general.
A number of presentations were made, including a citation recognizing the Peterborough native's birthday milestone from city council read by Mayor Jeff Leal, who lauded the guest of honour as "someone who helps make our city a truly inspiring place to live, work and play."
Advertisement - content continues below
Tweet this quote
Tables crammed full with certificates, honours, and medals recognizing Molson's poetry spoke clearly to her literary contributions, providing full evidence of her stature as a member of the International Poetry Writers' Who's Who. Available for purchase were copes of her published work, including her 2021 work Peterborough, Ontario, Canada: City Hallowed In Centennial Fame, Remember You And Your Famous Name.
"Daphne is a cherished and outstanding citizen," said Mayor Leal. "She models resiliency. She teaches us how to be courageous and to follow our passions every day, no matter how hard the challenges we may face. We're proud of her many artistic and cultural accomplishments, and honoured and grateful for her support of different organizations."
And there have been challenges for Molson, particularly in regards to her health. Besides longstanding mental health issues, she has breast cancer for which she has refused treatment. That, however, has done little if anything to dampen her creativity and her boundless support of other artists.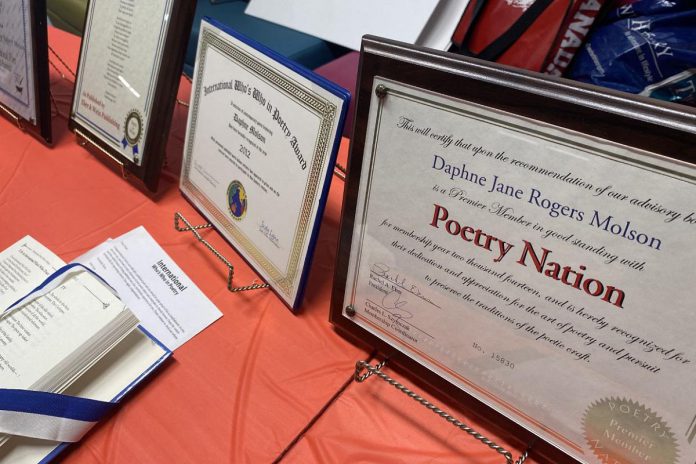 Celebration co-organizer Su Ditta, executive director of the Electric City Culture Council, said Molson "should be at the top of the list" of local arts community ambassadors.
"We're celebrating a life dedicated to the arts — someone who is an ardent supporter of the arts and art of all kinds," Ditta said. "Daphne writes, she composes music, she plays music, she's a visual artist, she works with painting groups."
"Daphne has some health problems but has shown incredible resilience, fortitude, and courage throughout her life against many odds. She has a better social life than I do. She goes to the Puck and Pint; she goes to Lakers games. She's just an inspiration and we wanted to celebrate that."
Advertisement - content continues below
Tweet this quote
But for all the kind words that were spoken, the greatest testament to Molson's impact was in the clear recollections by her friends of the first time they made her acquaintance.
"I met her at an East City garden party fundraiser that Artspace had," recalled Ditta. "There was a workshop with floating Japanese fish on bamboo poles — beautiful handmade paper fish. Daphne made one. She got up and started marching back and forth in front of the band that was playing jigs and reels. That got my attention and it caught the attention of everyone there. Before I knew it, there was this incredible scene happening with local musicians playing this beautiful music, art everywhere, and Daphne getting all these folks who didn't know each other standing up and moving back and forth and dancing."
"That night, it had gotten cold. It was raining. My mom, sister and I were driving across the Hunter Street bridge and there she was, all by herself. We gave her a ride home. We've been close friends ever since."
Public Energy executive director Bill Kimball also harkened back to that first encounter.
"We met when I was a student at Trent around 1978 or 1979," he said. "It was at the lunch counter at Parkway Variety (where Levantine Grill is now). I was there with my partner Martha and we ordered hot fudge sundaes. While we were eating them, we hear this voice from the other side of the room, calling out to us, asking 'Is that quite luxurious?' We knew we were in the presence of someone special. How often does someone ask you that?"
"What we're celebrating is a person who has no limits on her enthusiasm for life and art. Someone who, despite her mental challenges, can express that in a way that appeals to a broad range of people. There's nothing that's not genuine about Daphne. She doesn't have a bad word to say about anybody."
Advertisement - content continues below
Tweet this quote
Meanwhile, Art Gallery of Peterborough curator Fynn Leitch took time to declare Molson "a beloved wonder," adding her "interest in supporting and remaining connected with the community is a part of her everyday practice."
"She has carefully documented the history of the arts here, in addition to the history of the city. She has worked diligently to gather and share the story of Peterborough. It's a real form of love; a generous gift to this and future generations. I've loved the conversations we've had about the amazing work that artists do, but also creating spaces in which we could think about things like colour and texture, and the types of communities we could build."
Leitch too recounted her first encounter with Molson, back on one of her first days working at Artspace.
"Elizabeth Fennel introduced me to Daphne, to her outfits, and to her incredible value for the community as an artist, a poet, a composer, a musician and an avid arts supporter," Leitch said. "They told me to take very good care of you."