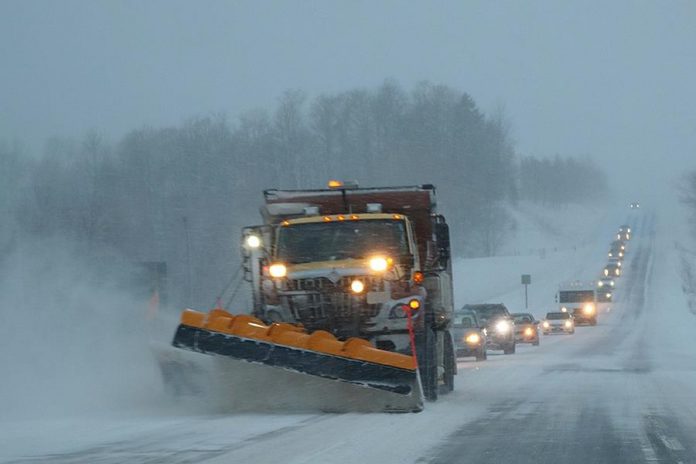 Winter storm warnings remain in effect for the entire Kawarthas region for Friday (December 23) into Saturday.
Environment Canada has issued winter storm warnings for Peterborough County, the City of Kawartha Lakes, Northumberland County, Haliburton County, and Hastings Highlands. In addition, a rainfall warning is in effect for Northumberland County for Thursday.
In the southern areas of the Kawarthas (southern Peterborough County, southern Kawartha Lakes, and Northumberland County), temperatures are expected to plummet this morning leading to a potential flash freeze. Rapidly falling temperatures will be accompanied by snow and very strong winds which will result in widespread blowing snow. In Northumberland County, total rainfall amounts of 20 to 30 mm are expected by Friday morning, before transitioning to snow from west to east by early Friday afternoon.
Advertisement - content continues below
Very cold wind chills in the minus 20s are expected to develop on Friday and persist into the weekend. Rapidly falling temperatures will be accompanied by damaging winds along with snow, heavy at times. Blizzard-like conditions are likely to develop late Friday.
Total snowfall amounts of 5 to 15 cm are expected by Saturday morning, with wind gusts up to 90 km/h in southern Peterborough County and southern Kawartha Lakes and 100 to 120 km/h in Northumberland County. Widespread blowing snow will significantly reduce visibility.
In the northern areas of the Kawarthas (northern Peterborough County, northern Kawartha Lakes, Haliburton County, and Hastings Highlands), snow will continue through Friday before tapering to flurries on Saturday, with additional amounts of 10 to 20 cm by Friday night. The snow, heavy at times, will be accompanied by wind gusts up to 70 km/h. Snow squalls are expected to develop Friday night for some locations and continue into Saturday.
Advertisement - content continues below
Avoid travel if possible or consider postponing non-essential travel until conditions improve. Travel is expected to be hazardous due to reduced visibility in some locations. Surfaces such as highways, roads, walkways and parking lots may become icy and slippery or difficult to navigate due to accumulating snow. If visibility is reduced while driving, slow down, watch for tail lights ahead and be prepared to stop
Public Safety Canada encourages everyone to make an emergency plan and get an emergency kit with drinking water, food, medicine, a first-aid kit and a flashlight
The story has been updated with the latest forecast information from Environment Canada.