Snowshoe under the light of the full moon. Learn how to build and camp in an igloo. Experience winter geocaching. Try ice climbing.
These are only a few of the outdoor adventures you can enjoy when the Hike Haliburton Festival – Winter Edition returns in early February after a two-year absence due to the pandemic.
Designed for both new and experienced outdoor enthusiasts, the festival runs on Saturday, February 4th and Sunday, February 5th throughout Haliburton Highlands, offering free guided winter hikes as well as paid adventure experiences and self-guided options. Registration is now open at winter.hikehaliburton.com.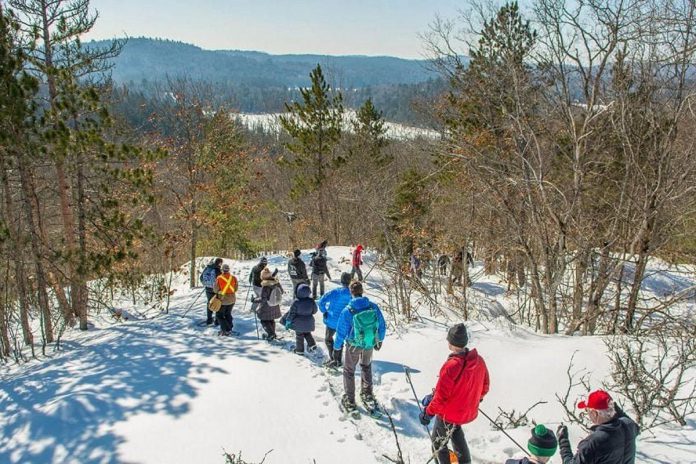 The winter edition of Hike Haliburton evolved from the success of the annual September event that will mark its 20th year in 2023, according to festival coordinator Thom Lambert.
"It's a dearly beloved festival amongst the participants," Lambert says. "People come from all over the place. They get to go on hikes they can't go on at any other time of the year. It's primarily a snowshoeing festival although we are branching out, trying to include a wider range of activities."
Tweet this quote
What makes Hike Haliburton different from similar festivals in other tourism destinations is the hikes are exclusively led by volunteers who are intimiately familiar with the area.
"We have an amazing group of volunteer hike leaders, probably close to 100 of them. We ask 'What is it that you really want to offer people?' The real power of the festival is people get to come and spend time with someone that really loves some small corner of the county."
The guided hikes range in duration and in difficulty, from easy to challenging, with detailed information about each hike — including location — available at winter.hikehaliburton.com.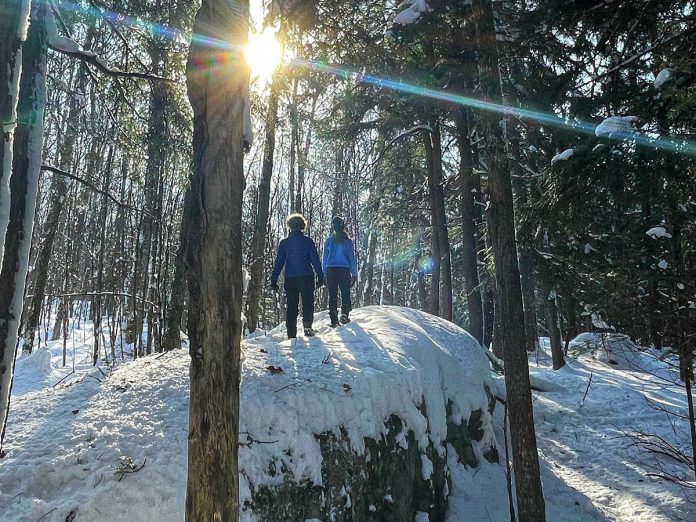 "We're very clear with people so they know what they're signing up for," Lambert says. "We rate each hike by beginner, intermediate, and advanced. We have one fairly hard-core hike on the Ganaraska Trail from one of the folks with the Ganaraska Trail Association. It's very hilly with really rugged terrain."
A special feature of this year's festival is that it coincides with the February full moon, also known as the Snow Moon, with two hikes designed to take advantage of it.
"Winter nights under a full moon are magical, often bright enough to snowshoe or ski without a headlamp," Lambert points out. "We have two hikes scheduled that allow folks to experience this magical opportunity."
Another guided hike offers participants the chance to explore a hidden gem in Haliburton Highlands.
"One of our hike leaders is doing a hike along the Minden Wild Water Preserve that has been host to multiple world white-water events," he adds. "It's an absolutely stunning place in the winter with the ice formations. You can go for a walk there yourself, but Rick lives on the river. You get his perspective. He's also a kayaker. He's an outdoors enthusiast. You get to experience that place in a way that you'd never experience it if you hiked there on your own."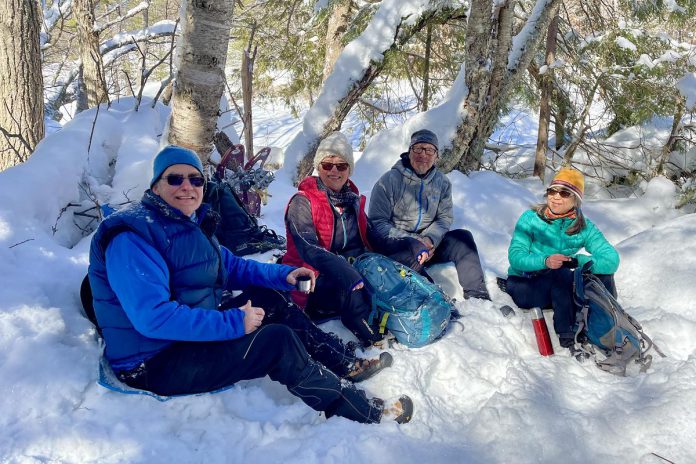 Tweet this quote
That knowledge of the hike leaders enhances the experience for participants. While it's billed as hiking festival, Lambert explains Hike Haliburton is also a storytelling festival.
"It's local residents and others — cottagers or people who spend a lot of time here — taking a group of folks out and telling them the story of one of their favourite places," he explains.
Registration is now open at winter.hikehaliburton.com for the following free guided hikes:
Teddy Bear Picnic – Saturday, February 4 from 8:45 a.m. to 3:00 p.m. – Carolyn Humphreys leads a 4-6 km hike along the Ganaraska Trailhead and Moore Falls Trailhead. Plan to climb steeps, scramble down rocks, and perhaps walk on ice. Dress warmly in layers and you may need snowshoes. Dogs are not allowed as they may scare off wildlife.
Dahl Forest in Winter – Saturday, February 4 from 9 to 11 a.m. – Peter Dahl leads a leisurely 4 km snowshoe walk along the Dahl Forest Trails in Minden Hills, which his family donated in 2009 to the Haliburton Highlands Land Trust. Peter will share his knowledge and love for conservation and the natural features of the property. This hike is suitable for adults, teens, and children 10 years and older. Dogs are not allowed.
Winter Geocaching for Beginners – Saturday, February 4 from 2 to 4 p.m. – Joanne Vanier introduces you to the fun and family-oriented game of geocaching as you take a short 1 km hike through the hamlet of Harcourt in the Geocaching Capital of Canada. No experience or special equipment needed; you can use your own smart phone or you can use a supplied GPS unit.
Full Moon Snowshoe – Saturday, February 4 from 6:30 to 7:30 p.m. – Heather Reid leads a slow and easy 3-5 km hike under the light of the full moon through the fields and forests of Abbey Gardens, 10 minutes from the village of Haliburton. Snowshoes are available to rent if you need them. This hike is suitable for adults, teens, and children 10 years and older.
Moonlight on Snow – Saturday, February 4 from 7 to 10 p.m. – Cara Oleksuik leads a 5 km hike through the Barnum Creek Nature Preserve. The trail is winding, with some sections of moderately steep inclines, so participants should be in good physical condition. Snowshoes or icers/cleats are required, and hiking poles (ski poles) are highly recommended.
Gull River Ramble – Sunday, February 5 from 10 a.m. to 12 p.m. – Rick Whitteker will lead an easy 2.5 km snowshoe hike in the Minden White Water Preserve, beginning by walking along the Gull River with its cascading rapids and natural ice sculptures and finishing by winding through mature upland forest habitat back to the starting point.
Snowshoeing the Circuit – Sunday, February 5 from 1 to 4 p.m. – Heather Reid leads a 5 km hike along the Circuit of Five Viewpoints trail in Algonquin Highlands, where she will share her knowledge of the area, local flora and fauna, and the ins and outs of winter travel. Hiking poles (ski poles) are recommended, and you should bring water and snacks. This hike is suitable for adults, teens, and children 10 years and older. Dogs are not allowed.
Bethel Heights Farm – Sunday, February 5 from 12 to 1:30 p.m. – Katie Cox leads a 2 km snowshoe hike along packed trails (with some hills) around Bethel Heights Farm in Minden Hills. See the bees all tucked in and check out winter life for the chickens, ducks, and goats (all animals are kid friendly). Dogs are not allowed.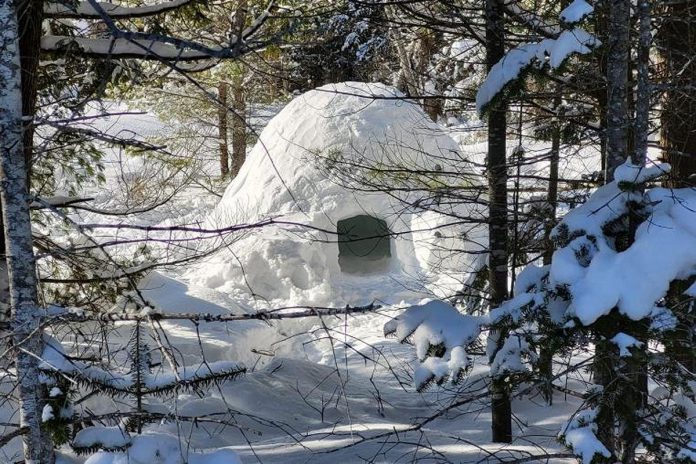 As well as the free guided hikes, you can also book several paid adventure experiences:
Ski like a Canadian – Saturday, February 4 from 10 a.m. to 12 p.m. or 1:30 to 3:30 p.m. – If you are new to cross-country skiing, Yours Outdoors will teach you the basics in either skate or classic style and guide you along scenic trails that are suited to your level of ability. If you have skied before, Yours Outdoors will help you refine your technique and take you through some rugged and beautiful terrain.
Try Ice Climbing – Saturday, February 4 or Sunday, February 5 from 9 a.m. to 12 p.m. or 1 to 4 p.m. – Yours Outdoors offers a half-day adventure geared towards providing a taste of the sport of ice climbing. You will learn the basics (including safety) and get in your first swings.
Intro to Igloo Building – Sunday, February 5 from 10 a.m. to 4 p.m. – Yours Outdoors will teach you how to construct and camp in an igloo. Topics include the differences between igloos, quinzhees, snow caves, and other snow shelters, the use of the icebox igloo tool that permits building igloos in virtually any snow conditions, hands-on practice in the building of an igloo, and much more.
Guided Snowshoe Hikes – Sunday, February 5 from 1:30 to 3:30 p.m. – Guides from Deep Roots Adventure will teach you all about snowshoe travel and make sure you have a great experience along the Glebe Park Snowshoe Trails in Haliburton. Snowshoes are supplied.
In addition to the free guided hikes and paid adventure experiences, the festival showcases Haliburton Highlands, offering resources to explore local self-guided snowshoeing trails, outfitters, Nordic skiing, downhill skiing and snowboarding, and ice skating, hockey and curling, as well as local live entertainment taking place during the festival.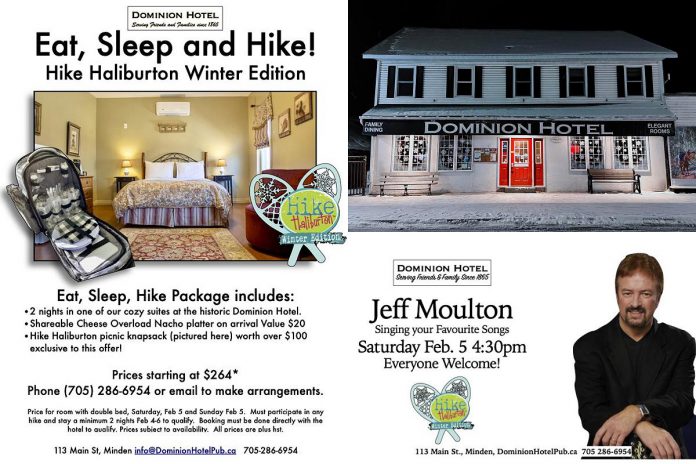 While there is no specific food focus attached to the weekend event, Lambert notes local hotel and motels are offering special accommodations packages for the Hike Haliburton weekend.
The historic Dominion Hotel in Minden is offering an Eat, Sleep and Hike package that includes a free signature Hike Haliburton backpack containing a full picnic set — plates, wine glasses, cutlery and a blanket. The package includes two nights' hotel stay and an appetizer on arrival. Call 705-286-6954 for more information and/or to reserve.
Lakeview Motel & Resort in the Village of Haliburton is offering an overnight package (minimum two nights' stay) that includes a free signature Hike Haliburton picnic backpack along with a complementary gift card for one of Haliburton Highlands' local restaurants. To book, call 1-866-385-9347, email info@lakeviewhaliburton.ca, or visit www.lakeviewhaliburton.ca and use promo code HIKE2023.
Along with accommodations, another partner is Abbey Gardens in Algonquin Highlands, which offers a self-guided experience along a chickadee feeding trail where small children can feed chickadees birdseed right from their hands.
"If you're a family that only has time to go out for 20 minutes, self-guided experiences such as this give you that opportunity," says Lambert.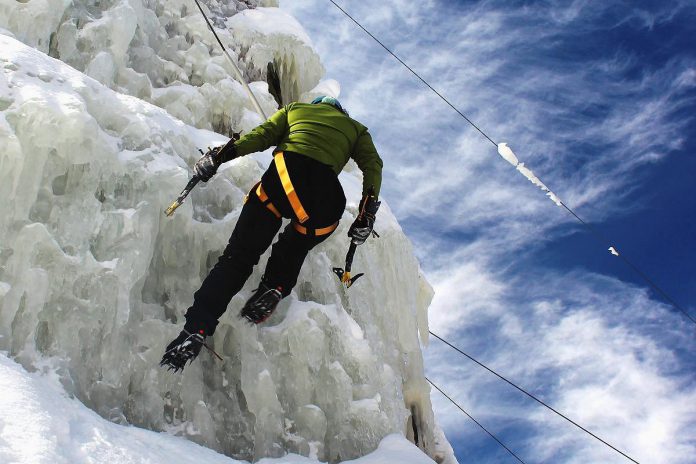 Lambert, who is a hike leader himself, says the festival provides the opportunity for people to discover the natural beauty "right in their own backyard."
"I love taking people out and seeing their faces when they see a new place for the first time," he notes. "Another appeal for me is the sense of discovery that happens when you go to a beautiful place on a beautiful day. Each participant experiences that in a different way and shares that with you."
Tweet this quote
As for those who may be reluctant to try a winter hike, Lambert offers some compelling reasons to give it a try in Haliburton Highlands.
"Winter here is a completely different season. The scenery changes. It's beautiful in a whole other way. And there's really nothing like the quiet in the woods in the winter."
For more information about Hike Haliburton – Winter Edition, to register for the free guided hikes, to book paid experiences, and to explore local resources, visit winter.hikehaliburton.com.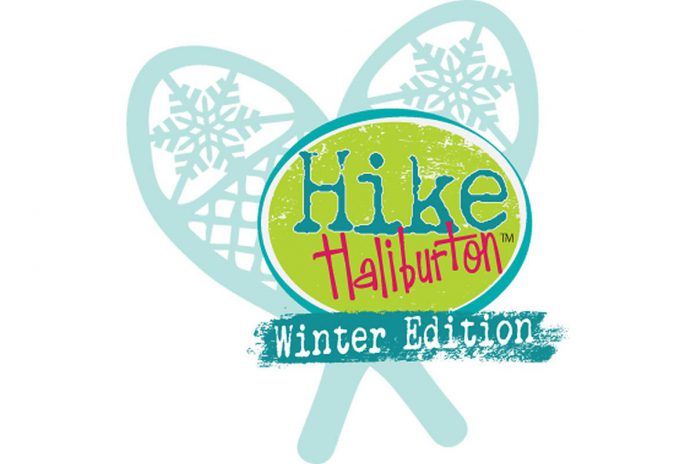 This branded editorial was created in partnership with Hike Haliburton. If your business or organization is interested in a branded editorial, contact us.