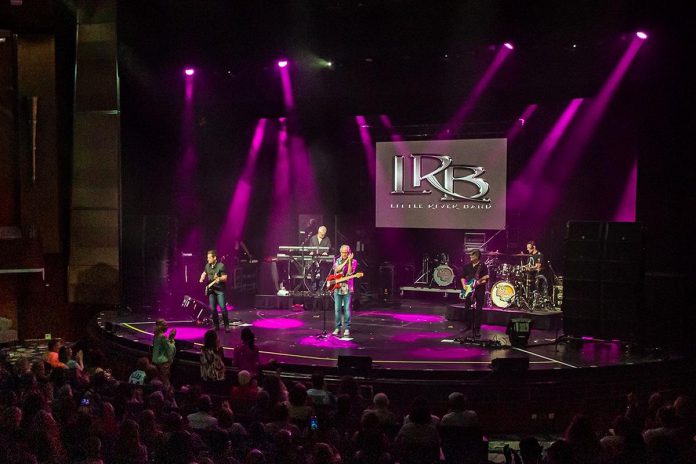 "We'll go dancing in the dark, walking through the park, and reminiscing."
If you're a fan of 1970s soft rock, Friday the 13th is your lucky day. Peterborough Musicfest has announced the first free-admission concert of its 36th summer season, with Little River Band performing on the Fred Anderson Stage at Del Crary Park on Wednesday, July 26th.
Originally formed in Melbourne, Australia in 1975, Little River Band achieved commercial success in both Australia and the United States and have sold more then 30 million records. The band is known for its singles including "Lonesome Loser," "Lady," "Help Is On Its Way," "The Other Guy," "Lady," "Cool Change," "Take It Easy On Me," and "Reminiscing."
One of the most frequently played songs in the history of U.S. radio with five million plays, "Reminiscing" is the band's most well-known hit. It reached #3 on the Top 10 of the Billboard Hot 100 in 1978, and John Lennon reportedly said it was one of his favourite songs.
Advertisement - story continues below
Little River Band have received many music awards in Australia. Most of the band's material from the 1970s and 1980s was written by founding members Glenn Shorrock and Graeham Goble who — along with Beeb Birtles, George McArdle, David Briggs, and Derek Pellicci, the remaining members of the 1976 line-up — were inducted into the Australian Recording Industry Association's hall of fame in 2004.
Now based in the United States, Little River Band has undergone many personnel changes over the years, with over 30 members since its formation, but continues to tour. The band's July 26th Peterborough Musicfest appearance is currently the band's only scheduled Canadian performance in 2023. The current line-up is Wayne Nelson (lead vocals and bass), Chris Marion (keyboards and vocals), Bruce Wallace (guitar and vocals), Ryan Ricks (drums, percussion, and vocals), and Colin Whinnery (guitar and lead vocals).
VIDEO: "You Dream I'll Drive" – Little River Band

Launched on July 1, 1987 under the name Peterborough Festival of Lights with concert series founder Fred Anderson at the helm, Peterborough Musicfest is Canada's longest-running free-admission outdoor summer concert series. Dallas Green, Our Lady Peace, Serena Ryder, Gordon Lightfoot, 54-40, and Blue Rodeo are just a few of the many musical acts that have performed over the years.
Overseen by general manager Tracey Randall and a board of directors, Peterborough Musicfest is able to offer free-admission concerts thanks to corporate sponsorships (most of whom, including kawarthaNOW, are locally owned businesses) along with multiple levels of government funding, fundraising initiatives, and private donations.
Individuals and businesses interested in sponsoring the festival can email sales@ptbomusicfest.ca or call 705-755-1111.