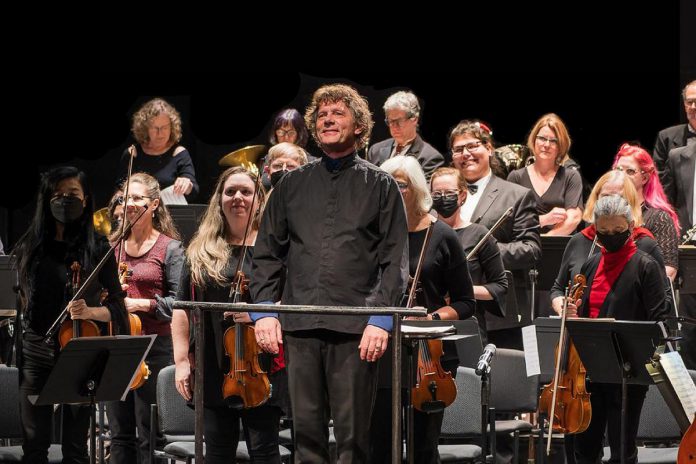 The Peterborough Symphony Orchestra returns to Showplace Performance Centre in downtown Peterborough on Thursday, February 4th for "An Intimate Welcome," a concert featuring works by Dvorák, Mozart, Gounod, and Brahms.
Welcoming audiences back to the Peterborough Symphony Orchestra is a recurring theme of all of this season's concerts, since the 2022-23 season is the first one since the pandemic began where the orchestra is performing a full slate of five in-person concerts.
"An Intimate Welcome," the third concert of the season, is also another first for the orchestra. According to music director and conductor Michael Newnham, for the first time there will be no soloist and the concert will focus on smaller groups from the orchestra.
Advertisement - story continues below
That includes the orchestra's five principal string players — Jennifer Burford and Nora Pellerin (violins), Elizabeth Morris (viola), Zuzanna Chomicka-Newnham (cello) and Filip Stasiak (bass) — who will perform String Quintet No. 2 in G Major, Op. 77, written by 19th-century Czech composer Antonín Dvorák.
Originally composed in early 1875, the four-movement composition is scored for two violins, viola, cello, and double bass. Dvorák wrote the piece for a chamber music competition in Prague the following year, sponsored by the Umelecká beseda (artistic circle), where it was unanimously awarded a prize of five ducats (gold coins) for the "distinction of theme, the technical skill in polyphonic composition, the mastery of form, and the knowledge of the instruments."
"This is a refreshingly beautiful work from the middle of the Romantic period," Maestro Newnham explains. "Like much of Dvorak's music, it reflects and was inspired by the music of the Austro-German composers on one hand, and on the other hand, by music from his native Czech homeland. There's a certain folksy, dance-like quality to this, and it really puts the spotlight on these five fabulous musicians."
VIDEO: "String Quintet No. 2" by Dvorák

The evening's program will then turn to the orchestra's wind players, who will perform two works. The first is Wolfgang Amadeus Mozart's Serenade No. 12 in C Minor, K. 388.
Written by the 19th-century German-Austrian composer in 1782 or 1783, the four-movement work is scored for two oboes, two clarinets, two horns, and two bassoons.
"This is Mozart at the height of his powers," Maestro Newnham says. "It is a piece written for eight wind instruments which manages to plumb the heights and depths of the human condition, all in less than 20 minutes."
Advertisement - story continues below
This will be followed by a performance of 19th-century French composer Charles Gounod's Petite Symphonie. Gounod is best known for his 12 operas, the most popular of which has always been 1859's Faust, and his Ave Maria based on a prelude by Bach, which has become a feature at funerals, wedding masses, and quinceañeras (a Latin American celebration of a girl's 15th birthday).
Gounod wrote Petite Symphonie late in his career, in 1885, for French flutist and impresario Paul Taffanel and his chamber music society. The four-movement composition is scored for a wind ensemble of nine players.
"Gounod, who lived about 100 years after Mozart, was fascinated by his music," Maestro Newnham notes. "This is kind of a light, airy musical 'dessert'."
VIDEO: "Petite Symphonie" by Gounod

Following the performance of Petite Symphonie, Maestro Newnham says "all of the players team up at the end of the concert to play some passionate and red-hot Hungarian Dances by Brahms."
German composer Johannes Brahms was first exposed to Hungarian music, including traditional Hungarian folk dances, after he met the Hungarian violinist Ede Reményi in 1850 and accompanied him in a number of recitals over the next few years. In 1869 and 1880, Brahms wrote two sets of the Hungarian Dances — 21 lively dance tunes based mostly on Hungarian themes.
Varying in length between one and five minutes, each dance has been arranged for a wide variety of instruments and ensembles. They were among Brahms's most popular and lucrative works.
Advertisement - story continues below
"An Intimate Welcome" begins at 7:30 p.m. on Saturday, February 4th at Showplace Performance Centre at 290 George Street North in downtown Peterborough. A pre-concert "Meet the Maestro" talk takes place at 6:45 p.m., where the Peterborough Symphony Orchestra's music director Michael Newnham will take the Showplace stage for an intimate chat about the evening's program.
Single tickets are $33, $48, or $55 depending on where you sit, with student tickets $12. Tickets are available in person at the Showplace Box Office from 10 a.m. to 4 p.m. Monday to Thursday and 10 a.m. to 2 p.m. Friday, or online anytime at showplace.org (student tickets are only available online).
New this season is a "rush ticket" option, where seats are available on the day of the concert for only $20 (online only, depending on availability).
kawarthaNOW is proud to be a media sponsor of the Peterborough Symphony Orchestra's 2022-23 season.