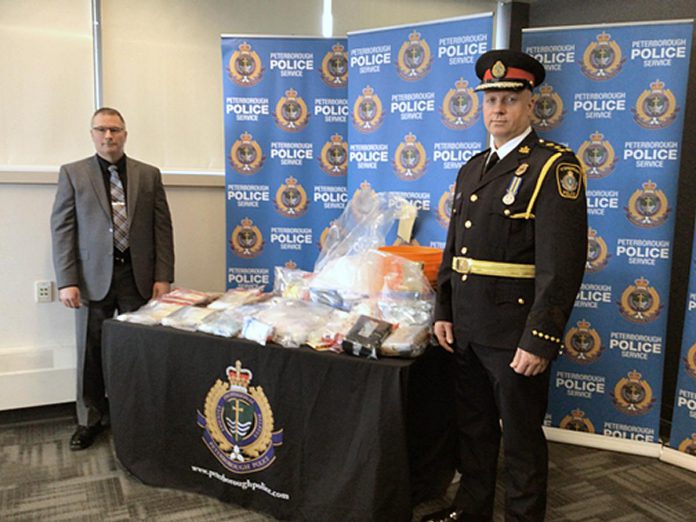 A police investigation has resulted in the seizure of over illicit drugs worth over $1.1 million, Peterborough police announced on Monday morning (January 30).
Last Wednesday, officers with the Peterborough Police Service Drug Unit and Emergency Response Team along with members of the Durham Regional Police Service executed search warrants at several locations in Peterborough and at a Durham Region residence.
As a result of the search warrants, officers located and seized seven kilograms (15.4 lbs) of crystal meth, five kilograms (11 lbs) of cocaine, a half a kilogram (1.1 lbs) of crack cocaine, 600 grams (1.3 lbs) of fentanyl, three kilograms (6.6 lbs) of Xanax pills, 52 Percocet pills, and 34 hydromorphone pills. Xanax is a benzodiazepine and Percocet and hydromorphone are opioids.
Advertisement - story continues below
Tweet this quote
"This seizure of illicit drugs is one of the largest in Peterborough Police Service history," said Peterborough police chief Stuart Betts.
"This is an example of the proliferation of illicit and harmful substances that have infiltrated our community. While we are not unique in this regard, it is very concerning for me, and I commend the work of our Drug Unit for their ongoing commitment to keeping our communities safe."
Police also seized $3,000 cash in combined Canadian and US currency and three vehicles.
VIDEO: Peterborough police announce January 25, 2023 illicit drug seizure

Advertisement - story continues below
A man and a woman were arrested during the search.
Both 54-year-old Jack Goneau of Peterborough and 37-year-old Regan Morrison of Peterborough are each facing six charges of possession of a Schedule I substance for the purpose of trafficking (cocaine, crystal meth, fentanyl, hydromorphone, Percocet, and Xanax) and one charge of possession of proceeds of property obtained by crime (under $5,000).
Goneau and Morrison was held in custody and appeared in court on January 25. Police said they are releasing their names as a matter of public safety.