kawarthaNOW asked Peterborough-based film critic Addison Wylie to take a look at four local short films being screened during the 2023 ReFrame Film Festival, which opened last Thursday (January 26) with an in-person screening at Showplace Performance Centre and offers 60 documentaries for online viewing until Friday, February 3rd.
After ReFrame Film Festival patrons were treated to a live musical performance by Cormac Culkeen (Joyful Joyful) followed by an exclusive screening of the Oscar-nominated doc All the Beauty and the Bloodshed, the festival continues at home with this year's virtual festival — which includes local short films highlighting prevalent environmental issues and sparking thought-provoking discussions.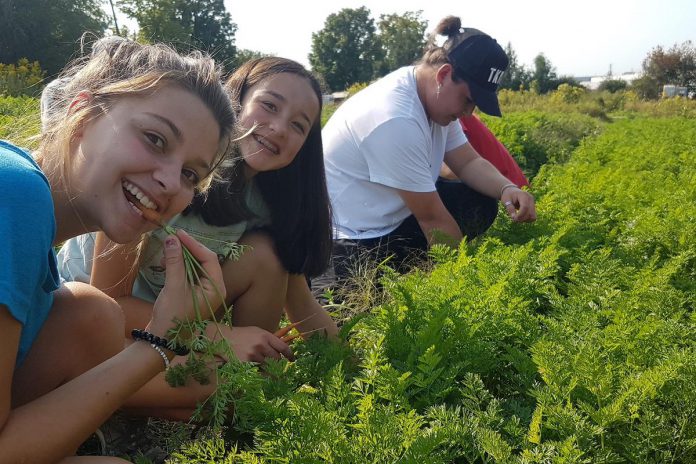 Rewilding the Classroom (featured in the "Confronting the Climate Crisis" shorts program) educates viewers about the Youth Leadership in Sustainability initiative (YLS), a one-semester program that integrates curricular activities with the environment.
Directors Rodney Fuentes and Cam Douglas (Douglas is the founder of YLS) present movie goers with an efficient package detailing the goals of YLS including interviews with educators and students and plenty of montages showcasing activities and hands-on tasks.
The film is modelled as less of a traditional documentary and more of a recruitment tape or corporate video but, with slick editing and infectious attitudes of those on screen, Rewilding the Classroom would inspire any teenager to register.
Advertisement - content continues below
A documentary that doesn't quite work, however, is Rob Viscardis' Fault Lines (featured in "The Art of Listening: Health, Community, Disparity" shorts program). People who are involved in the healthcare industry and other essential/frontline workers are interviewed about the global COVID-19 pandemic and how it has effected their lives and careers.
Viewers may find catharsis through the stories that are told, and we can't help but share empathy with those who talk about losing loved ones during these turbulent times. Other than this emotional connection, Viscardis' doc is feedback through a megaphone. Fault Lines doesn't tell audiences anything they don't know or haven't experienced already.
Aside from a reassuring interview with aspiring political activist Tiana Fernandes, we walk away from the short only reminded of the stress and anxiety this current pandemic provides.
Advertisement - content continues below
A more interesting interpretation of anxiety can be seen in The Butch and the Baby Daddy (as part of the "Queer Relations" shorts program).
In this animated short, Alex dreams of being a mother. But as a lesbian, she want to find the perfect sperm donor, and she believes she's found the ideal match with her friend Mateo. However, Alex doesn't know how to ask Mateo — causing our narrator to get lost in her own thoughts.
Based on the book How to Get a Girl Pregnant by Karleen Pendleton Jiménez, directors Pendelton Jiménez and Barb Taylor send viewers on a stream of consciousness that's accessible, cute, and heartfelt. The animation finds a way to be smooth and stiff simultaneously, suggesting to me that maybe the filmmakers should've kept to close-ups or stills with minor movements. But the storytelling catches our attention more than its visual flaws.
Advertisement - content continues below
VIDEO: "Choices" trailer

Choices, an absolute gem that should be seen at this year's festival, is the documentary I haven't stopped thinking about.
This collaborative, meditative effort by local improvisational dance troupe Old Men Dancing is as resourceful as it is sincere. Reminiscent of the work from Canadian documentarian Alan Zweig (When Jews Were Funny, 15 Reasons to Live), Choices features individual interviews with select dancers who each tell a story about how they were faced with a life-changing decision. Sometimes it's in regards to their career, sometimes it's a more psychological conundrum.
It's not worth criticizing the filmmaking considering these interviews are mostly basic locked-off shots using the camera microphone, but director/producer/editor Bob Romerein (along with the participating members of Old Men Dancing) has created a special and sensitive snapshot of male intimacy and pure appreciation for life.
Stick around for the pre-recorded Q&A moderated by festival director Kait Dueck as she interviews Romerein and film subjects Rob Steinman, Jim Angel, and Colin MacAdam.
For virtual passes and tickets for the 2023 ReFrame Film Festival, as well as an extensive film guide, visit reframefilmfestival.ca. kawarthaNOW is proud to be an official media partner and sponsor of local films at the 2023 ReFrame Film Festival.