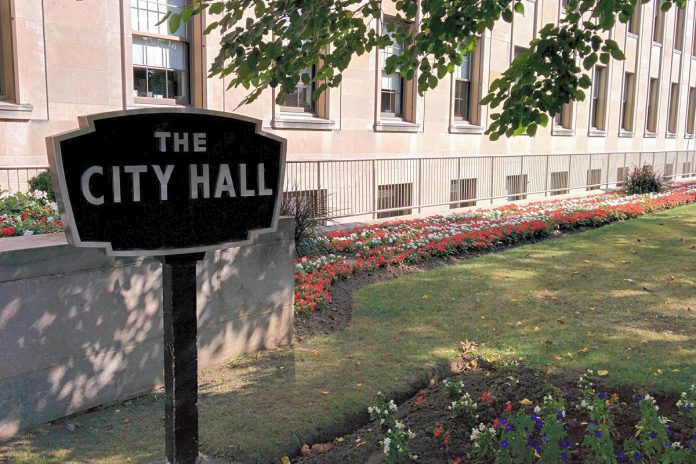 Peterborough city council approved the city's 2023 budget on Monday night (January 30), including a property tax increase of 3.15 per cent.
The increase is 0.85 per cent less than the four per cent increase proposed in an earlier version of the draft budget to the property tax rate.
"Council made changes to the draft budget to ensure that investments reflect the priorities of the community, including spending on critical infrastructure and providing support for housing and homelessness, while at the same time respecting the current financial conditions," said Mayor Jeff Leal.
Advertisement - story continues below
Tweet this quote
The 3.15 per cent increase, which compares to a 2.87 per cent property tax increase in the 2022 budget, which would add $53.23 per year for each $100,000 of residential assessment for the typical household. For example, a city household with a home assessed at $600,000 would see an additional $319 annually in property tax.
"Residents in our community are feeling the costs of inflation and the challenging economic environment in their daily lives," said councillor Andrew Beamer, city council's finance chair. "Municipal services are also impacted by those pressures. Council made difficult decisions to lessen the increasing cost of services for taxpayers, drawing from reserves to meet needs in some areas and cutting spending in other areas to push down the tax increase."
The approved budget includes $131.2 million in capital expenditures including road work, a household organic waste composting facility and collection equipment, flood reduction efforts, facility maintenance, funding for the planned replacement of a fire station, sanitary sewer repairs, construction of the new twin-pad arena at Morrow Park, and police capital projects.
The approved budget also includes $325.8 million in operating expenditures for programs and services including waste management, road maintenance, wastewater sewers and treatment, social assistance, affordable housing, fire services, policing, and recreation, arts and heritage.
Advertisement - story continues below
Highlights of the approved budget include:
Eleven new hires at the Peterborough Police Service due to the increasing number of calls for service, increasing crime severity in the community, and an increasing population in the communities it serves.
$6.1 million in municipal spending for housing and homelessness services (a 5.7 per cent increase over 2022), including support for approximately 2,000 social housing units, rent supplements, and the operation of four emergency shelters with 106 shelter beds.
$7.6 million in the capital budget toward the $21.2-million household source separated organics program implementation, with a city-wide green bin program expected to start in fall 2023.
$1 million for the implementation of the urban forest management strategic plan including tree planting and urban forestry management.
$750,000 to upgrade 3,000 street light fixtures to LED lights, which reduce energy use and energy costs.
Holding Peterborough Transit expenses at the 2022 level, which reduces the 2023 net requirement by $951,000.
Deferring an $800,000 project that is part of upgrading water and sewer service to the Peterborough Airport, until a land deal is reached to bring the airport property within the City of Peterborough boundaries.
Establishing a permanent annual individual artist grant program at $50,000 a year, through a three-year agreement with Electric City Culture Council, with funding from the capital budget in 2023 and the program built into the operating budget in 2024 and 2025.
Providing $281,800 from the capital levy reserve for the final two instalments of the city's contribution to the Eastern Ontario Regional Network cell gap project as approved by council in 2019.
Using $287,780 from a reserve and contingency to provide additional funding, in addition to the amount included in the draft 2023 budget documents, to Peterborough Public Health.
Deferring, until consideration in the 2024 budget, a proposed $150,000 project for the next stage of the development of a Downtown Heritage Conservation District Plan.
Using $200,000 from the social services reserve to add a third worker at the overflow shelter program and Brock Mission to help individuals with better support for referrals to services and to assist with housing searches, develop more of a harm-reduction focus, address service restrictions differently, and other functions.
Advertisement - story continues below
Here's how the municipal portion of property taxes is being spent, per $100,000 of residential assessment:
23.6% goes to external organizations
Peterborough Police Service – $232.59
Peterborough Paramedics – $48.89
Fairhaven Long-Term Care – $12.79
Peterborough Public Health – $10.85
Peterborough and the Kawarthas Economic Development – $8.64
Otonabee Conservation – $6.64
Peterborough Humane Society – $3.63
Business Improvement Areas – $1.42
Greater Peterborough Innovation Cluster – $1.15
22.9% goes to infrastructure and planning services
Engineering, Construction and Public Works – $102.14
Transportation – $103.79
Environmental Services – $60.59
Peterborough Airport – $18.19
Asset Management and Capital Planning – $12.93
Planning – $10.66
Building Inspection and Protective Services – $6.91
Office of Infrastructure and Planning Services – $1.42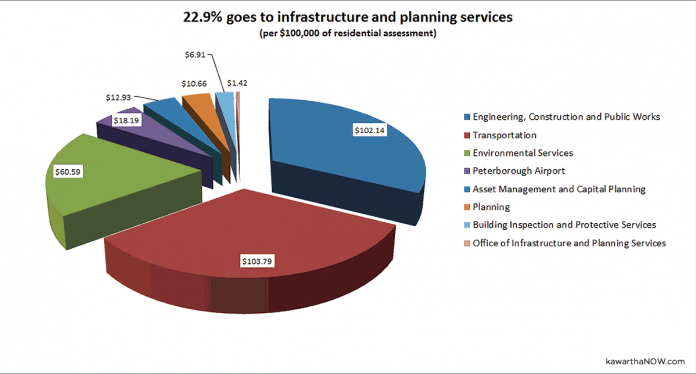 22% goes to capital levy, debt payments, and other financial expenditures
Capital financing costs – $265.67
Property taxation costs – $24.15
Other expenditures – $10.86
Contingency provision – $3.83
13.3% goes to Community Services
Social Services – $95.95
Arts, Culture and Heritage – $42.87
Arenas – $18.88
Community Services Administration (incl. community grants) – $17.18
Recreation – $9.70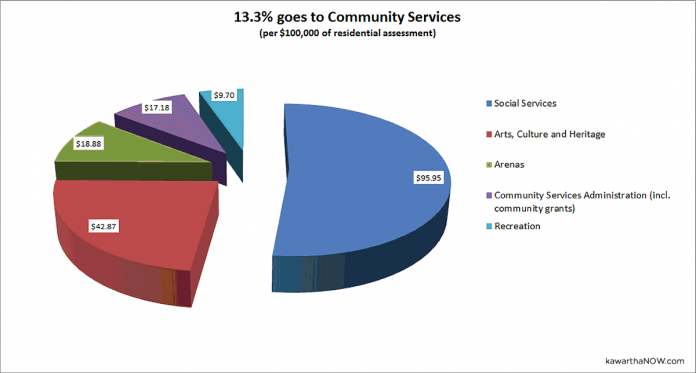 11.8% goes to fire services and the Office of the Chief Administrative Officer
Fire Services – $149.46
Communication Services – $5.95
Office of the Chief Administrative Officer – $4.65
Emergency Management – $4.01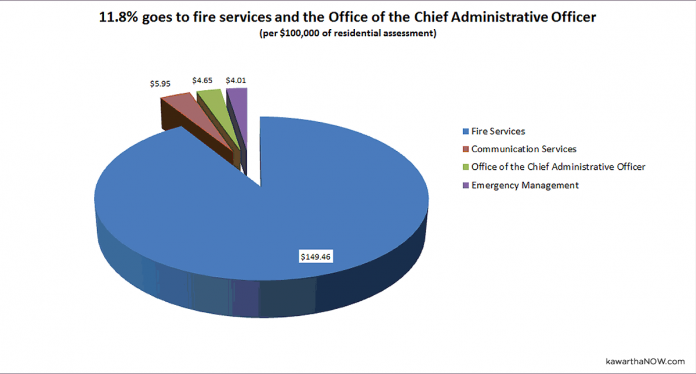 6.4% goes to Corporate and Legislative Services and City Council
Corporate Information Services – $29.79
Financial Services – $18.55
Human Resources – $9.87
Facilities Management – $9.58
City Clerk – $7.08
City Council – $6.51
Legal Services – $5.51
Facilities and Planning Services – $1.35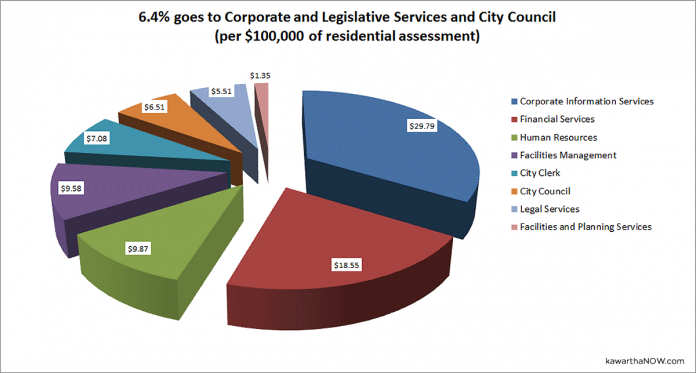 More details on the city's 2023 budget are available at peterborough.ca/budget, including the budget documents, a breakdown for each program area, and a listing of the top capital projects.