Award-winning Indigenous musician and community activist Susan Aglukark will be the keynote speaker at INSPIRE's first annual International Women's Day event on Wednesday, March 8th in downtown Peterborough.
Early bird tickets are available until February 18 for the inaugural event, which is being led by photographer Heather Doughty, founder of INSPIRE: The Women's Portrait Project.
Heather created INSPIRE in 2018 as a series of portraits of remarkable local women and non-binary individuals. Now a registered not-for-profit charity with a board of directors, INSPIRE has subsequently launched additional photography-related projects including Day of the Girl, Resilience, #SheINSPIRESMe, Women in Farming, and Mom Bod.
Advertisement - content continues below
Tweet this quote
"INSPIRE is turning five this year and we wanted to have a year-long celebration," Heather tells kawarthaNOW. "We wanted to pepper the year with fun events and naturally International Women's Day was one of the first events mentioned."
Prior to the pandemic, Louise Racine of Thirteen Moons Wellness had organized four annual International Women's Day events in Peterborough. The final event was held in early March 2020, just before the pandemic hit.
"I reached out to Louise to see if she was planning on bringing her event back," Heather says. "She was not and very generously offered to share her knowledge if INSPIRE decided to move forward. International Women's Day is a very important day. Hosting an event where women and young girls could come together to celebrate all that has been achieved, to celebrate who they are, and to empower them to move forward aligns with INSPIRE's mission of providing a safe place to celebrate, share, and build community. So INSPIRE decided to create an event."
First taking place in 1911, International Women's Day has become a global day celebrating the social, economic, cultural, and political achievements of women. The day also marks a call to action for accelerating gender parity. The theme for 2023 is "Embrace Equity", asking people to imagine a gender-equal world free of bias, stereotypes, and discrimination, where difference is valued and celebrated.
Running from 9:30 a.m. to 3:30 p.m. on Wednesday, March 8th at the Holiday Inn Peterborough-Waterfront at 150 George Street, INSPIRE's inaugural International Women's Day event will include workshops facilitated by inspiring local women, an artisans' market featuring the works of 25 local makers, and empowering talks by two Indigenous women: Nogojiwanong-Peterborough entrepreneur Ashley Lamothe and keynote speaker Susan Aglukark.
Ashley Lamothe is the owner and CEO of Creative Kwe, a business that focuses on amplifying, celebrating and decolonizing creativity through workshops, seminars and her online shop. In 2021, she was named entrepreneur of the month by the Native Women's Association of Canada and, in 2022, received The President's Award from the Peterborough and the Kawarthas Chamber of Commerce. The AnishnaabeKwe/Metis Two Spirit mother of two also works at Trent University within the First Peoples House of Learning as the Indigenous Student Success Coordinator.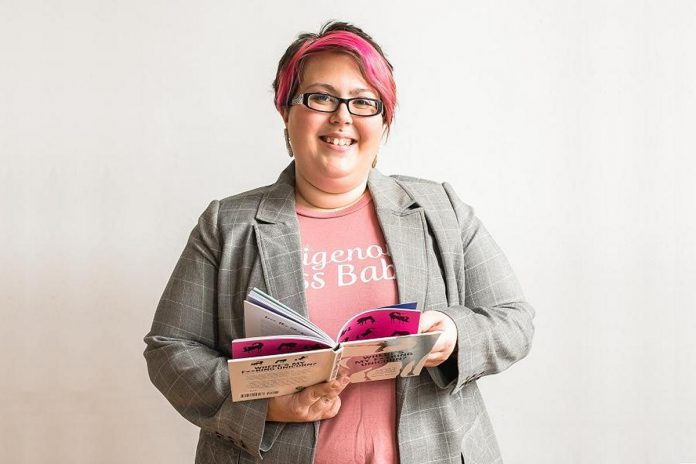 Advertisement - content continues below
Susan Aglukark is an Inuk musician, community activist, and children's author whose blend of Inuit folk music traditions with pop songwriting has made her a recording star in Canada. She has released nine albums (her single "O Siem" reached number one on the Canadian country and adult contemporary charts in 1995) and has won three Juno awards — including the first Juno by an Inuk artist.
A long-time advocate for northern Canadian communities, Aglukark is the founder of the Arctic Rose Project, which helps create emotionally safe environments for Indigenous children and youth, for which she received the Juno 2022 Humanitarian Award from the Canadian Academy of Recording Arts and Sciences. Aglukark is also the co-founder of the Aboriginal Literacy Project and the former chair of the Arctic Children and Youth Foundation.
An officer of the Order of Canada, Aglukark has received the Queen Elizabeth II Diamond Jubilee Medal, a Governor General's Performing Arts Award for lifetime artistic achievement, the Canadian Country Music Association Vista Rising Star Award, the Canadian Aboriginal Music Award, Native American Music Award, and three honorary doctorates. Named one of Maclean's magazine's "100 Canadians to Watch," she has performed for Queen Elizabeth II, Nelson Mandela, Canadian Prime Ministers Jean Chrétien and Brian Mulroney, French President Jacques Chirac, as well as several other dignitaries.
VIDEO: Susan Aglukark receives the Humanitarian Award at the 2022 Juno Awards

Emceed by Peterborough comedian and actor Megan Murphy. INSPIRE's International Women's Day event will include six workshops, with participants able to select one morning and one afternoon workshop.
The workshops include "Women and Financial Wellness" with money coach Angie Ross, "Women's Connection to The Earth" with Curve Lake First Nation community Anishinaabemowin coordinator Anne Taylor, "Self-Compassion: An Exploration through Expressive Writing" with author and Open Sky Stories owner Erica Richmond, "Redefining Success" with Nectar Co. founder and Canadian Canoe Museum philanthropy associate Rose Terry, a workshop where Rebecca Turland of One City and Bridges Peterborough will share her journey through mental illness, addiction, poverty, and motherhood, and "The Healing Powers of Expressive Art" with artist and expressive arts therapist Lindsay Dixon.
Tickets for INSPIRE's International Women's Day event are available as of Wednesday, February 1st at inspirethewomensportraitproject.com/international-womens-day-event, with special early bird pricing of $60 per person until Saturday, February 18th (the price will be $75 after February 18). As INSPIRE believes in accessibility and inclusivity for all, tickets have been shared with local community partners to ensure that all who wish to join have the opportunity to participate.
Advertisement - content continues below
Tweet this quote
"INSPIRE wants to build a sustainable event and that is why we are hard at work to create a program that will empower and inspire participants and also have them excited to return next year," Heather says. "That is also why sponsorship and community support is so important, so that we have the ability to move forward and build on the foundation of this event for years to come."
Local businesses, organizations, and individuals interested in sponsoring the event can visit inspirethewomensportraitproject.com/sponsorship-packages.
According to Heather, hosting the International Women's Day event "is a big step for INSPIRE" but has become possible because of the support of the community and the hard work of the women who have been members of INSPIRE's board of directors.
"The board created a strong foundation to build the INSPIRE house on, so we can move forward now with INSPIRE's goals," Heather explains. "This event is a natural progression for INSPIRE — providing the platforms for voices to speak and the safe space to learn and to build community. It gives me goosebumps."
For more details about INSPIRE's International Women's Day event, including the day's agenda and workshop descriptions, and to purchase tickets, visit inspirethewomensportraitproject.com.
kawarthaNOW is proud to be the exclusive official media sponsor of INSPIRE's first annual International Women's Day event.