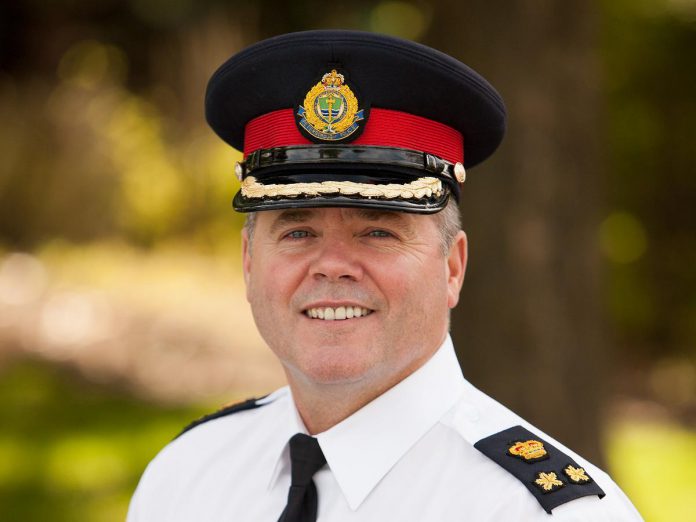 Minutes after the Peterborough Police Services Board announced deputy police chief Tim Farquharson would be "retiring" from the Peterborough Police Service effective March 1, the Port Hope Police Services Board announced he has been named the new police chief of the Port Hope Police Service.
Farquharson began his policing career in 1986 at the age of 24 as a constable with the Peterborough Police Service (then called the Peterborough Lakefield Community Police Service). His assignments over his career included front line and community patrol, criminal investigations, intelligence, drug unit, and support services, becoming deputy chief in 2013.
Farquharson also served as acting police chief over the past year, after previous police chief Scott Gilbert's sudden retirement in February 2022. Stuart Betts, formerly deputy chief of operations for the London Police Service, was hired as the new police chief effective January 9 this year.
Advertisement - content continues below
He has received many accolades throughout his career, including the Lieutenant Governor's Medal of Bravery and being invested as a Member of the Order of Merit of the Police Forces, for his role in creating the Peterborough Drug Strategy Task Force.
"The Peterborough Police Services Board acknowledges and thanks Tim Farquharson for his exemplary dedication to serving the citizens of Peterborough, Township of Cavan-Monaghan and Village of Lakefield over the past 36 years," reads a media release from the board. "His commitment to the service members and community was most recently noted as he took on the role of Acting Chief during the past year. The Board wishes Deputy Farquharson all the best on his upcoming retirement."
Farquharson is replacing the previous Port Hope police chief Bryant Wood, who announced his retirement last fall after move than 30 years with the service, including the last eight years as chief.
"I am leaving incredible people and a great police service to start with another great police service that has established positive partnerships with the OPP, Cobourg Police Service, and Peterborough Police Service," Farquharson says in a media release. "Leadership is about people, and I look forward to learning from members of the board, partners, and the community."
The original version of this story has been updated.