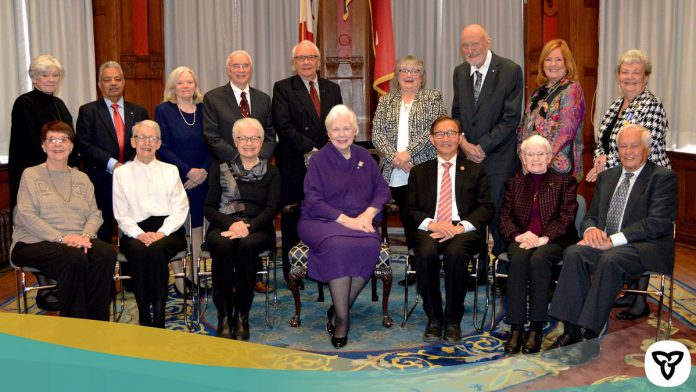 Susan Leask of Peterborough is one of 16 recipients of the 2022 Ontario Senior Achievement Awards, the provincial government announced on Tuesday (January 31).
The awards recognize people for significant contributions to their communities after the age of 65.
This includes fundraising, leading community beautification projects, helping with programs such as Meals on Wheels, volunteering in hospitals, local churches, senior organizations, retirement homes and long-term-care homes, and supporting and empowering the aging population by serving as advocates for veterans, people who are homeless, new immigrants, the Francophone community, people with disabilities, and job seekers.
Advertisement - story continues below
Tweet this quote
The recipients were honoured by Lieutenant Governor Elizabeth Dowdeswell and Ontario Minister for Seniors and Accessibility Raymond Cho at a recognition ceremony in the Lieutenant Governor's Suite at Queen's Park in Toronto.
"I am pleased to recognize the impressive recipients of the 2022 Ontario Senior Achievement Award," said Dowdeswell. "I would like to thank each person for their outstanding contributions to their communities and for making a positive difference in the lives of Ontarians."
Leask has been a dedicated and active volunteer at Hillsdale Terraces, a long-term care home in Oshawa operated by the Regional Municipality of Durham, since 2015 and has been registered as a regular and active volunteer within the home.
Advertisement - story continues below
"As Family Council President, Susan has built strong and consistent council membership that welcomes, educates, and supports families who join," reads her award citation. "She represents families at Strategic and Operational Planning Days, and Quality Improvement and Regional LTC Advisory Committees."
Leask was also recognized for using her gardening expertise to help improve the quality of life for the home's residents.
"Since 2017, Susan has also been volunteering in the Serenity Garden and has worked to transform it into a multi-season sanctuary for residents, families and staff. Her contributions to resident care, tasks and projects have made her an invaluable member of the Hillside Terraces family."
The other 15 recipients are Jean Aitcheson of Stratford, Donna Cansfield of Etobicoke, Elizabeth Churcher of Tweed, Larry Duffield of Windsor, Réjeanne Fairhead of Ottawa, Lorraine Finn of Barry's Bay, John Harper of Toronto, Matt Mathews of Burlington, Joan McSweeney of Leamington, Jean Roy of Toronto (now of Ottawa), Martine Rutherford of Beardmore, Anton Schwab of Uxbridge, Gwendolyn The of Toronto, Reijo J. Viitala of Sudbury, and Earl Windsor of Winchester.